Rainmaker
Beyond the Bulb
Brian Faherty's Schoolhouse Electric expands from fixtures to furniture.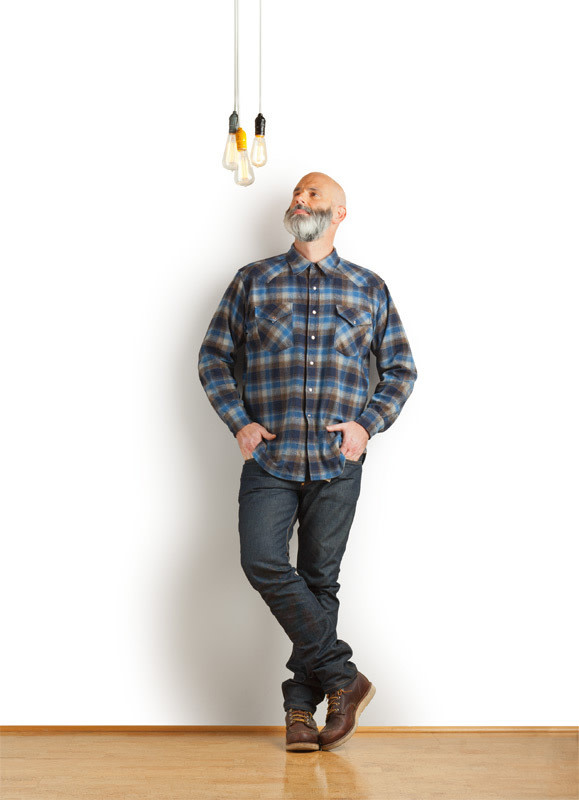 BRIAN FAHERTY KNOWS what he likes. In his office, just off a workshop floor at Schoolhouse Electric & Supply Company in industrial Northwest, jazz whispers through a vintage stereo atop a midcentury modern credenza. The armchairs show just the right amount of wear. Even the Lurisia bottled water he serves is delicious (for water).
The 48-year-old Faherty has made his considered aesthetic a hot export. In 2003, he started Schoolhouse in an inner-Southeast basement, supplying just-so homes, restaurants, and shops with light fixtures imbued with classic Americana. Last fall, the company transformed itself, launching a comprehensive furniture, housewares, and lifestyle line of about 300 new products. The move earned praise from the Wall Street Journal, Dwell, Men's Journal, and House Beautiful.
In 2011, Schoolhouse also relocated to a vast 19th-century brick warehouse converted into a light-drenched 125,000-square-foot showroom, with a coffee shop and florist attached, on its ground floor with a mini-factory above. To an observer, Schoolhouse's expansion looked instantaneous. According to Faherty, it was years in the making.
"We needed to grow," he says. "Our passions were broader—style, fashion, well-made craft. And we saw an opportunity."
The opportunity lies between an aspirational mass-market brand like Crate & Barrel and a microboutique. "There are a lot of good larger companies," Faherty says. "But their products no longer tell much of a story. We believed we could reach the person who wants to learn about what they're buying."
Since last year, Schoolhouse doubled its employee headcount from 20 to about 40, setting up its own woodshop, painting facilities, and supply chains to both American suppliers and offshore factories. (About 80 percent of Schoolhouse's offerings are at least partially made in Portland.)
The results run from retro-modern sofas (the Beckman, at $2,550, is a standout) to kitchen linens designed by Egg Press to reproductions of 1960s IBM clocks. The popular blog Design Sponge proclaimed itself "thrilled." And while the company doesn't disclose figures, 90 percent of its sales now go outside of Portland, as deep stacks of boxes on its loading dock attest.
"Now people think we're bigger than we are," Faherty says. "Big companies try to act small. We're a small company that people think is some emerging national brand."