Out and About
Tea, Ceramics and the Art of Healing
Renewal comes naturally with springtime exhibits at the Japanese Garden.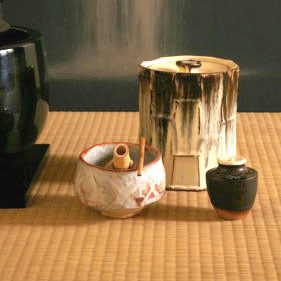 Any trip to Portland's Japanese Garden is a healing event, whether you're sneezing from a cold, or taking preventative health maintenance efforts while you're feeling just fine. So it's a natural that this year's Art in the Garden events are focusing on the theme of healing.
This month the garden offers the first sprouts of spring as a boost to the immune system, amplified by the healing powers of tea. From April 6 through April 29, they are exhibiting tea ceramics by artist Richard Milgrim, one of the few American born potters recognized with the highest honors in Japan, which he first visited as a college student in the late '70s.
Tea has long been more than a beverage in Eastern countries. Buddhist monks stayed alert through long periods of meditation with the help of tea. Eastern medicine has for thousands of years prescribed green tea for its healing properties, which Western medicine now identifies as including vitamin C and anti-oxidants that may help prevent cancer.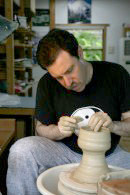 In Japan, the art of ceramics helped elevate the drinking of tea to an art form itself. The ritual is called "the practice of Chado, the Way of Tea," and evolved in the 15th century from "the simplest act of sipping a bowl of tea with friends" to having "more complex aesthetic and spiritual implications," requiring "a tranquil setting and meticulous attention to detail" to attain "harmony, respect, purity and tranquility in daily life."
A little lesson in how to bring those qualities into one's own home sounds like an excellent prescription for health this April. The exhibit also includes waterfall paintings by Hiroshi Senju, who splits his time between New York and Kyoto, and whose internationally known work graces the walls of Tokyo's Haneda Airport with "waterfall monuments" as large as 82 feet long. A museum dedicated to Senju's work, designed by 2010 Pritzker Prize winner Ryue Nishizawa, opened last year in Karuizawa, Japan.
Portland's Japanese Garden
Located in the west hills directly above the International Rose Test Garden in Washington Park.
611 SW Kingston Avenue, Portland, OR 97205
Hours:12-7 p.m. Monday; ?10 a.m.-7 p.m. Tue–Sun
Phone: (503) 223-1321
Admission:$9.50 Adult; $7.75 Senior (62+); $7.75 College Student (w/ID); $6.75 Youth (6-17); Children 5 and under free