COVER STORY
Go By: Automobile
Road trips with drives as dazzling as the destinations

Olympic, 

Peninsula
Take the scenic route through a 922,650-acre national treasure
Reason to Rev
Thrusting up, almost violently, directly from the sea, it seems impossible that the sharp-toothed Olympic Mountains tick only 7,900 feet. What seems more likely, as explorer John Meares first noted when he named Mount Olympus in 1788, is that these majestic, glacier-capped peaks house some kind of deity. In fact, by official standards, the breathtaking landscape is sacred indeed: the cluster of eight major summits, surrounding rain forest, and 62 miles of undeveloped beach have been protected as a national park since 1938. Even better, Olympic National Park is just about three hours' drive from Portland, making a fall pilgrimage (when the park's lodge rates drop) easy. So load up the car, adjust your mirrors, and head for park-looping Highway 101, where soul-stirring experiences may be far closer than they appear.
Itinerary
»Carved by a glacier and fed by them, too, Lake Quinault sits in the middle of the Quinault Valley, which holds one of the park's three temperate coniferous rain forests. Watch the god rays filter through the firs and spy on Roosevelt elk, black-tailed deer, and woodpeckers on one of the south side's moderate trails. If some of the valley's 12 feet of annual precipitation dampens your hiking plans, drive the 31-mile loop around the lake, pausing to admire roadside cascades like Merriman and Bunch Falls, and the world's largest red cedar and Sitka spruce trees.
»Stationed 20 miles down a partly gravel road, Lake Ozette isn't arrived at by accident. And yet the 7,787-acre lake continues to be one of the most frequented camping spots in Olympic National Park, no doubt owing to the unique Cape Alava trail, a 3.1-mile stroll on a raised boardwalk through coastal woods and prairie to the edge of the ocean.
»Just down the road from Cape Flattery, the northwesterly-?most tip of the contiguous United States, Shi Shi beach is well worth the extra road miles required to reach it. It's an easy, albeit sometimes mucky, two-mile trek through Sitka spruce to the bluff above Shi Shi, where a steep descent lands you at two miles of pristine beach, protected at the southern end by a photogenic mile-long string of sea stacks. Reach them with an easy amble along the surf, transfixed, perhaps, by the lapping of the incoming sea whispering across the sands to the thick curtain of trees.
 You can see as far as 60 feet into Lake Crescent's 600-foot depths in some places, and you might even catch sight of the protected, only-found-here Beardslee and Crescenti trout. Or, thanks to the wall of shore-facing windows in Lake Crescent Lodge's (from $105) sunroom, you can enjoy the splendor of the mountain-lined lake while sipping a glass of Lake Crescent's reserve chardonnay.
»One of the best views on all of the Olympic Peninsula requires hardly any legwork at all, except pushing the accelerator. Just outside of Port Angeles, the overlook at Hurricane Ridge offers a mile-high perspective on the Olympics' rocky, snowcapped spine. Camera setting: panorama.
Eat
Facing the peak-rimmed shoreline, Lake Quinault Lodge's (olympic?nationalparks.com; from $79) dining room and the Adirondack chairs on the immaculately manicured lawn are prime places to savor cedar-planked salmon and watercolor skies as you watch the sun sink below the Olympics.
Stay
The rock fireplaces in the period-perfect 1926 cabins at Lochaerie Resort (from $145), on Lake Quinault's northern shore, provide a welcome antidote to autumn's evening chill. The Lost Resort's (from $65) three small cabins are the only noncamping option at Lake Ozette.
Do
A seashell's throw from Whidbey Island, Port Townsend's quaint Victorian streetscape invites an afternoon of exploration—one best capped with a walk along the waterfront, relishing a coneful of homemade ice cream from Water Street's Elevated Ice Cream.
Wenatchee Valley
A farm-to-fork escape in the heart of Washington
Reason to Rev
Planted smack in Washington's geographic center, the Wenatchee Valley, with its prodigious orchards, verdant farms, and 300 days of sunshine, also sits at the heart of the state's culinary scene. Popular Seattle restaurants like Tilth and the Herbfarm source their menus from this lush valley where, flanked by the Eastern Cascades, even the Columbia River slows down to admire the striking landscape. Self-reliant citizens baking their own bread, pressing cider, and tending fertile backyard gardens aren't mere Little House on the Prairie–inspired fantasies here. It's just the way things have always been done. And Wenatchee's crisp fall days are an ideal time to sample the bounty of the harvest. Sure, the five-hour drive here is nothing to sniff at: fortunately, the dramatic mountain passes en route give plenty of opportunity for distraction. And, trust us, once you've arrived at this gastronomical gem, your stomach—and your Flickr account—will thank us.
Itinerary 
»Four miles off of I-90, the thunderous 270-foot Snoqualmie Falls promises a postcard-worthy place to stretch your legs before the push over stunning Snoqualmie Pass.
»Learn the secrets of cheese mongering in a hands-on class ($80) from Vermont-born Catha Link, who has been churning out handmade raw-milk sheep cheese from her picturesque Alpine Lakes Cheese farm for 10 years.
»Richard Kitos spent 20 years chefing in LA before opening the IvyWild Inn with his wife in 2006. You'll taste Kitos's experience each morning in heavenly shirred eggs and impossibly fluffy omelets stuffed with chicken and mozzarella. Better yet, learn how to make your own mouthwatering meals at his bimonthly Tuesday cooking classes.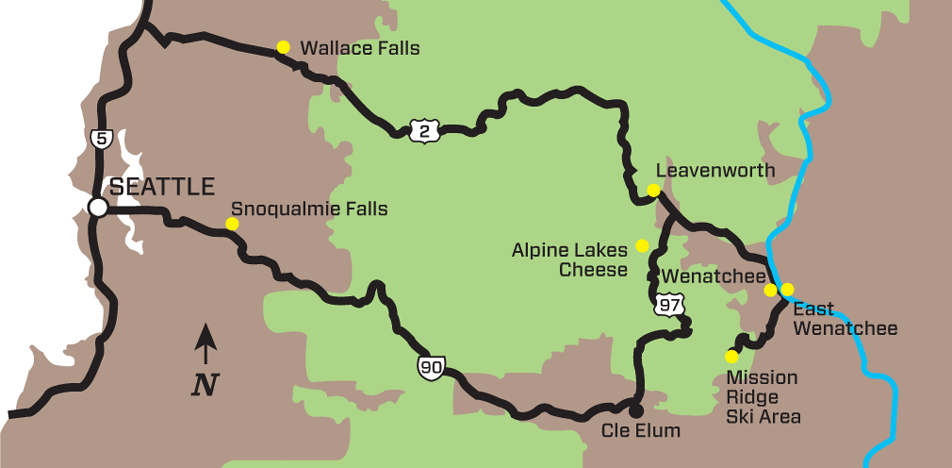 »Tucked into a tiny space on N Mission Street, Farmhouse Table is a feast for the eyes—and soul. Initiated four years ago, this indoor farmers market of sorts sells fresh fruit and produce from local farmers, like Tiny's Organic Farm in East Wenatchee (private tours available), five days a week.
»Wake up your appetite and your senses with a cup of locally roasted Caffe Mela coffee and a fresh-baked scone at Pretiola Bakery. Situated on the banks of the Columbia, this snug space bakes its organic goodies fresh every day and recently started serving dinner.
»A different kind of dessert awaits at the top of the steep 1.5-mile climb to Saddle Rock in the Wenatchee Foothills: a 360-degree vista of the laconic Columbia River S-curving through the valley while the white-capped triangle tops of the Cascades guard the western horizon.
»The kitchy Bavarian town of Leavenworth registers as one of central Washington's weirdest tourist attractions, but you'll want to pull over for pure novelty's sake. And to pick up some of the decadent chocolates handmade at Schocolat.
»Three waterfalls dot the northern route (Highway 2) back to I-5. Your best bet:Wallace Falls, where the 2.75-mile trek (one-way) to a three-tiered torrent will help burn off some of those vacation calories.
Eat
If Lemolo Café and Deli's (509-664-6576) sunshine-yellow exterior doesn't draw you in, the scent of fresh-baked bread and the locally grown ingredients they pack between slices certainly will. Two blocks away, the upscale Shakti's pairs its hand-cut meats and seafood dishes with produce sourced largely from Farmhouse Table and an extensive local wine list.
Stay
Five miles from Wenatchee and a mere seven from Mission Ridge Ski Resort, Past Thyme Farm's (from $225) four-bedroom house presents the perfect marriage of town and country, especially if you opt for one of its farm stays, where you'll help owner Tony with the chores required to keep this organic, self-sustaining farm going.
Do
Embrace your inner Dionysus at Château Faire le Pont, during a one-day crash course seminar in winemaking ($25). Or sample how the experts do it at Tastebuds, a café and wine shop with an extensive collection of local labels, including many of the 20 or so wineries in close proximity to downtown.
McKenzie-Santiam Pass
Find serenity among Central Oregon's forested peaks
Reason to Rev
Winding its way along jagged lava fields, over windswept mountain passes, and through lush forests brimming with old growth and tall, mossy waterfalls, the 82-mile McKenzie-Santiam Pass Scenic Byway links just about every kind of natural wonder Oregon has to offer, one microclimate blending into the next like the strokes of a watercolor painting. Come November, McKenzie Pass is closed to automobiles, but in October the byway's plentiful maple trees ignite in vivid splashes of red and gold.
Itinerary
»Launch your loop in Sisters, where Oregon's cowboy spirit lives on at the feet of hulking volcanoes. Mosey along the storefronts of Cascade Avenue and check out the impressive collection of locally carved juniper at Sisters Log Furniture. Really get into the Sisters swing by picking up a Stetson hat or Lucchese cowboy boots at Leavitt's Western Wear.
»From Sisters, climb through the Deschutes National Forest up to the Dee Wright Observatory at McKenzie Pass. Built from lava rock during the Great Depression, the observatory sits in the middle of a 65-square-mile lava field at 5,187 feet, affording knockout views of Oregon's greatest volcanic hits: Mounts Hood, Jefferson, and Washington; Three Fingered Jack; and North and Middle Sisters.
»Continue flanking the ancient lava flow on Highway 242 as you descend into the Willamette National Forest's towering firs. Take a right on Forest Road 260 to Scott Lake, an idyllic, glassy lake fringed by wispy grasses under the glow of the Three Sisters. Camp on its shores ($5), or just rinse off the road grime with a quick, exhilarating dip.
»An increasingly dense forest engulfs Highway 242 as it snakes through a series of hairpin turns. During this stretch, you'll pass a trailhead for the 1.5-mile loop hike to secluded Proxy Falls, and later, on Highway 126, for the dramatic Koosah Falls, cascading 82 feet over a wide basalt ledge into an expansive pool. 
Eat
Nested on the shores of Suttle Lake, the Boathouse Restaurant serves up three squares a day, from veggie-stuffed omelets to charbroiled burgers and fresh-caught lake trout. In Sisters, Sisters SnoCap Ice Cream (541-549-6151) is a must for old-fashioned, homemade ice cream and milkshakes.
Stay
Enjoy a peaceful lakeside slumber, access to canoes and kayaks, and a menu of muscle-melting massages at the well-appointed Lodge at Suttle Lake (from $149), or settle in at one of Camp Sherman's rustic Metolius River Lodges (from $100), serenaded by the rush of the spring-fed river.
Do
While summiting the surrounding mountains seems daunting, the more moderate 1.9-mile hike to the top of Black Butte delivers panoramic views as it winds its way to the top of the 3,000-foot cinder cone.