Read This
Milk Bar, By (Buy) the Book
An irreverent yet exacting new baking bible reveals how to make your own Crack Pie (and other secrets).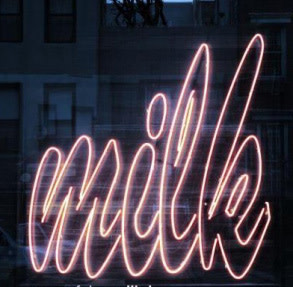 Christina Tosi is a young Midwesterner who grew up baking and never stopped. Now she's not only the baker and co-owner of the uber-hip (and highly publicized) Milk Bar bakeries in New York City (all four of them), she's also the author of a new baking bible.
Named after the bakery she helped found, momofuku milk bar the book offers up the secrets of her treats, some of which you may already have heard, like Crack Pie and Compost cookies. In sharing the methods and ingredients for her irreverently named, inventive creations, Tosi reveals the reverence and spirit she has for good old-fashioned American baking.
Milk Bar is part of the family of restaurants shooting off from a single, unusual root, David Chang's Momofuku. Though she is a pastry chef by training (as a child in her baking-obsessed family of origin all the way through school at the French Culinary Institute in her early twenties), Tosi was working for Chang doing administrative tasks a few years ago. Still, she had to get her baking fix.
After work at night, she'd bake crazy concoctions, and bring them in for her co-workers the next day. So even though she didn't start out cooking at Momofuku, being there helped her to develop her baking "voice," and the young, innovative restaurant turned out to be "the perfect home for desserts with no name, slightly confusing to some, but always thoughtful and delicious."
From Tosi's combination of classical training and free-form experimentation come her new classics, and the book that invites us to get the same results at home. Tools, ingredients and technique are extremely important. Crack pie, for instance, must be made with a stand up mixer with paddle attachment to get the proper "homogenization and smooth, silky final product. I repeat: a hand whisk and a bowl or a granny hand mixer will not produce the same results." We are warned.
But experimentation is also encouraged, in keeping with her philosophy of baking as fun. For instance, as Tosi was morphing her casual baking for co-workers into the full-fledged bakery with Chang, she and her baking partner would "stand in front of our fridge, with the door open, just like you do at home when you're trying to figure out what to make for dinner or eat for a midnight snack. We pick and pull out things we've been working on and see where we can merge ideas and flavors."
In that spirit, the Compost cookies, for example, need not be made with both pretzels and potato chips. If you're out of one, just add a bit more of the other or something similar. It's baking learned from years of experience in the science lab of the kitchen, where chemistry occurs, but also where happy accidents happen.
Case in point: Crack Pie. The now trademarked recipe began with her flipping through her well-worn Joy of Cooking one afternoon seeking inspiration for her daily dessert contribution to the restaurant's pre-shift family meal. Chess pie caught her eye. She describes it as "the pie the old gals of yesteryear made when…nothing was in season." The southern women "called it 'just pie,' as opposed to cherry pie or apple pie," and with their drawl it came out as "'jesssss [silent t] pie,' or 'chess pie,'" she tells us, "or so the story goes."
Tosi followed the ladies' lead and made something buttery and rich. But she undercooked it – she had to get to her real work for the night, prepping for dinner. The pie's "center was still plenty jiggly." And yet, her fellow workers at the pre-shift meal couldn't get enough. They kept creeping back for more, sneaking another bite. "We soared high on sugar that evening. And then we crashed. It was awful. But that's the story of how crack pie got its name."
Reading Tosi's recipes, and their accompanying stories, is amusing, informative and inspiring. The book, like her desserts, is a thoroughly modern mash-up of high and low. Now, if only it came with a stand up mixer, I'd be all set. In the meantime, it's good to know that they ship whole pies and stacks of cookies via Fed Ex overnight.
Momofuku Milk Bar is available at Powell's and at Williams-Sonoma (where you might still score a signed copy from when she came through town and did a demo recently) as well as other retailers.