Portland Plated
Bold World Cuisine
Matt Lightner brings modern European cuisine home to Castagna.
In the 17th and 18th centuries, young British up-and-comers often set out on a rite-of-passage excursion called the Grand Tour—a lengthy, immersive pilgrimage to Europe's cultural capitals—where they gathered knowledge and connections that would help them sharpen England's geopolitical game. Twenty-nine-year-old chef Matt Lightner, the former sous-chef at the Heathman Restaurant & Bar, had a similar ambition when he made a pilgrimage to the centers of Europe's culinary avant-garde. Now Portland benefits from his travels.
Courtesy of a program for select chefs developed by the Spanish Institute for Foreign Trade, Lightner dined in dozens of Spain's top restaurants. He visited pig farms, olive oil plantations, and wineries; he studied in the kitchens of famed Spanish chefs like Juan Mari Arzak, Martin Berasategui, Andoni Luis Aduriz, and Ferran Adrià (whose El Bulli routinely tops lists of the best restaurants in the world).
Lightner worked a 17-month stint at the Michelin-rated San Sebastián eatery Mugaritz, where he rose from unpaid kitchen intern to sous-chef in six months. The next stop was Copenhagen's Noma, another top European kitchen.
With his return to the Rose City, Lightner is poised to add a new chapter to Castagna's—and its owner, Monique Siu's—impact on Portland's dining scene. The new menu is composed, accessible, affordable, and most of all, delicious.
Take the matsutake mushrooms. Grilled on a thick Spanish-made flat-top called a plancha, the fungi are slightly taut with a caramelized exterior, and are presented with paper-thin slices of raw matsutakes—all served in a broth infused with forest herbs and mushrooms. Unlike most broths, which are raised to boiling point, Lightner's infusion is prepared sous vide (ingredients are cooked at a low temperature inside of a vacuum-sealed plastic bag), allowing the liquid to absorb the essence of the ingredients without overcooking them. Finished with toasted pine nuts and fresh trout roe, the dish is a gastronomical portrait of place—in this case, the tastes, textures, and smells of the Oregon forest.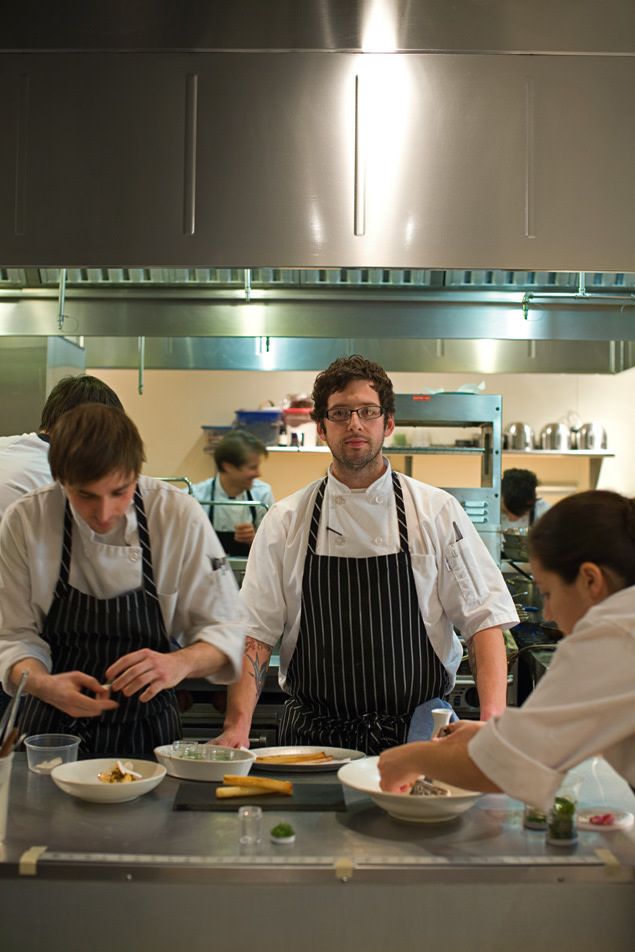 The Dungeness crab is equally picturesque: flawlessly cooked in its shell (also sous vide), the rich, meaty fibers mingle with brown butter and amaranth specked with slivers of preserved lemon skin, all surrounded by daubs of tangy cardamom-infused lemon foam. The result is as beautiful as it is delicious.
Castagna's rib eye is cooked to a tender medium rare, then blanketed with a paper-thin slice of house-smoked lardo (cured pork fat)—one of gastronomy's greatest treats. Cooking it sous vide before grilling it allows the meat to retain its prized marbling and also gives it a remarkable tenderness that's complemented by the velvety complexity of lardo.
In a city where protein is often the pièce de résistance, Lightner's vegetables are a showcase of exceptional skill. Salsify, a rich, starchy root vegetable, is caramelized and mixed with herbed marrow and crunchy bread crumbs. An onion is prepared in four distinct ways—poached, grilled, pickled, and smoked—then served with a buttery hunk of salted black cod. Every dish is finished with flower petals, micro-herbs, and botanicals plucked with tweezers from newly installed planter boxes behind the restaurant.
For the ever-confident Siu, Lightner's "nontraditional approach" was appealing. "Menus have gotten very similar in this city," she says. "I wanted to try to give Portland something different." Indeed, Castagna's bold new menu proves the Grand Tour's enduring truth—that your home will be enriched when you've traveled far.