EAT UP
Back to School
Whether your favorite dish is foie gras or pigs in a blanket, Portland's wide range of cooking classes will add some spice to your kitchen routine.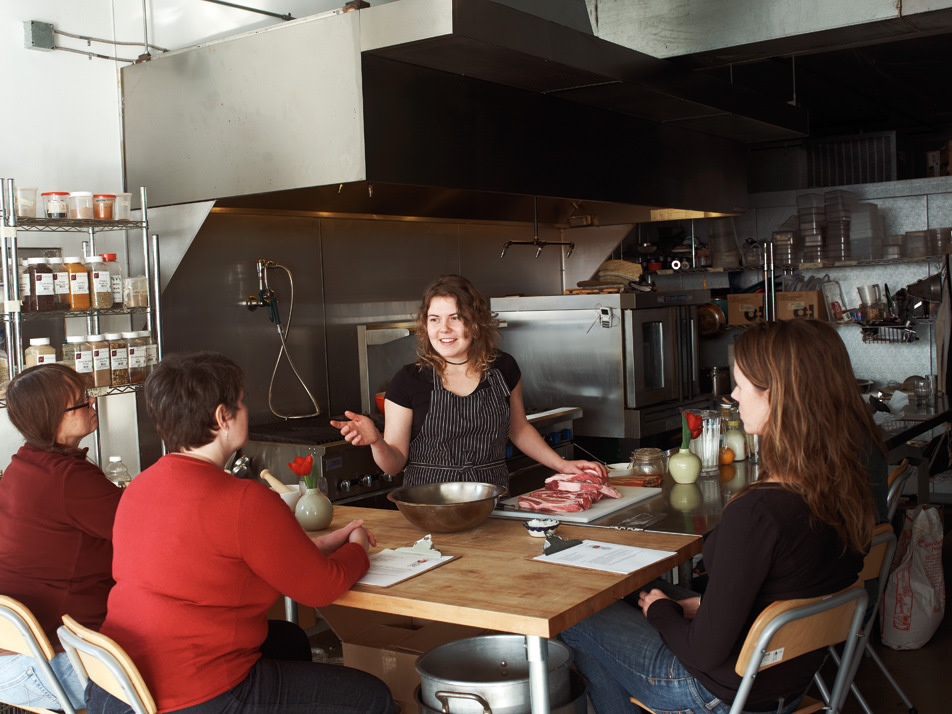 Pampered Instruction
Cooking lessons shouldn't be all work. In Good Taste (ingoodtastestore.com) offers relaxed, hands-on classes for every skill level taught by a roster of pedigreed chefs, each one beginning with a glass of wine and ending with a multicourse feast ($45–100). Hipcooks (portland.hipcooks.com) offers a similar but more whimsical formula, with classes like "Turning Japanese" and "OMG—Cooking for a Crowd" ($55). At The Kitchen (caprialandjohnskitchen.com), local food celebs Caprial and John Pence have created a series of sophisticated demonstrations on subjects like "French Café Dinner" and "Fat Tuesday" ($50 unless otherwise noted).
Homebodies
Learn to use your own kitchen more effectively with former Slow Food Portland director Katherine Deumling's Cook With What You Have (cookwithwhatyouhave.com), which focuses on seasonal ingredients in intimate, calming lessons for harried workaday cooks ($75). At Portland Home Cooking (503-239-1989), Judi Yamada puts the emphasis on simple, local ingredients with a slant toward vegetarian recipes (including vegan and gluten-free baking). Workshops are available on subjects of your choice for up to six people ($50-–70).
Old School
The community-supported kitchen space at 609 SE Ankeny Street is home to a number of classes on traditional cooking and preserving skills, including Abby's Table (abbys-table.com) and Salt, Fire &Time (saltfireandtime.com), along with the city's Urban Growth Bounty Series (portlandonline.com), which emphasizes sustainability and nutrition in a variety of classes on canning, pickling, and edible weeds ($20–45). For a dose of culinary adventure, John Kallas of Wild Food Adventures (wildfoodadventures.com) will lead you through forests to forage for fiddleheads or take you to the shore to dig for clams at low tide. Then he'll teach you what to do with your hard-won ingredients ($18–28 per person).