EAT UP
A Baker's Dozen
Portland neigborhoods flex their flour power.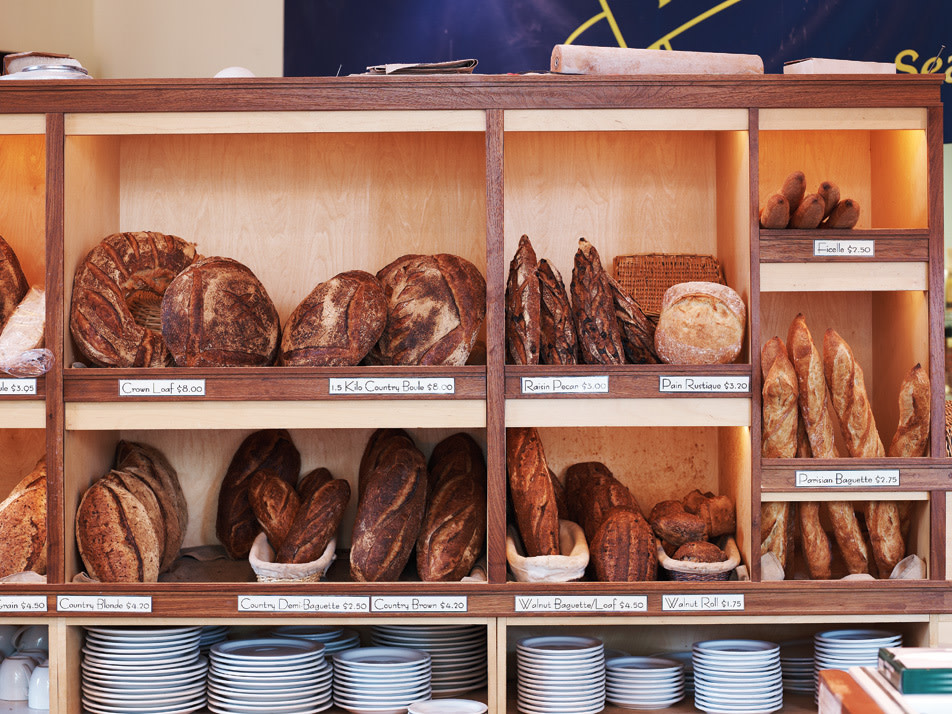 A Brief History
Portland rarely acknowledges its debts to other cities, particularly those owed to its northerly sister, Seattle. But every Stumptowner should bow and kiss the Emerald City's ring for giving us Grand Central Bakery. Founded in 1972 by Gwenyth Bassetti, the Seattle-based chain opened its first Portland store in 1993 at SE 22nd Avenue and Hawthorne Boulevard, thereby revitalizing the model for the neighborhood retail bakery. Courtesy of its hearth-baked, European-style bread, nothing has been the same in Portland since: the artisan bakery has officially joined the espresso café and the brewpub as one of the true signals of a neighborhood's arrival.
In a gallery-dotted industrial district where the burgeoning creative class played (but didn't yet live), Eric Lester opened the Pearl Bakery (102 NW Ninth Ave) in 1997 with Greg and Carolyn Mistell. The Pearl District grew skyward as the Pearl Bakery provided PDX's escalating foodie population with crusty French baguettes, wheel-size pugliese, and classic French pastries like the raisin-studded pain au raisin that still fly off the shelves today.
In 2001, tech refugee Ken Forkish carried Portland's newfound retail baking tradition to NW 21st Avenue with Ken's Artisan Bakery (338 NW 21st Ave), where he infused his rustic loaves, croissants, walnut-graveled brown bread, and seasonally inspired fruit tarts and pastries with a touch of country French elegance.
Julie Richardson, the owner of Baker & Spice (6330 SW Capitol Hwy), baked on Martha's Vineyard before going solo at the Hillsdale Farmers Market and later graduating to a nearby storefront. There, harvest rounds, currant loafs, house-made granola, and delicate galettes are showcased without pretense alongside New World treats like bread puddings and bittersweet-chocolate shortbread.
Pearl Bakery co-founder Greg Mistell's newest project, Fleur de Lis (3930 NE Hancock St), marks the seasons as they change with scrumptious treats like spring rhubarb Viennoiserie, summer blueberry scones, and French fruit tarts. Mistell plans his week's menu around the offerings at the nearby Hollywood Farmers Market, and his breads, replete with locally harvested nuts, seeds, and whole grains, have been vehicles for the sandwich revolution taking place at Portland hot spots like Bunk Sandwiches and Laurelhurst Market.
Tim Healea's Little T American Baker (2600 SE Division St) rules Southeast with crave-worthy baguettes, each one a crusty cylinder that's perfectly airy and creamy throughout. It's not surprising—after all, Healea was head baker at Pearl Bakery for nine years and a member of Team USA in Paris's 2002 Coupe du Monde de la Boulangerie—the World Cup of baking. The display case at Little T favors breakfast offerings like croissants, including one stuffed with house-made chocolate praline ganache, plus rustic tarts, chocolate chip cookies, and "slab bread," a focaccia-style flatbread slathered in olive oil and sea salt.
Three restaurants failed to survive on the corner of NW 10th Avenue and Lovejoy Street before ex-Pearl Bakery ace Dan Griffin teamed up with Pizzicato Pizza owner Mark Frankel to repurpose the legendarily cursed space into Lovejoy Bakers (939 NW 10th Ave), a sun-flooded shop where a dozen types of bread (Griffin's pride: a caraway rye), superb scones, and croissants that are a study in lightness are thoroughly enjoyed by the neighborhood.
Every self-respecting city needs a good New York bagel. Luckily, Kettleman Bagels (now closed) serves them here in three locations—properly boiled, steamed, and baked with not only the traditional trappings of onions, salt, and poppy seeds, but also ingredients like crushed black pepper and jalapeño.
Of course, lest we forget, one relative old-timer, An Xuyen Bakery (5345 SE Foster Rd), has been quietly wowing Portland with some of the city's best French bread since 1995. Specializing in Vietnamese-inflected guava cookies, durian cakes, and lotus paste–filled pastries, An Xuyen also churns out perfectly articulated French pastries like pâté chauds, cream puffs, and mini palmiers. And don't miss the bakery's spectacular banh mi sandwich, a national dish of Vietnam.
The New Kids
The latest generation of Portland bakeries is increasingly specialized. Take Two Tarts Bakery (2309 NW Kearney St), whose famous repertoire of diminutive treats includes the Lil' Mama (a chocolate sandwich cookie filled with vanilla buttercream) and 20 varieties of French macaroons. Several blocks away, Portlanders flock to Saint Cupcake (407 NW 17th Ave) for a cream cheese frosting that could make a block of wood mouthwatering. On N Mississippi Avenue, the Sugar Cube (now closed) serves spirited concoctions like the Amy Winehouse Cupcake, a combination of liquored-up yellow cake with a hint of orange zest and chocolate ganache from its cart window. The Kerns neighborhood's Bakery Bar (now closed) is destination-worthy thanks to owner Jocelyn Barda's remarkably decorated wedding cakes (think white cake covered in chocolate branches and bluebirds). But for less matrimonial occasions, don't miss her fennel–and–golden raisin scones, banana cupcakes, Earl Grey shortbread, and of course, the chocolate-chip cookies.