Five Questions
Chef Q & A: Benjamin Dyer
The big kahuna behind Simpatica and Laurelhurst Market is opening a Hawaiian Plate Lunch joint on East Burnside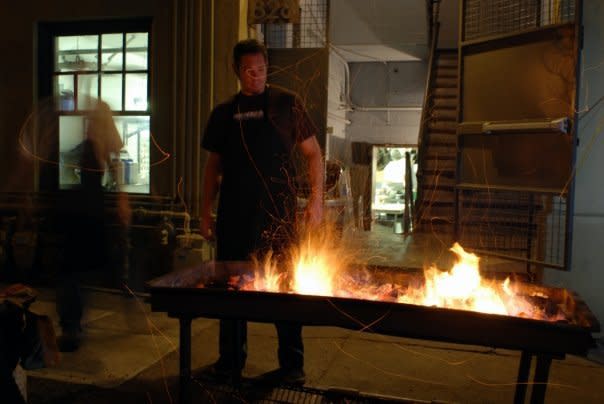 Chef Benjamin Dyer has already made quite a name for himself in Portland and beyond, slinging all-things-meaty masterpieces at Simpatica and Laurelhurst Market, which recently topped Bon Appétit's list of The 10 Best New Restaurants in America. But come Saturday, September 11th, Dyer and partners are adding a third east-side eatery into the mix: Ate-Oh-Ate, a Hawaiian-themed restaurant at 2452 East Burnside St., the former home of the Velveteria. Think kal-bi short ribs, loco moco (rice topped with a burger patty, egg, and gravy), saimin (noodle soup), mahi mahi sandwiches, and, of course, Spam.
"I love this kind of food and would eat it every day," says Dyer, who grew up in Kona on the big island of Hawaii. "So, I selfishly decided that I would open a Hawaiian plate lunch place that makes it just the way I like it."
Judging from every other culinary venture Dyer gets his hands on, everyone else is going to like it too. Here Dyer answers five questions to tide us over while we wait two more weeks.
1) Why are Hawaiians such fans of Spam, and why do you think P-Towners will be too?
Spam wove its way into Hawaiian cuisine during World War II, when it was a ready meat source for soldiers who didn't always have access to refrigeration. You can have a bento box of rice and fried Spam, and the result will be stable for hours. Most of the Spam I've eaten has been in musubi, a sort of hand-sushi consisting of fried Spam, scrambled egg, and rice, all wrapped in a sheet of nori (seaweed). The Spam's salty, smokiness plays off the sweetness of the rice and the round flavors of the egg — the result is definitely more than the sum of its parts. I think there are two types of people: those who love Spam, and those who've never tried Spam musubi.
2) What's one perfect wine, beer, and cocktail to pair with Spam Musubi?
Wine: Most people I've seen eating musubi in public are at parties and family luaus. The wine of choice at these events usually comes out of a box or a 1.5L bottle. However, if I were to take the highbrow road, perhaps a nice Alsatian-style wine — pinot gris/blanc or a dry riesling — something dry but with decent fruit and a little more acid to balance the Spam's smoky fattiness.
Beer: For reasons unclear, the #1 selling beer in Hawaii is Steinlager, a mild, sweet, slightly skunky lager from New Zealand. It's ubiquitous on beach trips and off-road truck ramblings in the mountains, along with musubi and containers of poke (the Hawaiian version of sashimi).
Cocktail: A "P.R.O.G." It's POG (a blend of passion fruit, orange, and guava juice, invented in Hawaii) over a glass full of ice with a healthy amount of rum and a wedge of lime. The sweet, fruity boldness of the juice cuts the musubi's saltiness and allows one to add way more rum than should be possible. We're serving them at Ate-Oh-Ate.
3) What's another unique ingredient in Hawaiian cooking?
Ti leaves are sturdy, blade-shaped leaves that impart a distinct, green flavor, and are a huge part of Hawaiian culinary and cultural heritage. Wrapped around bundles of pork, beef, seafood, and taro leaves and steamed for hours, one is blessed with laulau. Or wrapped around pork shoulders and baked for hours (or stuck in an imu, an underground oven), one ends up with kalua pig. Ti leaves are also woven into hula skirts, used to thatch roofs, and wrapped around bottles of whiskey and thrown into volcanoes as an offering to the goddess of the volcano, Pele.
4) If you could have any musician in the world you wanted play the opening of Ate-Oh-Ate, who would it be?
Since we're dreaming here, I would have to resurrect Israel Kamakawiwo'ole a.k.a. Bradah Iz, best known for his cover of "Somewhere Over the Rainbow." He represented everything that I love most about Hawaiian music — gigantic monsters of men with voices as sweet as angels.
5) Where would you take your Hawaiian friends/family to eat if they were visiting Portland?
The first place that comes to mind is Pok Pok. It's like no other Thai restaurant I've been to, and chef/owner Andy Ricker's food is always exciting and delicious. Then maybe dessert at Mojo Crepes, my #1 go-to spot this summer when I want a sweet treat. Their cone-shaped crepes filled with ice-cream and toppings, and garnished with a Pocky (a frosted Japanese sweet biscuit stick), are awesome, and I crave them all the time. I'm craving one right now.