Savor
Souped Up
A meat master's vegan twist on split pea soup adds flavor, texture, and plenty of heat.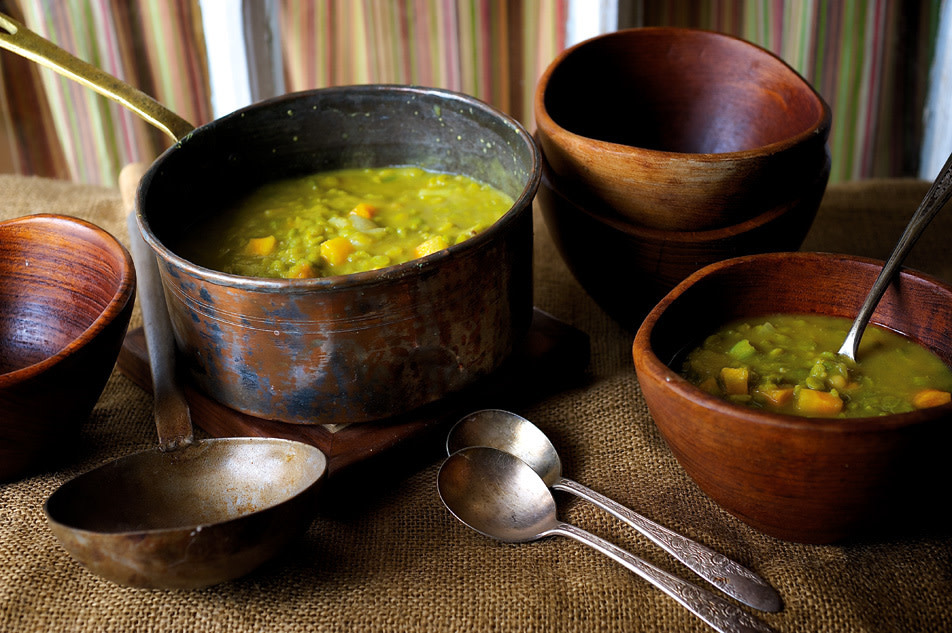 VEGETARIANISM ISN'T necessarily the first thing that comes to mind when you think of Higgins Restaurant & Bar, the venerable downtown eatery that was an early pioneer in serving house-made charcuterie. (Both times I phoned chef and owner Greg Higgins, he was "up to his elbows" butchering meat.) But Higgins, whose wife is a vegetarian, has long been committed to meat-free cooking, too. A solid third of his restaurant's ever-changing daily menu is vegetarian or vegan, and he understands that to please the omnivores in search of a fine meal, he's got to reach into different cuisines, get imaginative, and win them over with surprising meat-free dishes.
One consistent winner is the split pea soup. If the mere mention conjures wafts of ham hocks and a wintry, stick-to-your-ribs heartiness, think again. Higgins lightens up the usual formula with some surprising flavors, creating a soup that's warm and filling but refreshingly bright. Instead of rich smoked meats, he employs cumin seeds and orange zest, perking up the soup's heavier flavors with an almost Caribbean feel. "Peas have an earthy nuttiness," he says, "and then you have the high notes of the cumin and orange. It adds some complexity, a broader spectrum of flavor." He simmers the peas in two batches, so that some maintain their texture while others break down to provide a creamy backdrop. Higgins's beloved chiles spark it up even more—at the restaurant, he favors hot-yet-fruity options like aji dulce, though you can re-create something similar at home with jalapeños and a dash of your favorite hot sauce. The deliciously zesty result is a soup hearty enough to satisfy even the most dedicated carnivores. 
Split Pea Soup with Cumin & Orange
Serves 6
3 tbsp olive oil
6 garlic cloves, minced
1 tbsp cumin seeds
½ tsp ground black pepper
1 large onion, diced
2 large carrots, diced
3 celery stalks, diced
2 jalapeños, seeded and minced
3 cups split peas, divided in half
8 cups water
2 tbsp orange zest, minced
Salt to taste
Your favorite hot sauce
(1) HEAT olive oil in a heavy saucepan on medium and add garlic, cumin, and black pepper. (2) SAUTÉ until garlic just begins to brown (about 5 minutes). (3) ADD onion, carrot, celery, and jalapeños—stir well and cook until onions begin to soften (5–7 minutes). (4) ADD water and half of the split peas, and bring to a simmer. Stirring occasionally, cook until peas are tender (about 45 minutes). (5) ADD remaining split peas and orange zest and cook on a low simmer, uncovered, until all of the peas are tender (30–40 minutes), and season to taste with salt and pepper. (6) GARNISH with toasted cumin seeds, orange zest, and hot sauce.