Eat This Now
Vegetarian Swank, At Last
Genoa and Beast set a welcome new table for meat-free eating.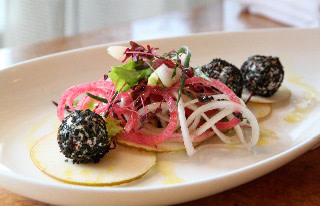 Porkland is surrounded and under siege…by vegetarians. Yes, the meat-free crowd is vocal and growing—but it doesn't mean they're eating all that well, at least in this celebrated food city. So far vegetarianism has been more of a political stance or a lifestyle than an exciting food movement.
Sure, every restaurant has an option or three, and a few vegan outposts speak to the converted, but who's stepping up in this food-savvy city? Where are the inspired vegetarian nights on the town? Who is taking it seriously? A number of upscale restaurants in California, including the French Laundry in Napa, have laid down vegetarian tasting menus for years. Maybe we don't fly at that scale, but isn't it time for some meatless moaning on par with the pork ecstasy?
Say hello to Genoa and Beast.
Last month, Genoa, a 40-year-old house of feasting on SE Belmont Street, launched a five-course vegetarian menu to stand alongside it regular monthly menu. The numbers are in: nearly one-third of Genoa's customers went for it, according to chef David Anderson.
Genoa 2.0 has been searching for a new identity since a new team of owners and cooks rescued the landmark restaurant in late 2009. Perhaps this is it, along with a promising new fusion of energy: talented chef Daniel Mondok has signed on, joining former Vindalho chef David Anderson, who has led the kitchen since the restaurant's relaunch in 2009. Mondok's Sel Gris on SE Hawthorne Boulevard was one of Portland's most talked-about restaurants—before a fire shut it down. He brings to the table modern-French techniques, playful ideas, and design-intensive plates.
GENOA'S VEGETARIAN MENU FOR MARCH:
The parade includes a forest–deep green custard of nettle and sorrel; ravioli stuffed with farm-fresh carrots and fresh-made ricotta; farro stew with wild mushrooms and pumpkin seed salsa verde; and a choice of four desserts.
Pescatarians can swap in a fish entrée. Meanwhile, meat lovers can go their own way with the regular menu. Any which way, price is $60 per person. Reservations are recommended.
Meanwhile, Beast, Naomi Pomeroy's meaty communal table on NE 30th Avenue, is staging occasional blow-out vegetarian dinners. Beast threw out some vegetarian love last year, and to Pomeroy's surprise, dinners sold out in a matter of hours. Like many diners (ladies, I'm talking to you), Pomeroy is not a vegetarian but prefers to eat light and clean. "When I go out," confesses the queen of pig, "I'm not looking to eat a bunch of meat." Up next: a March 15 feast, with seven courses. But remember: we said no meat…not no calories. Start the dieting now. We strong-armed Pomoroy into giving us a taste of what her menu will look like. Here's the short list. Cost is $100 per person, wine included. Reservations are a must.
A SNEAK PEEK AT THE BEAST FEAST:
Spiced carrot veloute with curried whipped crème fraiche and tempura fried preserved lemon
Buratta stuffed artichoke bottoms with tarragon and chervil salsa verde
Wild mushroom ravioli with sage leaves, brown butter, and parmesan caramelized onion jus
Savoy cabbage roll stuffed with heirloom white beans and olives with tomato and kumquat marmalade
Beet and citrus salad with micro arugula and toasted walnut vinaigrette
Sections of cheese from Cheese Bar and selected accompaniments
Olive oil ice cream and dark rosemary caramel custard tart