Best of PDX
A Foodie Farewell
An Eat Beater says sayonara and shares a few things she's learned.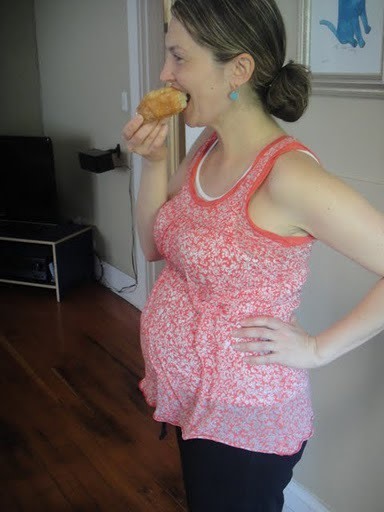 Dearest Eat Beat Readers:
It is with a heavy heart and a rumbling belly that after 10 months of chronicling our fair city's culinary scene, I must say goodbye. Although I've loved every interview I've conducted and forkful of food I've consumed in the name of "work," it just so happens that in a few short months I will be finished cooking up something of my own: a baby. And as energetic as my wee girl appears to be (repeatedly pushing off my ribs and slamming into my hip bone, probably because of all the doughnuts…), sleep deprivation and 24-hour diaper changing isn't exactly conducive to seeking out the latest and greatest gourmet superstar, happy hour, or cheap date. Luckily the very astute Allison Jones has stepped in, and, of course, there is always the incomparable Karen Brooks and a cadre of guest writers with tireless taste buds.
I grew up cooking and baking, love to eat, and spent numerous years working in restaurants while I became a writer, and Eat Beating has been a truly special joy of mine. So without further ado about this adieu, I will leave you with a few thoughts about things I've learned along the way.
Best of PDX
Want a sure-fire way to get Portland peeps riled up? Rank their food options. And if you really want to see cartoon steam coming out of their ears, make sure you're ranking their sweet carbohydrates, such as chocolate chip cookies, biscuits, and—drum roll—doughnuts! My analysis of 10 area doughnut shops had more readers than any post that has ever appeared on Eat Beat. And the comments included downright patriotic outrage over the rings, bars, and holes I failed to name. Looking back I can say that Tonalli's (2805 NE Alberta St) still reigns supreme when it comes to classic doughnuts—although I am personally obsessed with old-fashioneds, this story made me try their melt-in-your-mouth buttermilk bar and it's my new favorite. I also crave the apple fritter at Coco Donut and want to try all the more unusual flavors at Sesame Donuts. I also went to Helen Bernhard after being chastised for failing to do so in my doughnut round-up, and, while tasty, I don't think it's as good as the three I just named. I look forward to your shock and awe.
Cheap Eats/Cheap Date
Pho, pho, pho, pho, pho. A steaming bowl of this flavor-packed noodle soup is probably the most food you will ever be able to get for the least cash. It is also my favorite-est thing to eat in the world, and a singular pleasure in a city where a broad range of quality ethnic cuisine is not the strong suit. In my opinion, the best to be found, both fleshy and veggie, is at Pho Gia (1944 NE Sandy).
First Impressions
Although a number of the places I sought out to write about where new to me, the all-new establishment that really stands out is the all-vegetarian Natural Selection. I wasn't expecting it to be anywhere near as good as it was. The food has so much thought, heart, and attention to detail, and their chocolate pots de crème is truly sublime. Plus, the staff is knowledgeable and attentive. And they have real, heavy silverware. This is the kind of place that is making us feel more like a multi-faceted culinary city like San Francisco or New York, rather than just an adorable but narrow-minded comfort-food-and-entrails foodie town.
Five Questions
There is nothing that compares to getting an insider's POV. Every single one of these interviews I did was a thrill. But if I would never be able to drink wine again unless I pick three that stand out, I'd have to say Ken Forkish, Paul Gerald, and Aubrey Lindley.
Happy Hour of the Week
Rather than any one happy hour that shines above all the others, what I was surprised to learn was just how many of these discount dining experiences there are. If the timing works for you, you can eat and drink like a king all over town pretty much every day of the week. But 23Hoyt is pretty special in this arena.
Vegetarian Viand
Despite being a lifelong vegetarian, I didn't cover this topic that much. Partially because there wasn't a whole lot to say. We may have a hippie-dippie mystique, but there just aren't a lot of solid (i.e. not crappy), totally vegetarian restaurants in town, although Blossoming Lotus is a true joy (I have eaten their Southwestern Bowl with golden tofu three times in the last two weeks). It doesn't bother me much because most local eateries do a damn fine job of providing tasty veggie options that aren't just fettuccine alfredo (DOC, Foster Burger, Screen Door), but I do think it's a sign that we need to broaden our horizons a tad. Castagna has brought molecular gastronomy to the table; now let's give some love to our multitude of veg-heads.
The Scene
Local, seasonal, creative, casual, and youthful, plus Portland is a pretty cheap foodie city all-around. Many of us can afford to eat at even the city's best restaurants (e.g. Le Pigeon, Toro Bravo, DOC, Nostrana, Pok Pok, Ken's Artisan Pizza, Olympic Provisions, Lincoln, Paley's Place), if perhaps not all the time. This has a lot to do with local eateries prizing impeccable quality and innovation over white tablecloths and sky-high prices. You can build a gorgeous space, but we'll pass it over (to wit, the late Ten-01 and Fenouil). However, build a gorgeous meal in an environment where we can wear our faded jeans and fleece coats, and we'll keep coming back. Portland may be dreary much of the time, the economy is tenuous, and the drivers are the worst on the planet, but I've drunk the culinary Kool-Aid and I am hooked for life.