Savor
Fruit and the Sea
Din Din's Courtney Sproule tarts up a simple salmon fillet with local gooseberries.
COURTNEY SPROULE believes that the key to good food is good fun. At her monthly Din Din supper club, Sproule draws upon her French and Italian training to tease the best flavors out of her obsessively local ingredients. She carefully crafts not just a meal, but an experience—a mixture of music, décor, and special guests. "We want to be serious about the food and do a good job," she says, "but at the same time we want people to have fun, and sprinkle in a few whimsical elements." From her miniature dinner, featuring plate after tiny plate of microcourses, to her velvety, liquor-laden Valentine's Day feast, Sproule's dedication to merrymaking is apparent. And with her quirky take on salmon, bathed in a gooseberry crème fraîche sauce, you can infuse your own kitchen with a bit of that whimsy.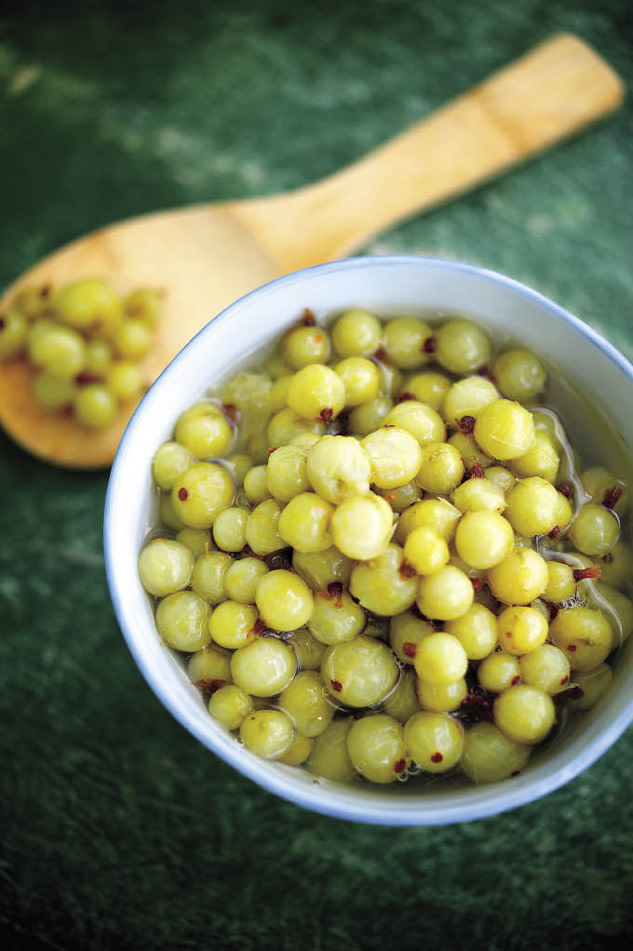 Few locals give gooseberries the love lavished on their black and red cousins. But their plump, striped hues make them a beautiful addition to a plate, and their tart flavor stands up particularly well in a savory dish—Sproule loves how their unexpected piquancy transforms a salmon fillet. True to her training, she employs classic technique to realize her uniquely playful vision: she cooks the salmon au blanc, gently heating fish so that it doesn't color or lose any of its moisture, then sauces it with creamy gooseberries. "You get something that's really delicate," Sproule says, "which is perfect to pair with a complex berry." To take the dish in different directions, Sproule encourages experimenting with other Northwest berries, such as blackberries or blueberries. But aren't gooseberries just more fun? 
Salmon with Gooseberry Crème Fraîche Sauce
Serves 2 
2 tbsp unsalted butter
2 6-oz salmon pieces (skin and pinbones removed)
1 shallot, halved and sliced into 1/8-inch half-moons
½ cup white wine
¼ cup crème fraiche
8 large gooseberries, halved
1 small handful fresh herbs (basil, tarragon, mint, hyssop, or chervil), cut in a chiffonade 
Zest of ¼ lemon
Salt and white pepper to taste
(1) PREHEAT oven to 400. (2) MELT butter in a pan over medium-low heat and sauté salmon until the surface turns opaque but doesn't brown, approximately one minute per side. (3) REMOVE salmon to a tray, season with salt, and set aside. (4) IN THE SAME PAN, turn heat to low and add shallot and a pinch of salt, cover, and cook until soft, approximately 8 minutes. (5) UNCOVER pan, increase heat to medium, and add the wine. (6) BRING TO A SIMMER and reduce by two-thirds, approximately 8 minutes. ?(7) WHISK in crème fraîche and reduce at a gentle simmer until it thickens and reduces by half. (8) ADD gooseberries and simmer until plump, approximately 1 minute. ?(9)ADD herb and lemon zest, and season with salt and white pepper. (10) WHILE SAUCE FINISHES, cook salmon to medium rare in the oven, approximately 5 minutes. (11) TRANSFER SALMON to plates, pour half the sauce over each piece, and serve. (Sproule recommends pairing salmon with sautéed chard and roasted beets dressed with a nut-oil vinaigrette.)
Find out-of-season gooseberries at Oregon Fruit Products.