NEIGHBORHOOD NEWS
Eat Beat Neighborhood News
Top stories from around Portland, including departing carts, new vegan brunch, and a rumor come true.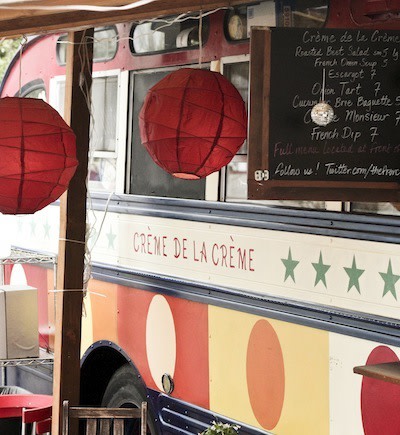 Southeast
Division street veg favorite Portobello Vegan Trattoria (1125 SE Division St; 503-754-5993) is opening for for brunch starting this Sunday, offering weekend morning versions of their popular vegan comfort food—and we've got out fingers crossed for a vegan breakfast pizza! Tip: Seating is first come, first served, so get there early to beat the crowd (brunch hours are 11 am to 3 pm). (Eater)
Crème de la Crème, the colorful bus known for dishing out escargot, French onion soup, and brie-and-cucumber sandwiches is hitting the road…permanently. The Frenchy food truck is leaving SE Belmont's Good Food Here cart pod in favor of Seattle's emerald skyline. Last day of service will be September 24th. (Crème de la Crème's Facebook)
Southwest
As Eat Beat rumored in August, the Downtown space that housed Café Velo has been reborn as the brick-and-mortar location for Lauretta Jean's Handmade Pies (600 SW Pine). (Eater)
Northwest
Chef BJ Smith (former executive chef at The Original) is opening Smokehouse 21, a BBQ-powered endeavor that will fill the space recently vacated by Tanuki. The new restaurant, located at 413 NW 21st Avenue, is slated to open mid-fall. (Eater)
Northeast (kinda)
Burnside darling June is now one shaker short. FoodDude reports that top bartender Kelly Swenson has left the romantic restaurant that has consistently earned accolades for its drink program. No word yet on Swenson's next step. (FoodDude)
Got a food news tip? Send it my way at [email protected]!