EAT HERE NOW
5 Fresh Favorites
In these chilliest months, it's good to hunt down some green in our meals. Here's our picks for five go-to spots to find fresh comfort food that won't leave you needing a post-meal nap.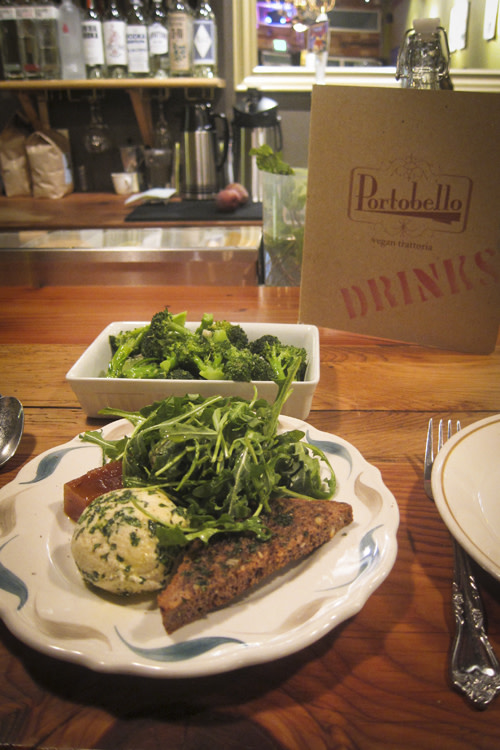 Chances are, you're still recovering from the effects of holiday eats and drinks. Here are my favorite restaurants when I want to dig into some great fresh food that leaves me feeling ready to take on the coldest days of the year.
1. Portobello (1125 SE Division St.) This vegan trattoria gets me every time. Unlike other vegan restaurants I've been to, I never feel like I'm missing something at Portobello, and their pizza is out-of-this-world good. For weekend brunch or dinner, these guys simply work magic with veggies—creating decadent, rich, and flavorful plates without a lick of butter—and much of their menu is gluten-free friendly. The secret is in the stock: Portobello's kitchen turns out 30 quarts of rich veggie stock every day, which adds depth and body to everything on the menu. Their refreshing "Mocktail" list provides all the perks of PDX Mixology without the booze (don't worry, they also have a full bar).
Eat me: Cashew Cheese-stuffed sweet peppers, Arrabiata pizza, a side (or two) of addictive garlicky broccoli, and anything involving local mushrooms.
Drink me: The Pip Mocktail, with apply juice, ginger, Dragonfly Chai, and soda water or The Bella, with gewurztraminer juice, mint, and soda water.
2. Boke Bowl (1028 SE Water Avenue) Sure, everyone's talking about Boke ramen these days, but when I want something really fresh and delicious, it's hard to beat their pickle plate (that comes with rice and seaweed to make your own wraps) and their seasonal "salad" packed with winter veggies and citrus. One day I was sitting at the long communal table that bisects the restaurant and a server dropped a plate of the Brussels sprouts. The whole room gasped in horror at the loss of the salad. It's that good.
Eat me: Assorted seasonal pickles with ginger-green onion rice and Korean seaweed; Warm Brussels sprouts salad with cauliflower, citrus, house tofu croutons and Thai vinaigrette.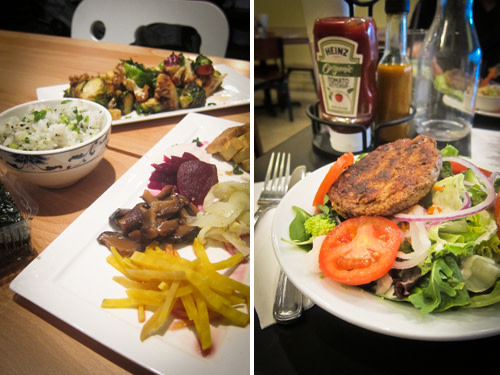 3. Dick's Kitchen (3312 SE Belmont and 704 NW 21st) This Paleo-friendly diner's menu is packed with fresh spins on comfort food favorites like burgers (100% grass-fed beef), deli sandwiches including their saucy tempeh rueben, sausages like the Heritage Meats Kielbasa, and a long list of salads and veggie sides. This place is great for diners of all dietary persuasions, plus they have Coconut Bliss vegan milkshakes. Win/win.
Eat me: Thai Burger Bowl, a burger patty or turkey patty served on a Thai salad of romaine and mesclun-mix lettuces, red onions, tomatoes, carrots, broccoli, fresh cilantro and house-made spicy Thai dressing with a bowl of soup (specials rotate daily, but the smoked tomato is heaven).
Drink me: Papaya Drink in the style of New York City's hot dog joints; Chocolate Coconut Bliss milkshake.
4. Departure (525 SW Morrison Street, top floor of the Nines Hotel) I love this spot because you can literally fill the table with plate after plate of flavorful food and you never leave feeling gross or greasy. Even the desserts at this 15th floor hot spot are fresh and full of creative combinations. Insider tip: Chef Gregory Gourdet is launching a full vegan menu any day now. Stay tuned for more details.
Eat me: Bring some friends and tour the menu! Get the Asian Pear and Apple Salad with hearts of palm, tamarind, and macadamia, the Kampachi Sashimi with orange, pomegranate, shiso, and serrano, and the Crispy Squid with smoked chili glaze and sweet and sour pineapple. But whatever you order, get a side of Brussels sprouts with chili, lime, and mint. You'll thank me later.
For Dessert: The Beni Imo Bundt Cake with honey walnut glaze, goji berries, sultanas, and condensed milk ice cream is the best gluten free dessert in town.
5. Woodsman Tavern (4537 Southeast Division) This spot is earning accolades for their country brunch, killer cocktails, and one HUGE steak, but it's also easy to go the fresh route at this warm Division newcomer. Dive into the raw and chilled seafood selection—think Pacific Coast oysters, old-school chilled prawn cocktail, Dungeness crab, and scallop crudo—and add a few salads and veggies sides, like the Winter Salad with radicchio, farro, cauliflower, pomegranate and walnuts or stewed green beans. You'll be feeling good in no time.
Eat me: Crudo of Bay Scallop with Petrale Sole and sweet peppers, a half-dozen Netarts Bay oysters, Winter Salad, and a side of green beans.
Drink me: The Brandy Daisy, with Cognac, Cointreau, lemon juice, lime juice, and egg white.
Where do you go when you want to take a break from heavier meals? Let me know in the comments!