EAT HERE NOW
Portobello Picks Up Brunch
In a town filled with downright gluttonous options for your a.m. meal, this vegan trattoria brings all the comfort without the eggs, bacon, and butter (and it's delicious).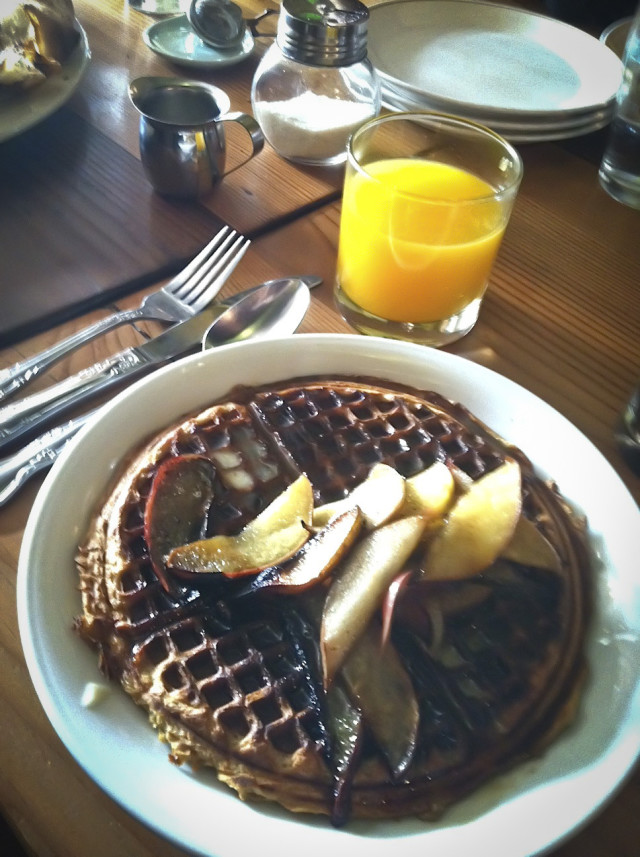 Don't get me wrong, I can throw down a slab of pork belly with the best of them, but sometimes a gut-bomb in the morning isn't exactly conducive to getting anything done for the rest for the day.
Portobello Vegan Trattoria has the tastiest antidote to bacon-bearing breakfast plates by going beyond the tofu scramble (1125 SE Division St.; 503-754-5993).
If you've been to Portobello for dinner, you've experienced Chef Aaron Adams' particular brand of sumptuous Italian comfort food sans meat, dairy, or eggs—and you've probably experienced the long waits that come with it.
Want to try Portobello's pizza, beet burger, faux sausage sautees and sophisticated sweets without the line? Head in for brunch—we were seated promptly at 11 on a Sunday morning, without a reservation (all a.m. seatings are first come first served).
Portobello's morning options go well beyond the average vegan breakfast plates around town.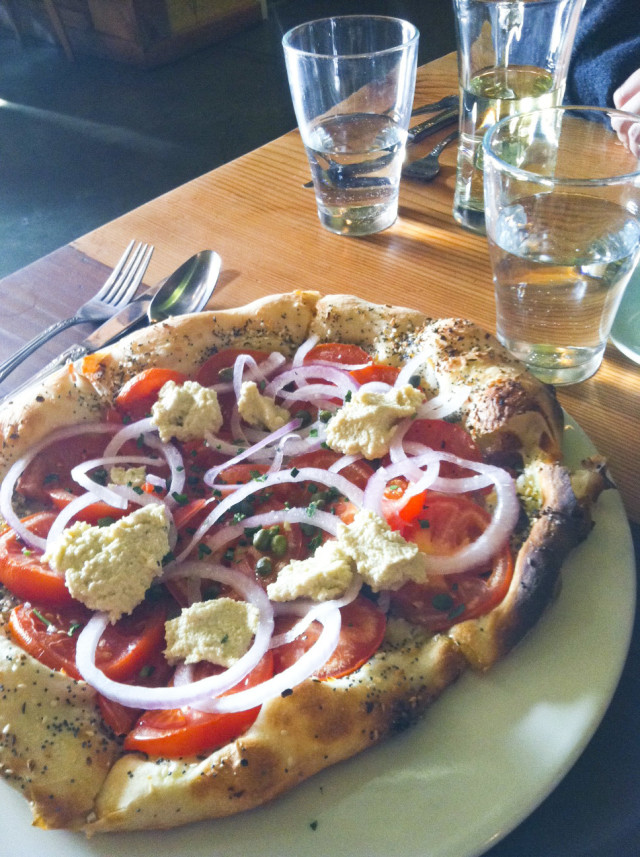 The breakfast pizza puts a morning spin on the eatery's classic crust—sprinkled with everything bagel-esque poppy seeds, onions, and sesame seeds, topped with cashew cheese, tomatoes, red onions, cucumbers, and capers ($9).
The effect is close to bagels and lox—but you get a whole pizza's worth, perfect for sharing with your brunchmates.
The Italian sausage frittata is a savory tofu and veggie casserole topped with Portobello's tomato sauce ($8), and the brunch burger is a huge beet-hued patty topped with vegan Hollandaise, tomatoes, and onions on a fresh, soft bun ($10).
The roasted sweet potato, rootbeer, and rum waffle is packed with toffee flavors that sing with the addition of Kraken rum and maple syrup macerated fruits ($8).
The menu is stocked with comforting dishes that are sure to cure what ails you in an atmosphere that is cozy and family friendly—and isn't that what brunch is for?
Portobello Vegan Trattoria
125 SE Division St. 503-754-5993
Brunch: Sundays 10 am to 2 pm
Dinner: Tuesday through Thursday 5:30 to 9 pm. Friday and Saturday 5:30 pm to 10 pm.