FOOD NEWS
Woodsman Tavern Opening for Brunch
Next up from this new world eatery with old school charm? Home-style cooking and craft cocktails for the a.m. crowd—plus a burger!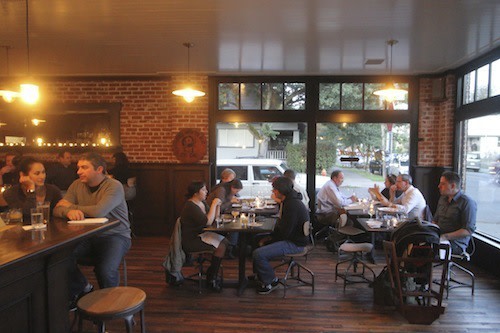 It's official: Southeast Divison's latest hot spot will open for brunch from 9 am to 2 pm on Saturday, November 26—just in time for post-Thanksgiving noshing. Bring along your out-of-town visitors to show them what's hot right now in the City of Roses, or sneak out of the house without them (we promise not to tell).
Early menu details from co-owner (and Stumptown coffee founder) Duane Sorenson include baked goods and plenty of home-grown comfort food, country-style. Chef Jason Barwikowski will be whipping up oat scones with mascarpone and kumquat jam, steel-cut oats with preserves and sweet butter, bread pudding French toast with maple butter, cheddar biscuits with country ham and fried eggs, and the obligatory griddle burger (with onions and straight-up French's mustard).
Breakfast-friendly cocktails from bartender Evan Zimmerman are on the way, including seasonal toddies and spiked coffees that are sure to knock that late-fall chill right out of your bones.
The Woodsman Tavern
4537 Southeast Division Street; 971-373-8264
Saturday and Sunday Brunch: 9 am to 2 pm
Sunday through Thursday Dinner: 5 pm to 10 pm
Friday and Saturday Dinner: 5 pm to 11 pm