HOMETOWN PRIDE
Woodsman Tavern in GQ
One of Portland's sexiest new restaurants gets the Top Ten treatment from GQ Magazine's restaurant team.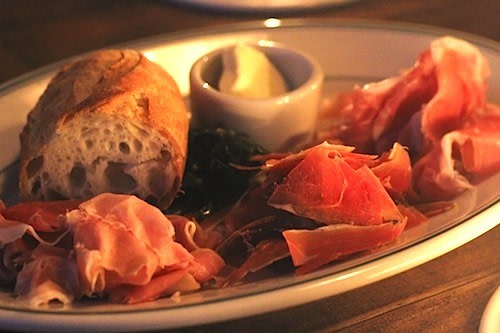 GQ Magazine's latest 10 Best New Restaurants in America list (which in previous years highlighted hot spots like Grüner and Ping) has turned it's hipness-measuring lens on Stumptown Owner Duane Sorenson's Woodsman Tavern. Chef Jason Barwikowski's menu gets high marks for international inspiration and the presence of a particularly crave-worthy sandwich (aka domestic ham plate):
"What's astonishing about the Woodsman is not so much that the kitchen doesn't miss—it's that this place didn't exist until October of last year. It's the restaurant that, if you've never been to Portland, you imagine on every corner: reclaimed wood basking in the glow of Edison bulbs, kitschy Zig-Zag dispensers behind the bar, serious cocktails, serious coffee. But this isn't just some dutiful, farmy Portlandia-esque ideal, and after a few courses, you realize that the 'Tavern' descriptor is typical northwestern understatement, like saying that it sometimes rains here. Start with American ham sliced to transparency and served with bread, butter, and pickled collard greens, which make for the best sandwich in a city with a cultish sandwich culture."
Looks like GQ has finally jumped on the PDX lovin' bandwagon. This praise for the Woodsman is a far cry from the lead-in to last year's list, which remarked (re: Grüner), "What's a Restaurant Like This Doing in a Place Like Portland?" What a difference a year (and a dozen national and international articles spotlighting our food scene) makes!
You can check out the full list and read the rest of the Woodsman spotlight here.
4537 Southeast Division Street; 971-373-8264