FIRST IMPRESSIONS
Sandwiches at the Woodsman Market
A specialty foods market puts its meat counter to good use.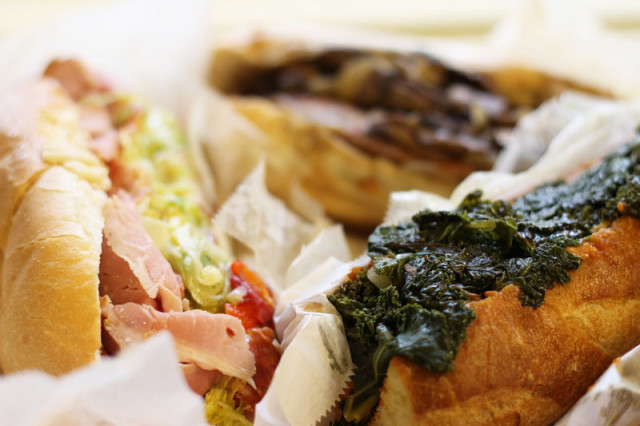 For months, as The Woodsman Tavern on SE Division gained media attention for owner (and Stumptown founder) Duane Sorenson's brand of Brooklyn-meets-Portland cool, the next-door specialty market quietly filled its shelves. From small wooden crates of farmer's market produce and hard-to-find nuts to a whole case of house-cured meats, The Woodsman Market is becoming a neighborhood destination for casual eaters and devoted-foodies alike. Now Sorenson and affable market front man Noah Cable are moving into the realm of sandwiches, with carefully curated condiments, home-cured meats like corned beef and venison sausage, and a key to the Tavern's meat locker crafted by chef Jason Barwikowski.
The sandwich program, still in its infancy, features around five sandwiches, most of them rotating daily with the local farm haul and the Tavern's dinner specials. The Rocky, the Woodsman's version of an Italian, is a first-rate East Coast sub: a plush hoagie filled with fiery sopressata, capocollo (spicy, garlicky cured pork shoulder), prosciutto cotto (cooked prosciutto), a few rings of spicy Mama's Lil' Peppers, and ground cheddar cheese curds (the squeaky byproduct of cheese, ground into tiny morsels). The breakfast sandwich is also a standout, with all the essentials: bacon (cured at the Woodsman), egg, and cheddar, but with a heavy smear of ketchup to the English muffin buns.
A few of the sandwiches lack what the market offers itself: the surprise and personality reflected in the well-stocked shelves and the talented staff. A vegetarian sub, slathered in an almond-red pepper romesco sauce and filled with dark green kale from the esteemed Gathering Together Farms, was long on good ingredients but short on substance. A tuna roll, despite its savory bits of pickle and fish from Oregon coast importer, Sacred Sea, didn't transcend beyond the bare bones ingredients. At $7-$8, these sammies need to step their game up to match what is already one of the best specialty markets in the city.
Specials from next door weren't available on a recent sampling, but we have high hopes for The Woodsman's market-meets-restaurant synergy, taking Barwikowski's pork chops, skirt steaks, and roast chickens and turning them into unexpected sandwiches and sliders.
The Woodsman Market
4537 SE Division St
(971) 373-8264
Lunch everyday from 9-3pm