Restaurant Review
Decadence Returns
In a city of casual gastronomy, fussy french cuisine looks fresh.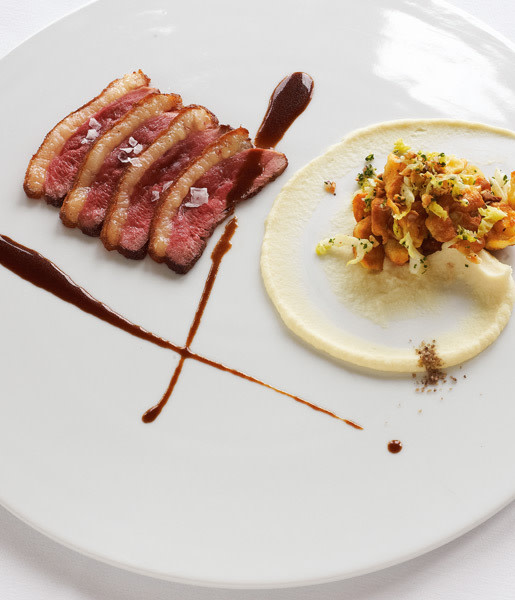 AT THE INTERSECTION of NW 23rd Place and Vaughn Street, cars zip on and off the Fremont Bridge, past a Jack in the Box and a sign advertising "Food and Cigs Express," the growl of their engines fusing into a punishing, incessant soundtrack. But five nights a week, in an elevated house on the corner, the mood swings and Tony Bennett rules the world. Mirrored chandeliers shoot bling across a room, and votives flicker all night long, casting soft shadows off dark khaki walls for the kind of light that wipes 10 years off your face. Tiny tables sport pressed white linen, Limoges porcelain plates, and boxy chrome chairs with marshmallow cushions. At the three-seat bar, the city's most intimate corner, a white-aproned gentleman vigorously shakes the perfect martini. The warm charisma simply oozes at Noisette. In short: chef Tony Demes is back.
When we last met Demes, he was cooking his heart out at Couvron in Southwest Portland, with eight-course tasting menus and vertical towers of food layered like Frank Lloyd Wright's harmonious walls. From 1995 to 2003, Couvron stood as the city's premier special-occasion destination, the kitchen's $75-a-head baroque food parade as expensive and ambitious as Portland dared. By the time Demes bolted for bigger pastures, he had more awards than Patton: perfect Zagat scores, four diamonds from AAA, Wine Spectator awards of excellence. 
Now, after cooking tours in New York, Michigan, and, most recently, Washington state (at the Herbfarm, the famed hyperseasonal temple outside of Seattle) Demes is gambling on luxury once again in casual Portland. At 46, he returns to a profoundly changed food scene, deeply entrenched in a DIY ethos and the object of a national media crush. But Demes has sized up Portland's dining scene like a seasoned stock analyst, with a flexible drop-by or stay-for-the-night menu crafted for an older, dressed-up crowd hungry for an alternative to the east side's relentless industrial hipness.
At Noisette, each dish is a meticulous landscape of geometric shapes, Jackson Pollock sauce squiggles, and culinary pedestals presented on ever-shifting plates of outsize scale. A la carte options may beckon the casual diner, but half the room has clearly come to experience the eight-course tasting menu.
This three-hour extravaganza shifts into gear with a soft sculpture of raw tuna "tartare," sprouting variations on a radish theme, and ends with a long-forgotten object of desire: a made-to-order soufflé, billowing, ethereal, golden-crusted, and inhalable within seconds. But the experience crystallizes four courses in, when Demes himself, complete with white jacket, rushes to your table to present the dome-covered pièce de résistance of scallops, risotto, black and white truffles, and celery-root sauce. In a wonderful twist, this is Portland's most out-of-the-box restaurant experience: contemporary French cuisine with a pinch of old-school grand theater. When was the last time you saw a dome?
The tasting menu may be a generous deal (notably, at an inflation-unadjusted '90s price of $75) and a wicked indulgence on a school night, but it's also richer than Mitt Romney. Courses can blur over time, and the plate-long potato purée schmears and veal-stock-intensive sauce splashes first welcomed as friends begin to feel like stalkers seven courses in. I suspect Demes will stretch his repertoire as more bountiful seasons roll in. Right now, your dream dinner at Noisette consists of three or four courses plucked from the daily list, divided into "cold" and "hot" categories ($8–18), with specific ingredients shifting nightly.
Course one: start with a smoked rainbow trout mousse notched up by plate doodles of sweet sunchoke purée and tangy creamed chives. It's party food with a high IQ. Or snag the organic butternut squash soup, a bowl of pure velvet smoldering with alder-smoked salt. If soup can be poetry, this is it.
Course two: diver scallops surfing a sea of tender spätzle, rosy bacon lardons, expertly braised endive, and a celery-root sauce of heady elegance. Or try Noisette's unmitigated triumph: a fan of seared rare duck, haloed with plump fat (like slices of bacon from heaven), carefully arranged on a flat oval plane. To this, Demes adds abstract brushings of glossy red wine sauce, a teeny mound of rutabaga and date gratin, a big pinch of toasted grains, and, holding the perimeter, little rips of peppery cabbage for crunch and bite. (The tasting menu version adds a drop-your-fork cloud of transcendence: a lobe of exquisitely seared foie gras.)
For dessert: of the three house soufflés, you want the Grand Marnier, a weightless joy of fluff in a golden crust; pierce the top to pour in a shot of custardy, liquor-spiked sauce, served on the side. Demes's little-known talent as a dessert mastermind is also on full display in a dish of salted barley malt ice cream built like a Richard Serra installation, nestled inside a floating band of crispy, glassy candy. It's fantastic.
The user-friendly wine speaks for the house philosophy, reaching high but accessible to everyone. Prices are more moderate than such ambitious dining typically demands. Flavor profiles reach across the aisle to casual drinkers (the big, oaky, fruity California camp) and more serious wine geeks (the food-loving, high-acid, low-alcohol French school).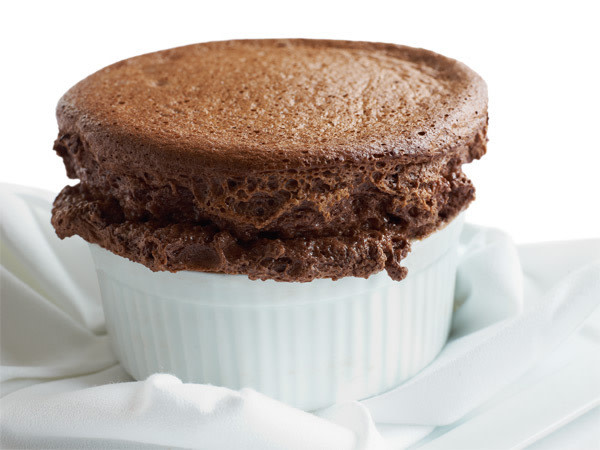 Some diners might find the portions too modest. One friend fired off a postmeal e-mail, noting: "great food, spent $40, came home and made scrambled eggs." For me, given the intensity of flavors, the sizes work just fine.
For all its class and efforts to restore West Hills–style dining glory, Noisette is a bit short on polish. The vibe is neighborhood and family-run: sommelier Jeremey Campbell is a former Couvron busboy. A question on one evening's visit caused an endearingly flustered server to implore the skies for mercy. "I'm still learning so many things! All I can tell you is my dad did everything here. He even picked the plates. He's a great artist."
Who wouldn't agree, let alone root for Noisette? In a world where cocktails are sipped from roasted marrow bones and even hot chocolate gets spiked with foie gras, Noisette's return to classical decadence and technical triumph borders on the radical.
EAT THIS NOW
Smoked trout mousse
Scallops with celery-root sauce
Duck breast with rutabaga- date gratin
Grand Marnier soufflé
Malted barley ice cream
---