Introducing
Introducing: Cedo's Falafel & Gyros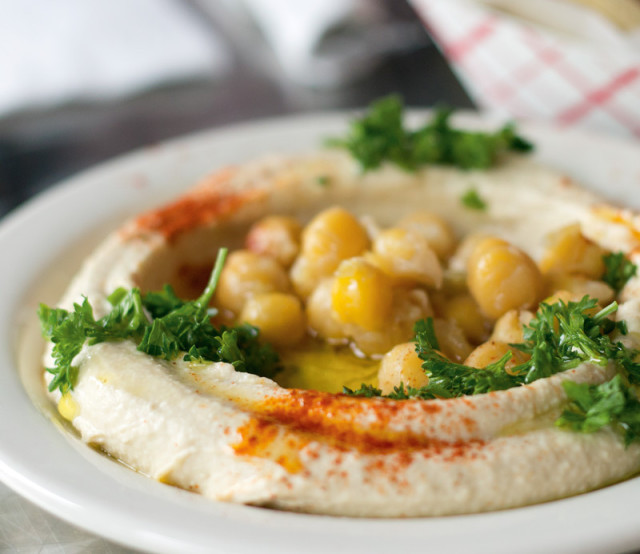 SAM HAZZA IS a perfectionist. At his new Northeast Portland Middle Eastern eatery, Cedo's, he soaks his garbanzo beans overnight, toasts and grinds his coriander, and cultures his own yogurt to create Portland's best falafel. Like a mad scientist, he hurries his just-molded orbs of spice and bean to the deep fryer during the lunch rush. "You can't let them sit," the Palestine native explains. "There are chemical reactions!"
Using recipes and techniques handed down from his mother, Hazza and his wife, Jyme, opened their falafel shop last February on an unforgiving stretch of NE MLK Jr. Boulevard. A menu of basics—"hummus, falafel, baba ghanoush, gyro"—hangs on a wall of eclectic art, ranging from a 1959 Miles Davis concert poster to a photo of King Tut, and fast plucks of Arabic jazz emanate from the kitchen.
A bowl of hummus dispels any doubt about this place: a creamy, paprika-spiked ring surrounds a moat of olive oil and a heap of super-tender chickpeas, simmered for hours. Wedges of warm pita, crisp at the edges, make short work of the silky stuff. The falafel, available in various iterations, is best packed in a rolled pita, its nutty, cumin-dusted fissures doused in a fresh, minty yogurt sauce. Chickpeas sing in each bite of the gravity-defying orbs. Order the free side of "Cedo's Potatoes"—heavily spiced discs double-fried with crunch. A respectable gyro of sliced lamb and beef, swaths of baba ghanoush, and tomato-soaked grape leaves get the same handcrafted treatment.
"It's gonna be a great summer," promises Hazza, who plans to start a chicken and lamb kebab operation outside his shop, where picnic tables already line the sidewalk. In true Portland spirit, Hazza carries plenty of local beer and wine, including from Lompoc Brewing down the street. A beer-and-kebab block party? Sign us up.


---
CEDO'S FALAFEL & GYROS
3901 NE MLK Jr. Blvd
503-719-7344
---