EAT THIS NOW
Podnah's Pit Sauces
Portland's premier barbecue destination, Podnah's Pit, bottles a trio of powerful sauces for grilling season.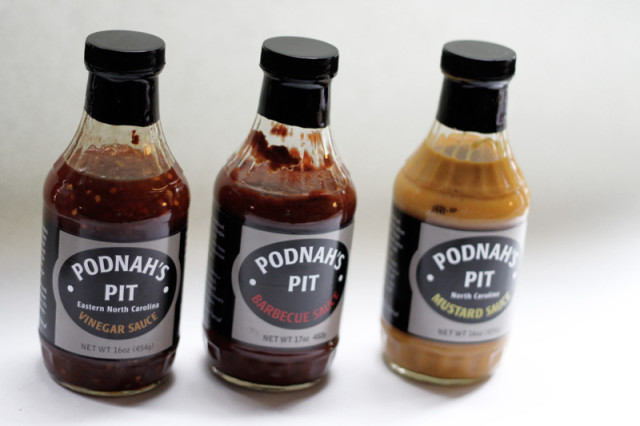 The sight of grown-ups nearly drinking barbecue sauce out of paper cups leaves no doubt: Podnah's Pit Barbecue made the right move in bottling its sauces. The verdict after test-driving the one-year-old line: Some of the best barbecue sauce you can get, short of making it yourself.
Podnah's three sauces are potent versions of the tableside condiments pit boss Rodney Muirhead serves at his Northeast destination (1625 NE Killingsworth): a Texas Barbecue Sauce, Vinegar Sauce and a South Carolina Mustard Sauce. You can find them at New Seasons, Food Front, and Cheese Bar, with plans for expansion in the future.
From our tasting notes:
Barbecue Sauce:
Thick, rich, acidic and spicy enough to break a healthy sweat. This all-purpose meat-lacquer is a heady blend of tomato paste, various spices, fruit syrups, anchovy extract, and even coffee for good measure. You can dump it on just about anything, but Podnah's pit boss Rodney Muirhead pairs it with ribs or brisket for flavor-enhancing effects.
Vinegar Sauce:
Super-tart with cider vinegar and a mild spice from big clumps of red chili peppers. Best on pulled pork as is customary in Eastern North Carolina.
Mustard Sauce:
Thick and yellow, with a strong fruity bite from the cider vinegar and a lingering, musky burning from the mustard seeds and Mexican achiote. This is another good one for South Carolina pork lovers, but it can also give extra umph to anything wanting mustard, from sausage to turkey.