Savor
Indian Summer
Farm-to-table veteran Troy MacLarty spices up the local scene with South Asian street food.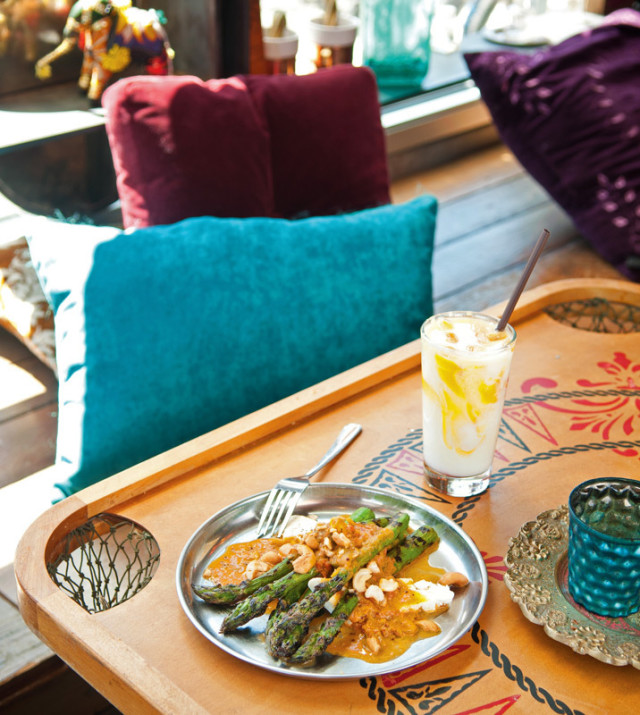 THEY SAY THAT WORKING at Berkeley's famed Chez Panisse restaurant under the tutelage of farm-fresh legend Alice Waters changes a chef. Such was the case with Troy MacLarty, whose four-year stint at that restaurant led him to Portland in 2005, anxious to shake hands with the Willamette Valley's mud-stained farming community. But after nearly two decades of farm-to-table cooking (most recently at the now-shuttered Lovely Hula Hands), MacLarty has turned to Indian street food—an epicurean tradition that emphasizes spice and texture over seasonality—at his new NE Alberta Street restaurant, Bollywood Theater. In other words, it's the antithesis of Alice Waters.
"After cooking, harvesting, and eating with the 'Chez family,' it's impossible not to believe in that ethos," says MacLarty. "But what Portland really needs is a decent Indian place." Turns out, when he wasn't eating farm-fresh meals at California's temple to organics, MacLarty was fork-deep in Berkeley's blossoming Indian scene, catching thrills from humming heat and elusive, earthy spices. After leaving Chez Panisse, he spent years researching regional curries, taste-testing chutneys, and risking gastro-intestinal assault during R&D trips through India's street-food hubs.
The dishes that inspired MacLarty—herbaceous bhel puri from Mumbai's beaches, wraps of kati flatbread from Calcutta, and cool kachumber salads from seasoned street vendors—are largely alien to the Pacific Northwest. But with this recipe, MacLarty finds a flavorful diplomacy by imagining "what an Indian cook would do if they had asparagus." As our regional farmers markets continue to heat up for summer, MacLarty answers that question by plunging into one of Portland's final food frontiers: Indian street food with Northwest flair.