Pizza
Master Class
The search is over. We've got the list of all the best pizzas from around the Portland area. Find a new sensational gourmet pizza pie in your neighborhood.
In 2004, New York City writer Ed Levine asked scribes around the country, including me, to define their town's edible nirvana for his book Pizza: A Slice of Heaven. My contribution was grim: "Pizza does not drive datebooks in Portland. Does broccoli, much less Thai BBQ chicken, belong on a pizza?"
What a difference a few years make. By 2006, Portland earned legitimate stripes among geeky pie purists and populist eaters alike, as a new breed of obsessive pizza makers merged Old World techniques with new ideas about local sourcing and neighborhood vibes. As we celebrate our city's pizza rinascimento, these four places define the new pie paradigm.
The Perfect Pie: Spicy soppressata
French-style bread baker Ken Forkish helped lead Portland into pizza's promised land in 2005 with experiments at Ken's Artisan Bakery. By '06, he'd spun his puffy-rimmed wonders into their own restaurant, complete with a wood-fired oven and a serious Oregon-focused wine list. Today, lines form by 4:30 for crust that's toasty and dusky with a nice blush of char, a delicate tomato sauce, and a dozen restrained combos, like wild mushrooms with mahon cheese or homemade sausage with fiery chiles. Ken's spicy soppressata truly elevates the art form, with joyful mouthfuls of crispy cured salami, wild heat, and smoky dough.
304 SE 28th Ave; 503-517-9951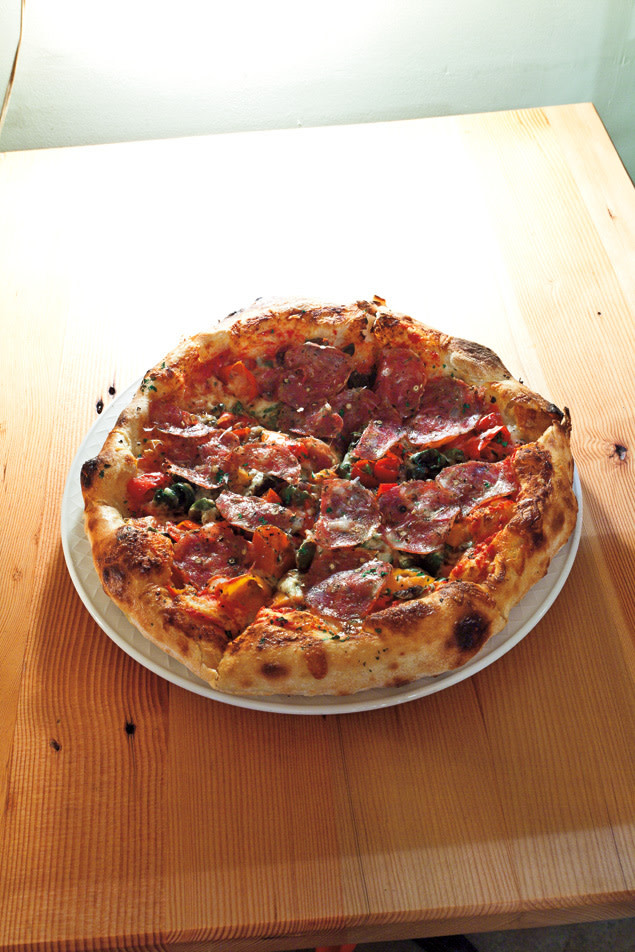 The Perfect Pie: Homemade sausage with Mama Lil's peppers
With a reception as chilly as a warden greeting a recidivist, Apizza wins no atmosphere awards. Still, for pizza theologists, it's a temple. Owner Brian Spangler channels New York's Italian-American coal-oven shops through an Oregon baker's avid heart. Spangler makes dough daily (and when he runs out, he's done) and uses an infrared thermometer to suss out prime hot spots in his electric oven. The result: muscular pies with char-speckled bottoms that make East Coast devotees swoon. Are they worth the hour wait—and the attitude? It depends on how badly you want the real thing.
4741 SE Hawthorne Blvd; 503-233-1286; apizzascholls.com
The Perfect Pie: Margherita
Swollen rim. Thin middle. Crusty and soft. Brightened by San Marzano tomatoes, creamy mozzarella, whole basil leaves, and beautifully bitter black blisters. Served unsliced, always. That's true Neapolitan pizza, and Nostrana is one of the few places in Portland that lives to get it right. Before Nostrana opened in 2005, food legend Cathy Whims sweated the details in her backyard wood oven. Like Naples' most-loved pizzerias, she uses a live, slow-rising starter, which she marries to Washington's Shepherd's Grain wheat. Something always beckons from the small cast of combos—like homemade meatballs and wild oregano, or a blend of collard greens, cracklins, and an egg. But nothing trumps Nostrana's margherita—well crafted, simple, and austere, as the pizza gods meant it to be.
1401 SE Morrison St; 503-234-2427
The Perfect Pie: Something seasonal—like black trumpet mushroom
Think wood-fired California designer pizza, by way of fine Oregon farmers. New Yorkers may cringe, Italians may flee, but Sarah Minnick and oven man James Albee bust out some of the tastiest, most satisfying pies in the city: beautifully bronzed and carefully constructed, light on cheese and sauce. Six whole pies arrive dressed for the weather—perhaps winter squash with soft ricotta, sage, and browned butter, or slivers of black trumpets boosted by parsley, citrus, and garlic. Sure, you can knock off a Tolstoy chapter before your order arrives, but that allows more time to contemplate the luscious ice creams and sides that make this consummate neighborhood pizza parlor a rising star. 
4039 N Mississippi Ave; 503-281-4060