Pizza
Hidden Gems
Our pizza experts are here to help simplify your search for the perfect pie. Sink your teeth into one of these hidden gems and claim your new favorite pie.
Pizza is hardly rare. You can't swing a salami in this town without hitting a middling cheese-and-grease parlor. But serious sleuths seek out the hidden pies—those that live quiet existences in the cozy corners of our fine-dining scene. They may not scream for attention with neon signs or toppings piled high, but these creations from some of the area's savviest chefs certainly deserve notice.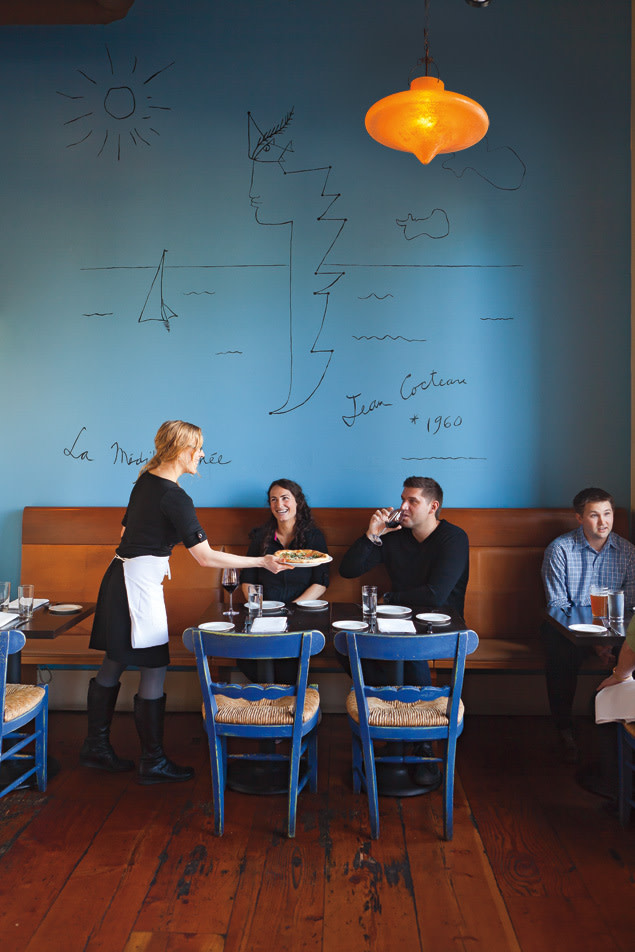 The Perfect Pie: The pizza bianco, which often features mozzarella, Mornay sauce, prosciutto, and roasted artichoke hearts
Planted on a bustling corner in Nob Hill, where eateries scramble for the attention of dapper passersby, Serratto has reeled in diners in with toothsome pastas and roasts for 25 years. And the consistent, assured execution that keeps them coming back extends to a handful of Italian-style pizzas. The secret? A four-year-old sourdough starter—a batter of flour, water, living yeast, and bacteria that gives life to each and every pie. The pizza bianco is a standout, with a heady blanket of Mornay sauce—béchamel thickened with a blend of five cheeses—encircled by a perfectly tangy, flame-kissed crust.
2112 NW Kearney St; 503-221-1195
Grüner (Now Closed)
The Perfect Pie: There's just one: the dreamy tarte flambée, with sweet onions, bacon, crème fraîche, and chives.
Sure, it's unlikely that you'd hightail it to Portland's stylized sanctuary of spätzle, goulash, and saucisson for a dose of Italy's street food staple. But Grüner's deeply satisfying pizza, in all of its rich, German-French-Alsatian glory, is anything but provincial. Chef Christopher Israel tinkers with the essentials to deliver a more piquant and complex meal: thick, smoky bacon plays nicely with caramelized onions against a backdrop of luscious crème fraîche, all brightened with a smattering of chopped chives. A pillowy, flavorful crust offers a definitive statement that this is no mere pizza—this is "tarte flambée."
527 SW 12th Ave; 503-241-7163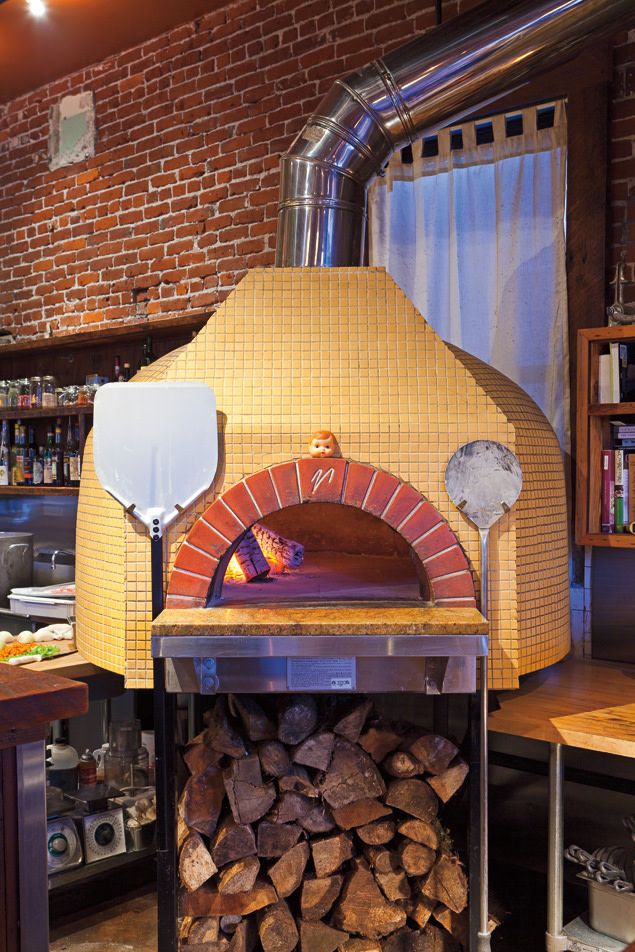 The Perfect Pie: Fennel sausage, onions, and mozzarella
Chef Matthew Bussetto tasted his way through Naples—and it shows. The rustic restaurant he opened in the historic firehouse on Northeast Dekum Street focuses on the rustic, pure flavors of that culinary cradle. True to the trattoria tradition, pizza is just one phase of a meal here—but it's hard not to fixate on the sumptuous wheels emerging from Firehouse's Tuscan wood-fired oven. The ingredients are simple—San Marzano plum tomatoes with a touch of sea salt and fresh mozzarella—but when combined with carefully proofed, quickly stretched dough and slid into an oven roaring with Oregon oak, the result is a Neapolitan masterpiece.
711 NE Dekum St; 503-954-1702
The Perfect Pie: Handmade sausage, onion, and mushroom
A post–Gorge adventure pit stop at Double Mountain's woody, friendly taproom in downtown Hood River brings a welcome surprise: some of the finest pizza within dough-tossing distance of Portland. Double Mountain's pies feature a light, chewy, coal oven–fired thin crust beneath flavorful but uncomplicated combinations. Portland's most exacting pizza arbiters (Brian Spangler of Apizza Scholls among them) have endorsed Double Mountain's efforts—but what matters is that it's just what you need: belly-warming road fuel that won't lull you to sleep at the wheel.
8 Fourth St, Hood River; 541-387-0042