Trail City
Northern Stars
Vancouver/Camas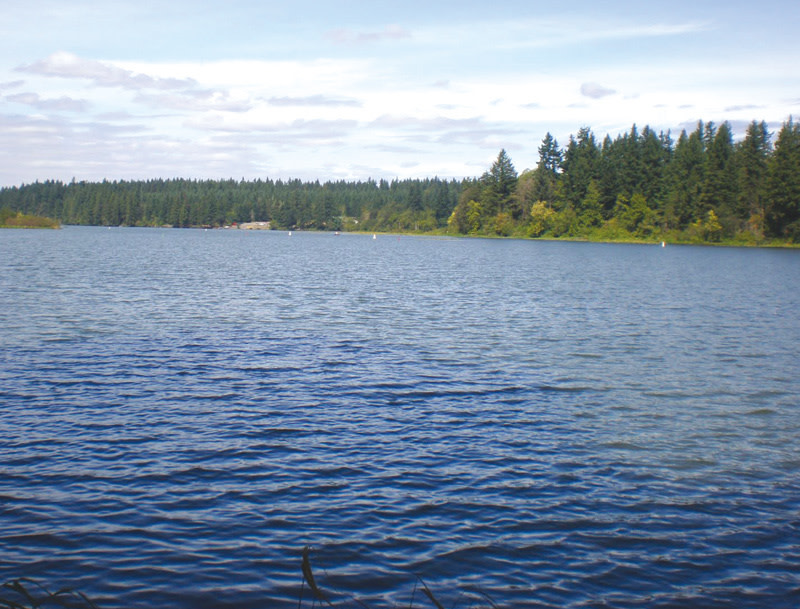 KEY: H – Hike | B – Bike | W – Water Route
Lake River to Bachelor Island | W
Lewis and Clark passed this lush atoll in both 1805 and 1806, naming it Cathlapotle Island and noting a village with long plankhouses on the mainland behind it. Today that's Ridgefield, Washington, and it's where you'll start a 10-mile birdathon by slipping into Lake River and drifting downstream toward Ridgefield National Wildlife Refuge and numerous great blue heron rookeries. Mind the currents and shipping traffic in the Columbia River, and don't miss the entrance to Bachelor Island Slough, your return route, at the southern tip. Access: Boat ramp at the west end of Division Street, Ridgefield
Lacamas Lake Park | H, B
The 312 acres here pack in conifer groves, fetching waterfalls, fir-fringed Round Lake, and, in spring, tiers of rocky meadows electrified by scores of camas lilies. Mountain bikers fawn over challenging patches of rooty singletrack and lung-burning chugs up dirt roads. Birders favor the adjoining Washougal River Greenway for a 1.5-mile tour of avian-rich wetlands. Need a skinny-tire cruise? The Lacamas Heritage Trail stretches 3.5 miles alongside Lacamas Lake, offering chance encounters with herons, doublecrested cormorants, and bald eagles. Access: 2700 SE Everett St, Camas
Salmon Creek Greenway | H, B
Departing from Salmon Creek Park in North Vancouver, this easy three-mile, paved path borders some of the most impressive wetland habitat on either side of the Columbia. Near the two-mile point, the trail funnels though an archway of trees abutting a steep, fern-blanketed embankment. The slightly elevated course here delivers eye-level views of darting songbirds and hang-gliding snowy egrets. Patient souls may also glimpse bashful river otters inspecting the shoreline. On the return ride, soak up inspiring views of Mount Hood beaming in the distance. Access: Salmon Creek Park, 1112 NE 117th St, Vancouver. $3 day use fee; bike visitors excepted. Note: Drivers can avoid fees by parking at the W 36th Avenue trailhead.

Post Trail Watering Hole
Burgerville 
As if you needed another excuse to pull over for a cherry chocolate shake—B'ville's flagship Vancouver location is the only one that offers beer and wine (Northwest labels, of course) to sip while you nosh on your Walla Walla onion rings. 13309 NE Highway 99, Vancouver; burgerville.com
While You're Out

Three half-hour nature fixes
Read This Now
Wild in the City: Exploring the Intertwine
Mike Houck, executive director of the Urban Greenspaces Institute and one of Portland's most vocal conservationists, lands yet another victory for the metro area's natural places as coeditor of this comprehensive update to the original Wild in the City volume, released in 2000. Detailing more than 75 local parks and trails, complete with easy-to-read maps, directions, flora and fauna notes from naturalists like the Portland Audubon Society's Bob Sallinger, and essays from writers such as Ursula K. Le Guin, it's as much indispensable field guide as it is quirky coffee-table reader.