Cover Story
Trail City
Portland's growing network of trails, parks, and natural areas offer outdoor escapes by foot, bike, and paddle for an hour or an entire weekend.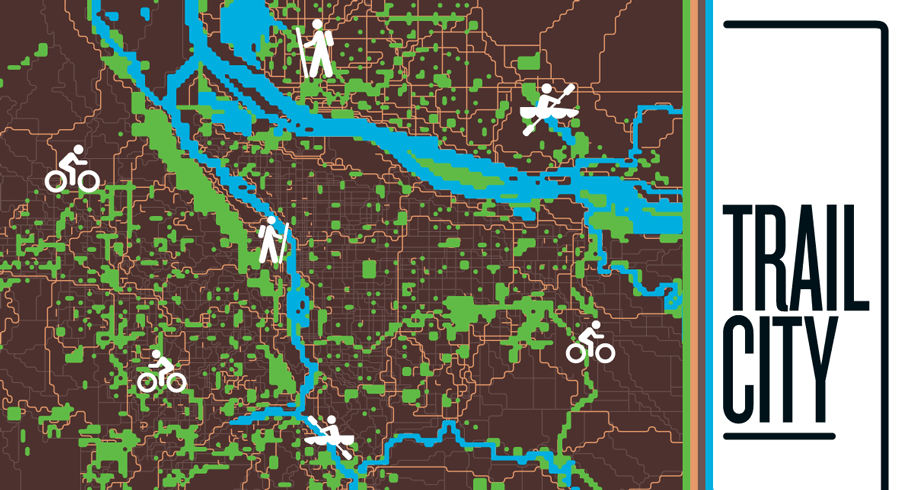 You'd be hard pressed to find a finer example of Aristotle's idea that the "whole is greater than its parts" than Portland's greenspaces: within about a 20-mile radius of downtown, we can tap roughly 1,250 miles of bicycle and pedestrian trails, and close to 40,000 acres of protected parks and natural areas.
Essentially, we live in a superpark.
Sure, individually, our dozens of natural areas (while beautiful) don't exactly match the untrammeled grandeur of, say, northeastern Oregon's Eagle Cap Wilderness. Roads, cars, and buildings are never far away. But when viewed as a contiguous network of greenspaces, Portland's playgrounds start to rival national park status, a fact that has spurred the development of the five-year-old Portland nonprofit the Intertwine Alliance.
Dreamed up in 2007 by then–Metro President David Bragdon, the alliance is a bistate coalition of more than 60 parks departments and agencies that aims to rebrand our parks as one symbiotic experience. In other words, quit thinking of the Columbia River as a divide between two cities and states. It's the center of one connected region.
Why? In part because the intersection of fragile ecosystems and glassy condos makes Portland as distinctive as Yellowstone. Here, you're never more than a few heron flaps from the wonders of both the natural and the modern world. Peregrine falcons roost under the Fremont Bridge. Coyotes sneak onto MAX trains. Salmon flock to creeks beneath Pittock Mansion. We ride shotgun with Mother Nature every day, yet our favorite brewpub is always just a few miles away. This summer, the Intertwine Alliance hopes to foster this connectivity by adding its logo—a rose-like pinwheel with four blades swirling in a circle—to trails like Fanno Creek in Beaverton and Tigard.
It will take more than clever branding to prioritize and manage the myriad open space projects in the Intertwine, as the network itself is known. After all, the notion of a grand park scheme isn't exactly new. The celebrated urban planner John Olmsted envisioned such a scenario for Portland more than a century ago.
Yet, over the past two years, major gaps in the Intertwine have been plugged. In 2010, the 21-mile Banks-Vernonia State Trail was finally completed. Last year, the Springwater Corridor was extended clear to Boring, more than 21 miles from Portland. And in June, the Trolley Trail opened, turning a historic streetcar path into a multimodal trail from Milwaukie to Gladstone. Still more projects—like the North Portland Greenway, which will link the Steel Bridge to the St. Johns Bridge, and the continuation of the Springwater Corridor to Estacada—are in the works.
Park acreage keeps piling up, too. Metro's natural areas team has added more than 750 acres of new open space in Multnomah County since 2010, a year that also saw the acquisition of 1,100-acre Chehalem Ridge near Forest Grove; Metro's largest open space purchase with voter-approved bond funds to date.
Best of all, with more than a thousand miles of trails already at our disposal, we don't have to wait to get out and explore. In the following guide, we lay out the essential Intertwine experiences. Whether you have only an hour to spare or want to plot a full-blown weekend campout, these trails and parks satisfy most any nature craving. And odds are you won't even have to miss your favorite happy hour.
Welcome to the Intertwine.
---
To learn more about The Intertwine Alliance, visit theintertwine.org.