Ken Gordon
Chef Q & A: Ken Gordon
Portland Plated speaks with chef, owner, and food icon Ken Gordon of Kenny & Zuke's Delicatessen.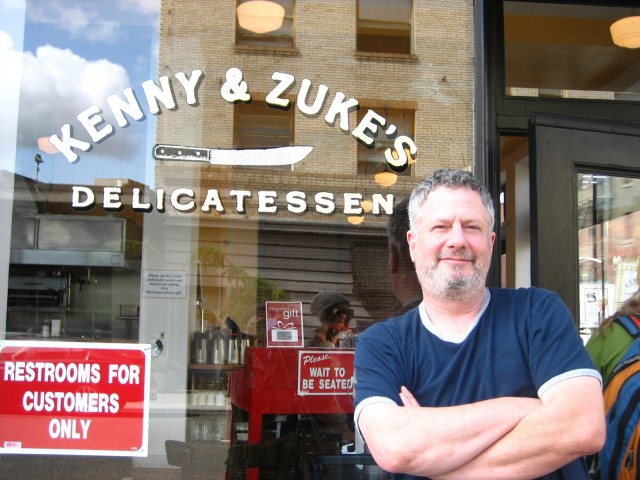 Eighteen years ago, Ken Gordon packed his bags and headed out West. Since then he has made a name for himself, becoming an icon in the Portland food scene and bringing some much-needed classic Jewish deli food to Portland. Now that's something I can appreciate—it's hard to find a good deli here, it's nearly impossible to find a good bagel (with the exception of Tastebud and Kettleman's of course), and pastrami? Well, no one does it better than Kenny & Zuke's Delicatessen. Aside from Ken's exquisite culinary instincts and talents, he also turns out to be quite the funny man. Check out Ken's Chef Q & A below…enjoy!
1) Where did you enjoy your last great meal, and what was it?
If you're talking about any meal—not necessarily at a restaurant—then it would be last night at my house. Grilled hanger steak with sautéed mushrooms and garlic, local super-sweet corn from the farmers market, a tomato salad from our garden, almond cake and sugared berries for dessert. At a restaurant, we had a great breakfast this past Sunday at Podnah's which—all things being equal—I consider likely the best breakfast out in Portland. I had Austin-style eggs scrambled with chiles, peppers, and tortilla strips; beans and tortillas; and a side of Rodney's house-cured ham. My wife had some amazing breakfast tacos with chorizo, potatoes, and eggs. And they sent us out some bowls of posole; that was terrific. Fresh OJ and good coffee. Perfect!
2) What is the most underrated ingredient and how do you use it?
There are many, but if I had to pick one, it might be leeks. I had a signature dish in my restaurant in New York City consisting of a split and grilled lobster with grilled leeks and a chive beurre blanc. I love them poached and with vinaigrette, and there's no better soup ingredient in the world.
3) Oregon is famous for coffee, beer, and, in your opinion, what else?
Radical fringe groups, overly courteous drivers, complaints about the weather. Oh, you probably meant food? I guess I'd have to say a form of pioneer spirit among its chefs and food people, resulting in a resolve to open new businesses and introduce new products regardless of the means to do it and the odds against it. Look at all the carts and artisans turning out great stuff on no budget. It may be one of the more exciting places to be right now in the food business, despite the economy. And yet accompanied by a friendly, reasonably noncompetitive atmosphere that lets these people be true to themselves.
4) If you could spend a week in anyone's kitchen, whose would it be?
Alive or dead?
Dead: Fernand Point, Julia Child, Thomas Jefferson, Katherine Hepburn, Antoine Magnin
Alive: Angelina Jolie or Rachel Weisz (You didn't say they had to be cooks!)
5) It's 2 a.m. and you're starving. Where do you turn?
Well, I could always go down to the deli and fix a Reuben—not a bad option. Maybe the only one.