PORTLAND PLATED
Worldly Bird
Fried chicken goes global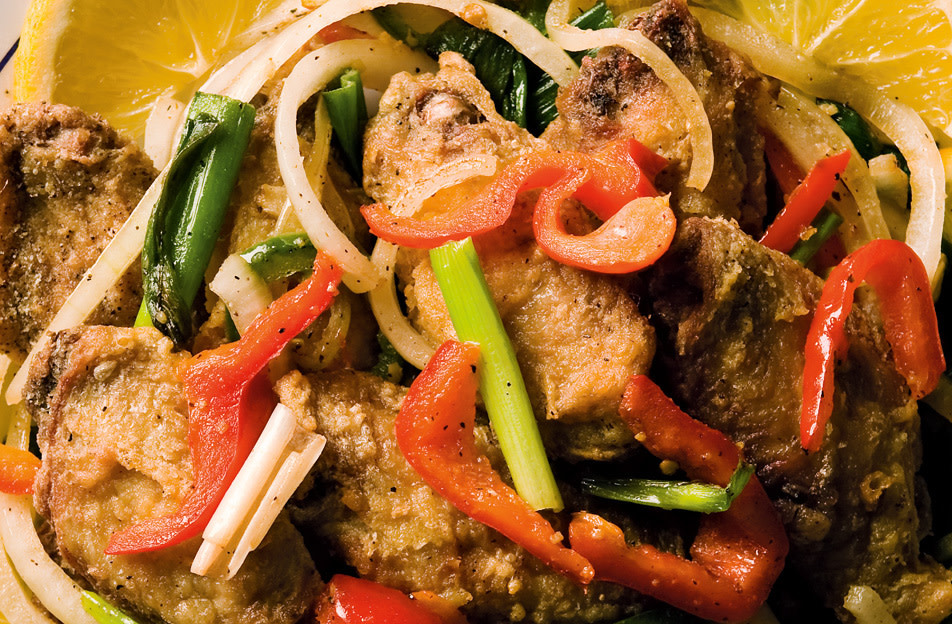 Recipes for the perfect fried chicken—American style, at least—usually begin with the three Bs: brining, breading, and buttermilking. After all, fried chicken is often regarded as a dish particular to the American South. But a quick tour of Asia reveals some enchanting alternatives. For instance, chef Martin Martin of Taste of Jakarta, a 24-seat Indonesian eatery on SW 13th Avenue and Jefferson Street, likes to stir up a veritable alphabet of other ingredients into what is the most complexly flavored fried chicken in the city.
For his ayam goreng kuning, or "yellow fried chicken," Martin boils chicken legs for hours in a bath of water, turmeric, salt, sugar, shallots, lemongrass, chiles, garlic, and coriander, slowly reducing the liquid until it nearly evaporates. He then adds more chicken parts to the marinade and deep-freezes it all for two days. After a second boil, he fries the chicken up by the order. The chicken that emerges from the fryer is tender and sweet, its meat infused with the bracing flavors of Southeast Asian curries and encased in a thin, bright skin that's both crisp and candy-sweet.
Martin's recipe is just one of hundreds regularly made by his countrymen. "It's a source of pride," he says. "If Beaverton, Portland, and Hillsboro were cities in Indonesia, each would have its own style of fried chicken."
Many local foodies' favorite fried chicken is served at Thai restaurant Pok Pok. "The Thais deep-fry everything that moves," says owner Andy Ricker, "and they fry all of the chicken, from head to toe."
While you won't find deep-fried chicken heads on the menu at Pok Pok, Ricker's pungent, sweet fish-sauce wings are undeniably addictive. Eight hundred pounds of the wings—marinated in sugar and fish sauce, then dredged in rice and tempura flour before being deep-fried—fly off the menu each week. When he's not savoring his own fare, Ricker enjoys the sweet fried chicken at Bun Bo Hue, a Vietnamese soup shop on SE 82nd Avenue.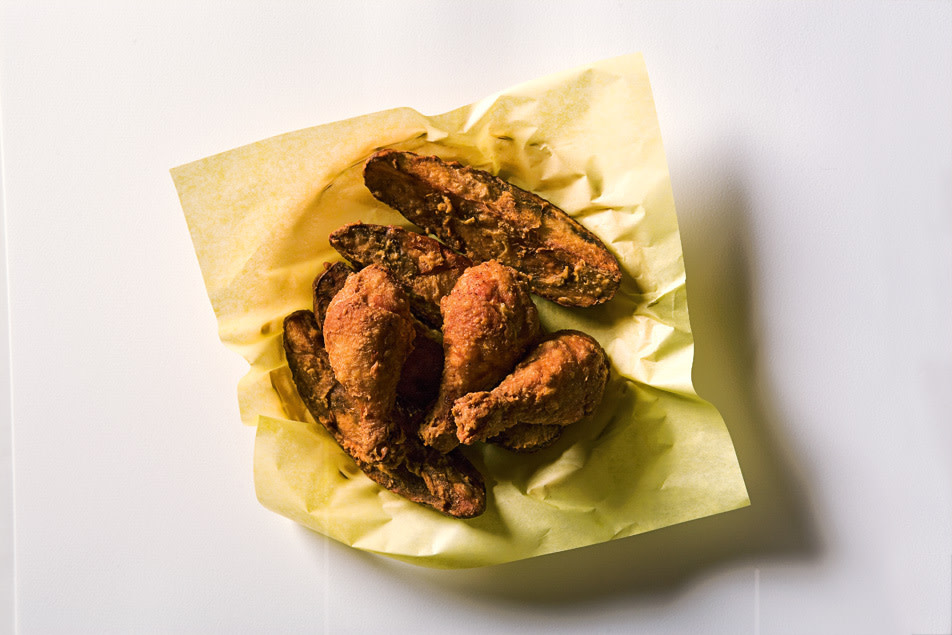 Kentucky Fried Chicken is ubiquitous in Japan, but the chicken dish called kara age—crispy, bite-size bits of fried chicken served with hot mustard—is a staple at the neighborhood izakayas, or pubs. In Portland, excellent versions can be found at the Beaverton Izakaya Yuzu or at Portland's Biwa, where diminutive pieces of deboned white and dark meat get a punch from a ginger-sake-soy marinade. The extra crunch comes courtesy of a breading of rice flour, wheat flour, and corn starch.
For Chinese-style fried chicken, try either of Jin Wah's locations. Although the restaurant is more famous among the local Chinese community for its pepper-salted squid, its pepper-salted chicken wings are just as impressive.
Of course, no conversation about fried chicken would be complete without mentioning the best in Southern cooking. The Country Cat and Screen Door serve up resounding favorites from the three-B school, but the Reel 'M Inn Tavern achieves the holy grail of fried chicken—skin with maximum crunch and tender flesh throughout—by submerging the pieces in a high-temperature deep fryer. Chop Butchery & Charcuterie sells its picnic-perfect fried chicken for takeout every Thursday, while the pan-fried bird is offered at Savoy Tavern & Bistro on Sundays only.
But the most magical interpretation of traditional American-style fried chicken is served up on Wednesdays at Kenny & Zuke's Delicatessen—chicken pan-fried in duck fat. Still, when pressed for his all-time favorite fried chicken, co-owner Nick Zukin, a well-traveled expert on Asian food, says he prefers the Southern-Indonesian variety. And in Portland, he gets his fix at Taste of Jakarta.