Five Questions
Chef Q & A: Micah Camden
Little Big Burger is bringing fast, affordable sliders-on-steroids to foodies in The Pearl.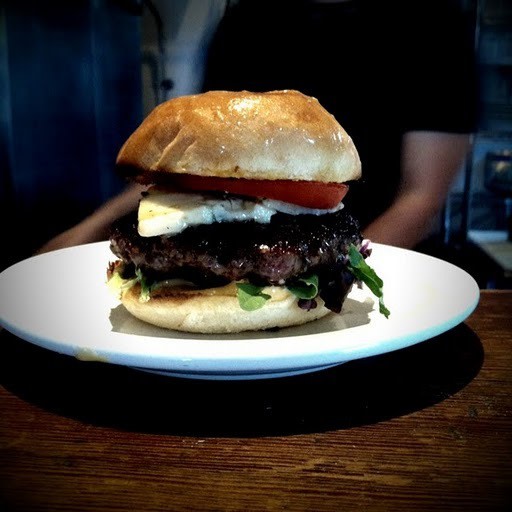 If you haven't already heard word of the latest culinary venture from chef Micah Camden (Yakuza, Fats, DOC), you are likely sick or dead. Scheduled to open at 122 NW 10th Avenue sometime this week or next (i.e. whenever Camden finally receives a delayed but necessary piece of grill equipment), Little Big Burger (lbb) will serve up an ultra-simple menu: one burger, sodas, floats, beer, and — lest you fear this burger joint ain't foodie enough — Yukon Gold fries spritzed with truffle oil and Maldon Sea Salt. And it will all be available 11 a.m. to 9 p.m., daily, in a futuristic graphic novel-esque space, featuring the mind-bending murals of local artist Damien Gilley.
Camden was kind enough to answer five lbb-related questions to quell our curiosity — and to keep us from rioting until he can open his doors.
1) Can you give us all the stats on your star player so that we can brag to our friends that we're in the know?
The lbb is not to be confused with a slider, as you can usually finish sliders off in two to three bites; ours is a good five bites, so long as you're not trying to show off for your friends. The meat is hand-formed Cascade Natural, the locally-made buns are brushed with brown butter before being toasted on the flat top, and you can order your lbb with one of four local cheeses, including Tillamook cheddar and Swiss as well as Rogue chèvre and Oregon Blue. It also comes with the standard fixins': lettuce, pickle, and onion (all organic!), and tomatoes when in season. The aioli and catsup are both made in house, and we top off all burgers with my signature shoelace potato crisps.
(Super secret insider tip: a vegetarian option, caramelized onions, sautéed mushrooms, and crispy bacon aren't on the menu, but you just might get it all if you ask.)
2) How do you personally like your burger prepared?
My perfect burger consists of a good rough-cut meat, seasoned well with only salt and pepper, cooked to a perfect medium, topped with quality stilton, and served on a nicely toasted bun, with a thick cut of a crisp sweet onion and a pickle on the side — nothing else. If left on the burger while it's resting, the stilton will start to ooze into the burger, eliminating need for catsup.
3) What other burger joints has Little Big Burger been compared to, and how are you different and/or better?
I don't think that it's being compared to anything else in the country yet, and for good reason. I feel that lbb is pretty unique in that it's not corporate and yet it's very "accessible" to people both financially and mentally the same way that an In-N-Out would be. As far as being better than the next person, let's just say the years I've been doing food in Portland have taught me to curb my ego and let the food do the talking!
4) Would you ever go chain?
The jury is still out on that one… I would consider multiple locations only if all of the food components could be supplied locally, like they can here in P-Town.
5) Who is the one person who would truly rock your world if you saw them belly up to your counter?
That's a no brainer! It would be Obama, hands down, and for multiple reasons: 1) It would be cool as hell; 2) I'm pretty sure that if word got out, I would have lines wrapped around the block for years; and 3) I'm sure that after having a lbb, he would change his stance on (Capitol Hill burger joint) Five Guys i.e. The fact that he thinks they have a great burger…..