Five Questions
Chef Q & A: Ben Meyer
The former helm of Ned Ludd jaws about getting a brew and a bite to eat at Grain & Gristle, opening soon on NE Prescott.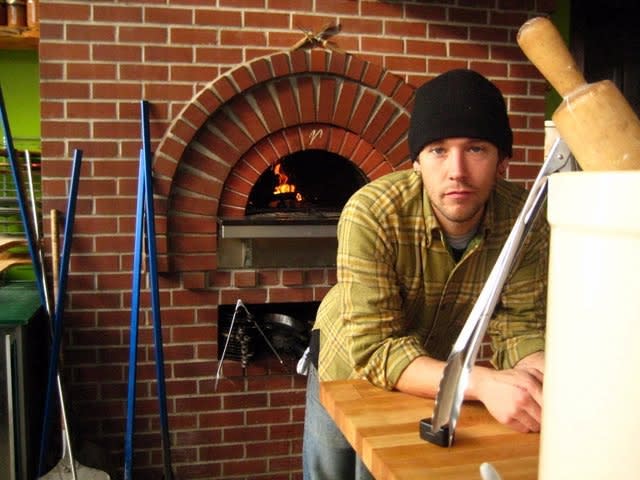 My husband and I are always arguing about where to eat. I love creative, expertly-prepared food, but most of the places where you can get it are far too fancy for my beer-loving husband's taste.
All I can say is thank god for Ben Meyer, Alex Ganum (owner/head brewer of Upright Brewing Company), and Marcus Hoover, who has designed some of Portland's premier kitchens, including Toro Bravo, Nostrana, and the new Pinot American Brasserie. Their latest endeavor, Grain & Gristle, scheduled to open December 1st at 1473 Northeast Prescott, will actually make both me and my husband happy. It will be a casually cool space with an extensive beer list and a menu, showcasing local farmers, ranchers, and craft producers, that is both awesome and affordable. Even better, they will be open noon to midnight Monday through Friday, and 9 a.m. (yay, brunch!) to midnight on the weekends.
Here, Meyer is kind enough to answer a few questions about an establishment where my husband and I will likely go at least once a week, so that we can fight about things other than where to eat.
1) It sounds like this joint will have a serious focus on beer—what are a few of the labels you're likely to feature?
Alex is curating the beer list, so I can't guarantee anything, but you can bet on Walking Man being represented, as well as Double Mountain. Upright will have a stable tap, but we will rotate through their four year-round beers and some of their more unusual seasonal creations, such as Late Harvest, a Pinot Noir barrel-aged farmhouse brown ale brewed with spices.
2) I've heard word that your menu will aim to "heighten and support the flavors on the beer list"—do tell?
At Ned Ludd there were a lot of beers that I could never have on tap because they were too hoppy or too sour. It's a food place and the beer is a supporting player. Grain & Gristle will be a beer place, and we'll cook foods that we think showcase the beers' flavors. For instance, the Upright Four and Belgian mussel frites with onion, fennel, and cream is amazing, especially when you include the beer in the preparation. The sour wheaty-ness balances the briny dankness of the mussels, and the bubbles in the beer want fat so the fries become an amazing vessel to bring it all together! People often think that wine is the natural food-pairing beverage, but beer actually works better most of the time.
3) Can you give us a head's up about what the menu will look like?
I kept the sections vague enough that we could play around within them, but made sure to cover the basics: Salt, such as spiced pork rinds with a mustardy dipper, because salty things taste good with beer and make you want to drink more; Vegetables, treated as simply as possible to make them shine; Protein, such as a pastrami reuben or braised pork shoulder with creamy beans and kale; Cheese, by Steve's Cheese, because it's the most natural beer-pairing in the universe; and Sweets, such as apple buckle or caramel panna cotta, which can also really heighten a lot of beers. We'll do a big shift of the menu once a month, but little things will change all the time, and we'll have specials as well as a $20 "two-fer"—a hearty dinner with two glasses of beer, meant to be shared by a couple. The two-fer will change daily but will look something like "grilled half chicken, mashers, greens."
4) What made you decide that Northeast Prescott was the place to plop down?
I've lived in the neighborhood for years and always wished there was a comfortable place close-by where I could both go alone after work and grab a bite and a pint, or take my girlfriend for a full meal and spend some time. This space came up and Alex, Marcus, and I thought it would be perfect. I love Podnah's Pit Barbeque, and was excited to be located next to Rodney Muirhead, the chef/owner. I was bummed, of course, when I found out he was moving his restaurant to Northeast Killingsworth, but then Andy Ricker started looking at that space (for Pok Pok Noi, or Little Pok Pok) and I knew it would still be magical. I love complete neighborhood pods. We have an amazing coffee shop (Extracto), a great lounge (TiGA), a barber shop, and the drum shop. The neighborhood can come to our little strip to get a lot of things they need every day.
5) If you could have any two people in the world—one alive and one dead—belly up to your u-shaped maple bar, who would it be?
Sheesh. Um, living… Ian Mackaye from Minor Threat and Fugazi—I would just love to have a beer with the guy who coined the concept of straight-edge. And dead… Edward Abbey. That cantankerous coot would be the best drinking buddy to ever stand up for his convictions.