Interview
5 questions for: PAUL GERALD, a morning meal maestro
The author and breakfast buff banters about the second edition of his book, Breakfast in Bridgetown, and gives insider tips on where and what to eat now.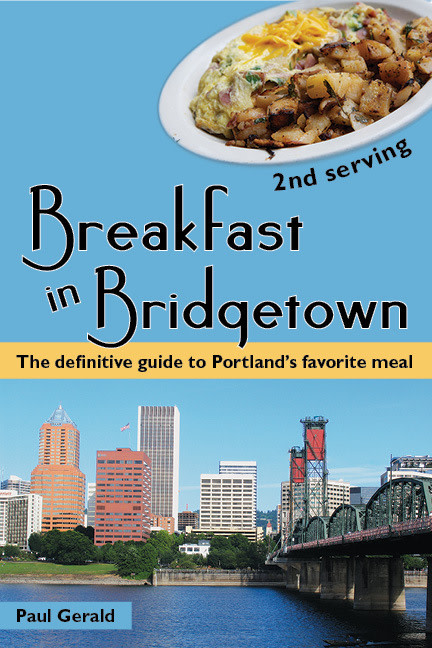 Are you cuckoo for Coco Puffs? Or maybe gaga for gravy? Psycho for scrambles? A freak for French toast? Mad as a hatter for maple syrup and pancakes?
Lucky for you, Portland author, freelance writer, and self-publishing consultant Paul Gerald has just published a second serving of his popular book, Breakfast in Bridgetown. The new edition includes over 120 Portland-area morning meal reviews, a new chapter on ethnic breakfasts written by Kenny & Zuke's co-owner Nick Zukin, and new sections on food carts and out-of-town hot spots. Gerald is not a proper restaurant critic, he proclaims. Instead, he aims to tell an engaging story about each breakfast joint, including the vibe and who eats there, as well as what the food is like, wait times, vegetarian options, and, of course, what kind of coffee they serve.
Here, Gerald is kind enough to dish about our fair city's favorite meal and the morning dining destinations that are truly drool-worthy.
1) Why do you think Portland is so bonkers for breakfast?
Because we're a town of slackers? Seriously, I think we're a very social town, filled with people who moved here to make a fresh start, try their own thing, and dig the lifestyle. All of that means we're a social lot with time on our hands, and the restaurant scene is nuts, as we all know. And, finally, restaurants make more money per person on breakfast than any other meal, so it's in their best interest to serve it.
2) Let's say a person just found out they were going to die in three days; what are the three places they MUST go for breakfast and what should they order? Oh, and one of them has to be a cart.
Your appetizer is the Monte Cristo Sandwich at The Big Egg cart on N Mississippi St: an egg any style, grilled black forest ham, and gorgonzola, drizzled with a pure maple glaze and stacked between two pieces of vanilla cardamom brioche French toast, and dusted with powdered sugar. (Note: The Big Egg is taking a break until early February, but they are worth the wait.) Your main course is the oyster hash at the Bijou Café downtown. And for dessert, go to Jam on Hawthorne and get the lemon-ricotta pancakes.
3) What are a few of Nick Zukin's top ethnic breakfast joint picks?
Among Mexican food options, one of his favorites (and mine) is Autentica, because of their fresh, authentic cuisine, as well as the smug joy of watching the suckers in line for Cup & Saucer Café across the street. Otherwise, he says to go west, like to Taqueria Hermanos Ochoa's in Hillsboro (get the huevos con chorizo) or to Chavita's in Beaverton, where he recommends champurrado: a corn gruel filled with chocolate, and "better than it sounds." Then there's Asian, and he says the best dim sum in town can be found at Ocean City Seafood on SE 82nd. As to what to order there, you'll have to read for yourself.
4) Are there any new breakfast places on your hot list that you didn't include in your book?
There's a new place called City State Diner on NE 28th, but I didn't think much of it. I read a review that said it wasn't flashy or cutting-edge, and I thought, "Hmm, that's what I usually say when I don't think a place is very good." I just want John Gorham to open another one. He gave us Simpatica and Tasty n Sons, and we need more of such things.
5) What did you eat for breakfast this morning?
Today I was selling books at Skidmore Market, which means it was Honey Nut Cheerios with soy milk and stovetop espresso at home, followed by a morning bun and a cup of Stumptown from Ken's Artisan Bakery on NW 21st. And since the market was slow, I wandered over to Flavour Spot on SW 3rd to get a waffle with sausage and maple spread. I have seven sweet teeth and, at this rate, won't see the age of 50.