Review
Abby's Open Table
With her expanding supper club, Abby Fammartino sets a place at her table for eaters of all kinds.
AS THE SUN THROWS its liquidy late-summer rays down SE Ankeny Street on a Wednesday evening, small pockets of diners filter into a warm, glassed-in industrial kitchen. Long, sunlit steel tables brightened with small flower vases display scattered menus outlining four courses of an impending family-style meal. Three chefs busily prep away, filling the room with aromas of grilled endive, roasted squash, and simmering mussels as the hum of expectant conversation heightens.
It's the kind of scene that Portlanders can enjoy at any one of the city's top-notch supper clubs, from Din Din to Simpatica. But the difference here is that everything being prepared is 100 percent free of gluten, dairy, and soy.
This is chef Abby Fammartino's dream: a casual gathering where she can cook the food she loves for those who need it and appreciate it, experimenting with new techniques and ingredients along the way. A former personal chef who sharpened her knives at Natural Gourmet Institute of Food and Health in Manhattan, Fammartino launched Abby's Table in the winter of 2008 at age 26. What began as a kitchen for her small line of dips and sauces quickly evolved into a casual dining room serving weekly dinners to those in the know for just $12 a pop. As interest expanded, so did the menus (and the prices), until Fammartino and her small staff were serving full-on ethnic and regionally themed feasts each Wednesday for $24, even turning diners away as demand grew.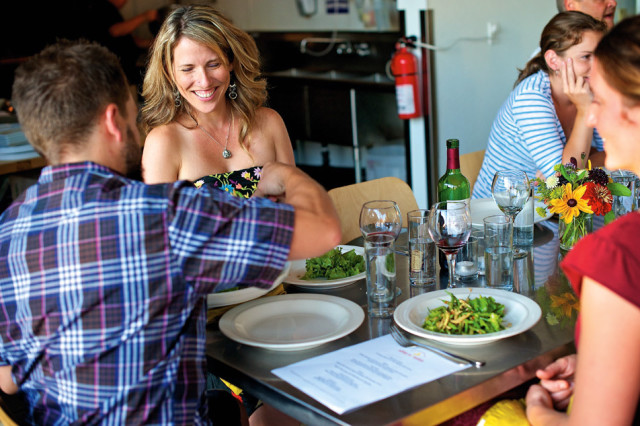 Now, Abby's Table serves Wednesday and Thursday dinners, plus Saturday dinners featuring guest chefs and cooking demonstrations. With the help of fresh and sometimes unusual vegetables and produce from local farms—ficoide lettuce and edible flowers from Viridian Farms, hot yellow wax peppers from Gale Meadow, heirloom tomatoes from Winter Green—Fammartino is catching a triple-zeitgeist of obsessive farm-to-table eating, Portland's affection for supper clubs, and a rising community of food-loving diners with dietary restrictions. Any given night at Abby's Table, you'll find raw chocolate truffles, crustless pecan pies, heaps of organic vegetables, fried fish, spiced roasted chicken, and fritters of all kinds, from celery root to quinoa, sweet and crispy from a quick bath in hot coconut oil. Selections from Fammartino's line of sauces and dressings—ranch, turmeric coconut, chocolate pudding, and a date-and-cashew concoction, all available at the kitchen and assorted farmers markets—are on display at each meal.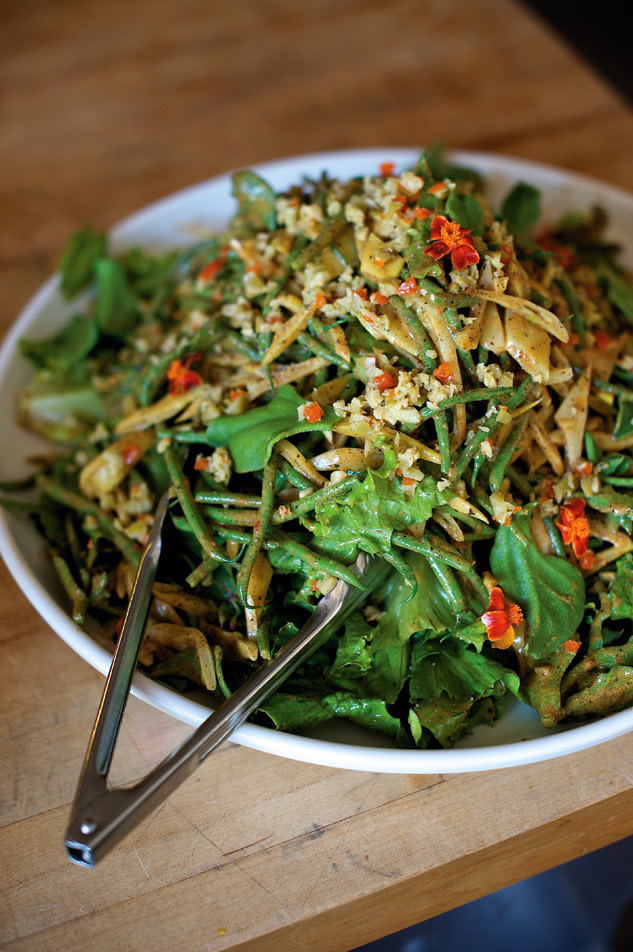 A late-summer menu showed how Fammartino transforms a cooking challenge into light and lovely expressions of the season. To start: a chilled gazpacho gaining depth from both green and red tomatoes and delicately sweet lemon cucumbers, all endowed with extra texture from seed-cracker crumbs. Next, a salad of haricots verts and romano beans arrived, the crunchy beans resting on a bed of ?ficoide and green frill lettuce, showered with the surprise of tangy olive tapenade. The centerpiece: a heaping platter of paella for the table to share, dense with fluffy Valencian rice, the pop of fresh peas, garden tomatoes, fat mussels, wild rockfish, and meaty prawns. Plates of grilled endive, escarole, swiss chard, and summer squash added earthy flavor as side dishes. And finally, dessert: sliced Red Haven peaches and pepper-scented almond brittle drizzled with the kitchen's thick, rich, house-made date sauce.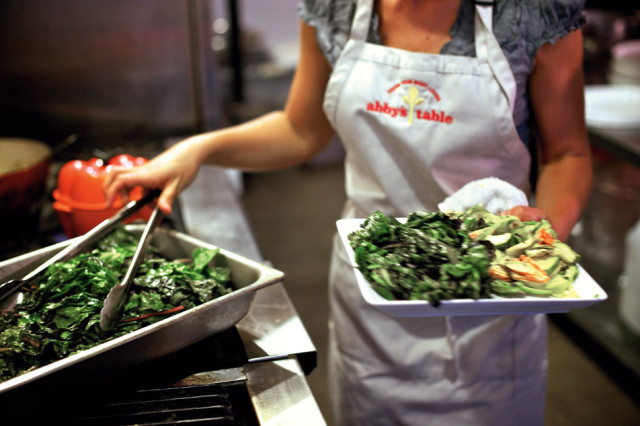 You won't find big ideas or boldly ambitious cooking here. Flavors are understated, preparations are simple, the pace is unhurried. Mystery and whimsy are in short supply, but enthusiasm abounds. Everything Fammartino makes is something you could tackle at home—and that's the point. This isn't food that aims to inspire culinary revelations, but it will make you feel good. "Food that's gluten or dairy-free can seem boring, tasteless, or kind of medical," admits Fammartino, herself a former vegan who generally avoids gluten, dairy, and soy. "I try to keep it really lighthearted and show people how to do simple, fun things with this food."
Judging by the oohs and aahs greeting each course, the constant din of excited conversation about ingredients, the sharing of cooking tips, and the sheer energy of nearly packed houses at each dinner, Fammartino's dream is gaining momentum.