Best of the City
Best of the City 2012: Drinks & Nightlife
Drinks, dancing, dive bars, drag queens, and karaoke without judges: Portland's nightlife nook is full to bursting.
Sports Bar
Welcome to Rose City jockdom at its finest: Park your bike at the indoor rack, head for the retro buzzer-beater arcade, then order off the trading-card menu and unfold your white, gym-towel napkins. The blue-collar-chic bar food (born from the creative minds behind Clyde Common) is a big step up from traditional sports grub, with Calabrian chile–spiked chicken wings dipped in homemade ranch and greasy-spoon griddle burgers that go down great with the small, eclectic draft list. 500 NE MLK Jr. Blvd; spiritof77bar.com
Dance Venue
Inside the modernized, minimalist 5,000-square-foot warehouse space, you can bob and sway to spinning disc jockeys or tap your foot to live shoegaze, all while sipping fancy cocktails. On high-profile nights, the 325-person-capacity crowd comes alive, descending into a steamy dance lair and debunking the stereotype that Portlanders are too hip to shake their moneymakers. 1001 SE Morrison St
Distillery
In a span of just eight years House Spirits Distillery has succeeded in becoming a permanent fixture at high-end cocktail dens like Urban Farmer, Clyde Common, and Bar Avignon. In their own retro Stillroom, sample Aviation Gin, Krogstad Aquavit, and House Spirits Whiskey, along with an assortment of seasonal small-batch releases. Or show up on Wednesday for a "spirited education" in one of owner Christian Krogstad's cocktail classes. 2025 SE Seventh Ave
Gay Dance Party
Started in 2007, this glittering, raucous, full-throttle throw-down (held the fourth Saturday each month) draws performers such as Leslie Hall and Peaches Christ, and up to 1,000 revelers from every spectrum of the rainbow—bears rub leather-clad elbows with coiffed mainstream gays and towering drag queens share straws with lipstick lesbians. Just don't wear anything you value; it will end up soaked through with spilled drinks and well-earned sweat. 320 SE Second Ave
Cocktail Bar
Seems like every Portland bar has a "celebrity bartender." There's even a Portlandia sketch featuring Andy Samberg as a cocky mixologist. So what sets newish nightspot Rum Club apart? Along with its twilit interior, there's a constant influx of talent. Vaunted drink slingers like David Shenaut, a founder of the Oregon Bartenders Guild, Beaker & Flask's Brandon Wise, and Bent Brick's Adam Robinson regularly make cameos. And all of them make damn fine renditions of the house drink, the Rum Club Daiquiri (Bacardi Aged Rum, lime, simple syrup, maraschino, Angostura bitters, absinthe). 720 SE Sandy Blvd
Karaoke
If you spend too much time fretting about your rendition of "Radar Love," chances are you're going to bomb. But waiting on pins and needles for a bellicose KJ to call your name to the stage is never a problem at this Northwest hidey-hole bar, where you (and a crew of your bravest buds) can rent out one of a half dozen private rooms to practice in. All the same, we'd advise broadening your audience before auditioning for The Voice. 2112 NW Hoyt St
Dive Bar
Open 365 days a year, including Christmas. Check. In business for at least 100 years (OK, 34). Check. No-nonsense bartenders who pour sturdy drinks and serve gut-sticking burgers. Check, check, and check. Yes, "MFP," with its worn leather booths, odd presidential portraits, and roster of noted admirers like Willy Vlautin and the late Elliott Smith, meets every requirement for the Dive Bar Hall of Fame. But what really cinches it: this is one of the only bars in town that offers Pabst Blue Ribbon in any format—draft, bottle, can, heck, even a 40 oz. Be still our boozy hearts. 523 SE Grand Ave
Best Night Owl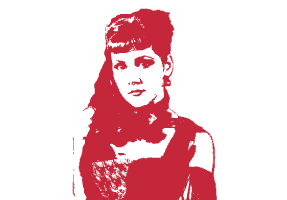 Ashia Grzesik 
Don't let her hard-to-pronounce name fool you; Ashia Grzesik is an approachable gal. The perky Polish-American chanteuse shows off her formidable classical cello chops with the Portland Cello Project and Vagabond Opera, and croons with her new band the Bison Rouge. Between frequent tours to Europe, Grzesik resides in Northeast Portland, where you'll sometimes find her knocking back a drink in one of Portland's more ostentatious Victorian-style hideaways.
Asha's Picks:
Favorite Cocktail
Manhattan at Beech Street Parlor
It's slightly peppery and never too sweet. Plus it's got a whiskey-soaked cherry at the end ?to slowly nibble on. 412 NE Beech St
Favorite Live Music Venue
Secret Society
I enjoy the crowds and programming at Secret Society—from pop/jazz/swing to more avant-garde folk. Plus I'm doing a show there on May 24! 116 NE Russell St
Favorite Date Night
Tapalaya Cajun cooking and interesting cocktails make for a tasty and colorful date. Also, they have live music. We like to follow up with a movie at Laurelhurst Theater or Laurelthirst for music—and if DJ Cooky Parker is spinning soul that night, we go dancing. 28 NE 28th Ave
Readers' Picks
Bar With Games
You'll find us at one of the six Ping-Pong tables or the well-salted shuffleboard inside the Blitz Ladd location. Multiple locations
Tap Selection
More than 100 taps on offer prove that size does matter. 10 NW 12th Ave
Locally Owned Brewpub
Our 2008 Best of the City honoree for best brewpub keeps on keepin' on with stellar organic beer and tasty pizzas. 2944 SE Powell Blvd and 3947 N Williams Ave
Local Coffeehouse
We can thank fair-trade adventurer Duane Sorenson for Portland's most delicious alcohol-free export. Multiple locations
Wine Bar
Kir Wine Bar (Now Closed)
A cozy, candlelit wine den with a worldly selection of vino. Order the chocolate ganache. 22 NE Seventh Ave
Happy Hour
Yeah, the vibe's a little bit Goldman Sachs Gone Wild. But oh, the view! 111 SW Fifth Ave, 30th Floor