Portland's Best Breakfasts
B... Is for Bacon
... and Breakfast. Our guide to Portland's best waffles, eggs, biscuits, hash, coffee, pancakes, bagels, omelets, pastries, doughnuts, dim sum, and more
ANY LONGTIME PORTLANDER with half a fork in the food scene can admit that our mornings used to need a little love. Lunch and dinner have distinguished themselves as the city's fussed-over firstborns, now warmed to the spotlight of the nation's critical acclaim; breakfast, not so much.
We always had our favorite early-morning diner, of course, or our trusty Sunday brunch spot where, OK, we can admit it, we were more into the idea of brunch than the food itself (let's just say mimosas got us through many a bad eggs Benedict). Overall, though, breakfast never held up as the destination meal in Portland.
Yet as the dining scene improved in general, poor little breakfast's gravy boat also began to rise.
When we recently scavenged the city for morning's best meals, we found more than sixty restaurants with stellar breakfasts—more than enough for every weekend of the year. Not only that, we found a scene: power players hatching business deals over gourmet hash, cooks guarding honest-to-God secret recipes, and folks who didn't mind burning an entire Saturday morning to wait in line for biscuits or bacon or dim sum or you name it.
"Breakfast sort of fits with the whole storefront mentality of Portland—it's very neighborhood," says Karen Brooks, who has covered the dining scene for the Oregonian for twenty years. "I suspect Portlanders love breakfast for the same reason they love bookstores: it rains here a lot, and people like places where they can hunker down. Breakfast has that cozy factor."
We couldn't agree more.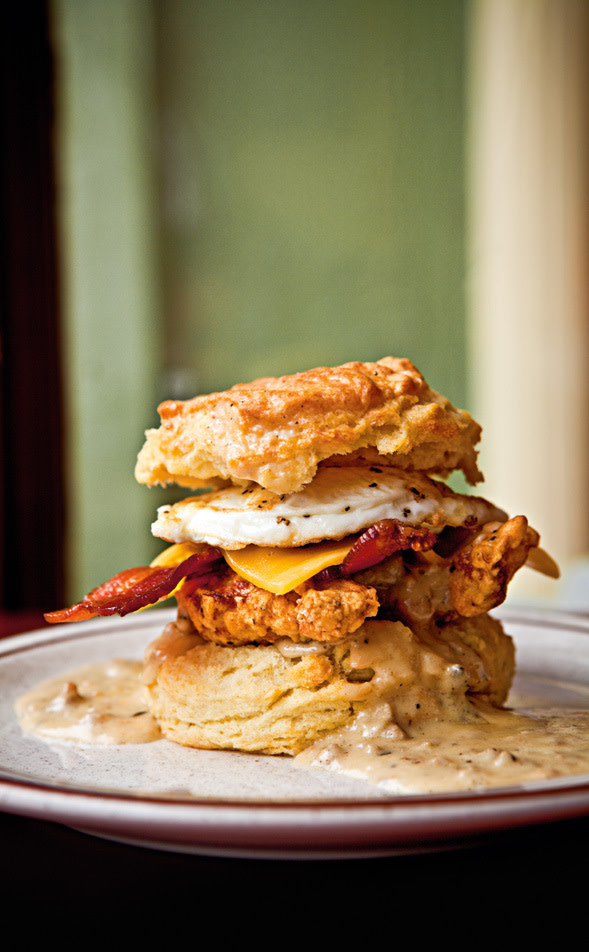 Biscuits
Why We Like It If the world suddenly flooded with gravy, the buttermilk biscuits at Pine State would make handy lifeboats. While you can order them smothered with diet-wrecking sausage gravy, these light mounds of flour and butter are also sturdy enough to bookend the Reggie Deluxe, a four-layered beast of a sandwich stacked with fried chicken, a fried egg, cheddar, bacon, and gravy. It's one of five biscuit sandwiches that earned Pine State Biscuits its reputation back when it was merely a rickety booth at the Portland Farmers Market at Portland State University. Yet Pine State's got plenty more methods of biscuit delivery. Smear them with homemade pimiento cheese, or even gobble them up—gasp!—plain. But it's a test of biblical proportions to resist the scent of the sublimely creamy sausage or shiitake-mushroom gravy bubbling away on the stove.
The Scene Southern goodness delivered by cooks dressed like extras in Jane Fonda's Workout Challenge , pink V-necks and green sweatbands included. Don't worry, it's just the latest form of hipster irony.
Backup Plan Glass chandeliers and exquisite marble countertops lend Mother's Bistro & Bar (Find It; 212 SW Stark St; 503-464-1122) a refined atmosphere, but the dense, buttery biscuits are down-home delicious; Francis Restaurant (2338 NE Alberta St; 503-288-8299) has also mastered the art of flakiness. —B. Barker
Breakfast Burritos
Wild Abandon
Why we like it First off, they're big. And by "big" we mean as big as your face, at least, and stuffed to the seams with seasoned black beans, scrambled eggs, roasted potatoes, and shredded Tillamook cheddar, then topped with generous dollops of red salsa, homemade guacamole, and sour cream. What you bite into is a capsule of controlled chaos, each ingredient holding up its end of the bargain without giving way to the muddled mess that typifies this breakfast standard. The chorizo is optional and will run you an extra two bucks. Pay it. Then cancel your lunch and dinner plans.
The scene Dark, opium-den-red walls, '70s lighting, and a curiously large fresco evoking the Garden of Eden—basically, Tim Burton's take on the Renaissance.
Backup plan The folks at Tin Shed Garden Cafe (1438 NE Alberta St; 503-288-6966) pour on the garlic, cream cheese, pesto, and veggies in their sausage-laden Big Hit Burrito; the breakfast tacos at Podnah's Pit (1469 NE Prescott St; 503-281-3700) get the point across with chewy flour tortillas, egg, cheddar, crispy potatoes, and chorizo that's just spicy and greasy enough to cure the morning-after blues. —NP 
Crêpes
Tour de Crêpes
Why We Like It Perhaps it's the handsome accordion player crooning in the corner of this patchworked Alberta Street café that makes a lavender, butter, and honey crêpe seem like the most romantic Sunday-morning fare one could choose. Or maybe it's that you have to order your crêpe of prosciutto, gruyère, and caramelized onion from the person manning the converted Airstream out back. The mismatched vintage couches and tables made from antique doors also help make breakfast at Tour de Crêpes charming. It's as though you're at a gathering of hungry gypsies there to feast on buckwheat pancakes made the true French way, or to dig into a lemon curd–and–powdered sugar number, or the smoked salmon, dill, and chèvre combination. By the end of your meal, you'll feel like singing.
The Scene Dreadsters, spinsters, hipsters, and kidsters all under one tin roof, playing cards, sipping tea, drawing, poring over the "I Saw You" section, or hatching the next cultural revolution.
Backup Plan The Press Club (2621 SE Clinton St; 503-233-5656) houses a more nuanced, postmodern crêperie with edgy local art to peruse while you wait for your Garry Trudeau crêpe (egg, pesto, roasted red peppers, mushrooms, mozzarella). For night owls, Le Happy (1011 NW 16th Ave; 503-226-1258) serves crêpes only after dark (and well into the wee hours). Try one of the savory crêpes like the Champignon—mushroom sauce, gorgonzola, and half a steak—and breakfast for dinner starts making a lot of sense. —CD 
Oatmeal
Francis Restaurant
Why we like it In a classic display of Pimp My Breakfast hubris, the cooks at Francis use extra-thick rolled oats, blanket them with real maple sugar (made from real Vermont maple syrup), then take a blowtorch to them. What emerges is fiber with flair: a bowl of crunchy, gooey—and let's not forget healthy—oatmeal brûlée served over fresh sliced apples, pears, and currants. Pour a little milk or cream around the oat moat at the edge of the bowl and you've got yourself a hearty meal the likes of which the Quakers would approve.
The scene On weekdays, Alberta's late risers and freelancing café dwellers can be spotted staring out of Francis's long, Edward Hopper-esque windows.
Backup plan Coriander, cinnamon, and turmeric make a morning appearance along with raisins, dates, and apricots in the Moroccan-style oatmeal at Old Wives' Tales (1300 E Burnside St; 503-238-0470). —NP


Doughnuts
Annie's Donuts
Why We Like It At the risk of getting punched by a headphoned gang of skinny-jeaned, greasy-haired white boys, we're all for the inventiveness of the perennially trendy Voodoo Doughnuts ("Triple Chocolate Penetration," anyone?), but when it comes to satisfying our die-hard doughnut jones, Annie's is where it's at. First of all, the doughnuts are modest, manageable. And while the display case might look a bit drab at first, the glazed or cream-filled doughnuts within are never disappointing: they're what Romantic philosopher Matthew Arnold would call "sweetness and light." In other words, everything a culture should strive for.
The Scene Jesus-lovers' screeds stream from the television in the corner while grizzled old men with Hussein-like beards scarf down old-fashioneds and unleaded coffee. Most people run in, leave their sunglasses on, and get their doughnuts to go.
Backup Plan The cake doughnuts sold each morning at Staccato Gelato (232 NE 28th Ave; 503-231-7100) are of a different breed than the ones at Annie's: they have more heft, and are just as satisfying. Sesame Donuts (multiple locations; sesamedonut.com ; 503-297-8175) run a close second to Annie's—we can never bring ourselves to order anything but their specialty: sesame doughnuts, of course. And on the way to Mount Hood, the huge glazed braids of dough at Joe's Donut Shop (39230 SE Pioneer Blvd, Sandy; 503-668-7215) will give you enough gusto to climb any mountain. —CD
Scrambles
Beaterville Cafe
Why we like it The words "vegan friendly" can chill the soul of a breakfast aficionado, but don't let the abundance of tofu here scare you. Beaterville's scrambles are deliciously messy mélanges of egg, cheese, veggies, and meat, or, if you must, meat substitute. Hewing to the cluttered-interior theme of hubcaps, rusted grilles, and other automotive ephemera, the Thunderbird, best of all, features freshly pulled hunks of turkey, bacon, cheddar cheese, tomato, garlic, and spinach.
The scene Hipsters, children with two mommies, and grizzled NoPo dwellers crowd inside what could be your Mamaw's house—if she had a fetishistic love of automobilia.
Backup plan Vita Cafe (3024 NE Alberta St; 503-335-8233) boasts an impressive array of handcrafted veggie scrambles—even their seitan is homemade. The garden scramble at the Cup & Saucer Cafe (8237 N Denver Ave; 503-247-6011) is so good even a carnivore might fall in love. (Especially if you add a dab of Secret Aardvark habanero sauce.) Byways Cafe (1212 NW Glisan St; 503-221-0011) has made a name for itself with its hearty farm-fresh scrambles. —B. Blasengame 
Hash
The Heathman Restaurant & Bar
Why we like it Cooks contrived hash centuries ago when looking for ways to use leftover potatoes and meat. In the ensuing evolution of kitchen wizardry, chefs have found a way to make hash of almost anything—chicken, polenta, shiitake mushrooms, even caviar. Pacific Northwesterners have regionalized the beautifully malleable dish with fresh local bounty such as salmon, oysters, and razor clams, and around here it's hard to beat the smoked-salmon hash at the Heathman. Chef Karl Zenk browns shredded russet potatoes and mixes them with house-smoked salmon, onion, capers, and sour cream. After flattening the mixture on a grill, he tops it with a pair of perfect poached eggs. The result is smoky and salty, with a bit of capery tang, and while other hashes fill you up and weigh you down, this eats surprisingly light. Little wonder that it's the Heathman's signature dish. (For Zenk's recipe, go to Portlandmonthlymag.com.)
The scene Downtown power-breakfasters and business travelers dining amid unintimidating elegance. Snag a table by the window and watch the foot traffic on SW Broadway.
Backup plan The oyster hash at Bijou Cafe (132 SW Third Ave; 503-222-3187): cubes of herbed potatoes, roasted onion, and juicy Willapa Bay oysters dredged in spiced corn flour. Try it with smoked Tabasco sauce. —Paige Williams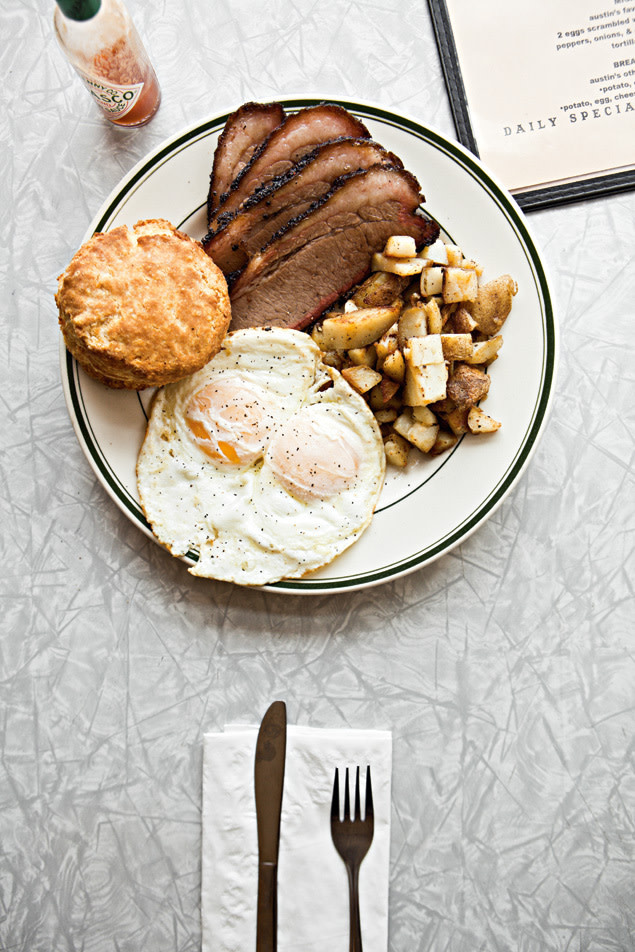 Steak and Eggs
Podnah's Pit
Why We Like It For a while there, we Portlanders couldn't seem to get enough of hanger steak with eggs in the morning. We saw it in French bistros, at hotel brunches, and even at lowbrow diners. But lately we've noticed a few chefs branching out with their breakfast meat, the most impressive of whom is Rodney Muirhead at Podnah's Pit. Muirhead's breakfast meat of choice is slow-smoked brisket, and it's damn near sublime. After cooking for at least six hours, the marbled hunk of meat is sliced and fanned out on a warm plate along with two eggs (however you like them) and fried potatoes. On the side: one of the flakiest biscuits this side of SE Belmont Street (where you'll find our other favorite biscuit joint, Pine State Biscuits; see p. 42).
The Scene Neighborhood gourmands and Southern expats gather round Formica tables to chow down on biscuits and gravy or breakfast tacos or, occasionally, menudo—all down-home Texas-border fare.
Backup Plan For a more traditional take on steak and eggs, try the flatiron steak at Gravy (3957 N Mississippi Ave; 503-287-8800) or the Cascade Natural New York steak with poached eggs and béarnaise sauce at Bluehour (250 NW 13th Ave; 503-226-3394). —CD 
Waffles
Flavour Spot
Why we like it Owner David Stokamer was stumbling drunkenly through the streets of Reykjavik when inspiration struck: Iceland's waffle vendors were successfully appealing to citizens' alcohol-induced cravings, so why not import the idea to Portland? But he didn't stop at the waffle-butter-syrup combination—he decided to serve up waffle sandwiches. By folding a fluffy, round waffle around inspired pairings like ham and gouda, maple butter and sausage, or Nutella and raspberry jam, he's created flavor combinations that rank just below peanut butter and chocolate and slightly above the Captain & Tennille on the scale of awesome duos. Stokamer has found such a loyal following, his business has expanded from a lone stand with two waffle irons in a North Portland Videorama parking lot to a primo spot on N Mississippi Avenue with six constantly steaming griddles.
The scene Expect a small crowd of well-insulated neighborhood denizens attempting to stay warm by the glow of the service window as multitasking mothers wait inside idling minivans for their orders to come up.
Backup plan The Waffle Window at Bread and Ink Cafe (3610 SE Hawthorne Blvd; 503-239-4756) serves the sweet specialty in its more familiar (and equally delicious) square shape. —B. Blasengame
Healthy Breakfasts
Blossoming Lotus Café
Why We Like It Chock full of figs, walnuts, and buckwheat granola, the Live Buckwheat Parfait served by Blossoming Lotus Café is a riot of good-for-you nutrition. But a swirl of chilled, house-made cashew nut crème that's been spiked with vanilla bean and agave nectar means this vegan breakfast sundae also nourishes the sweet tooth in us all. You'll find plenty of other wholesome (but wholly delicious) options at Blossoming Lotus, like fresh rice-milk smoothies and even a tofu scramble with sautéed tomatoes, zucchini, spinach, carrots, onions, and bell peppers. Thanks to a miniature rock waterfall and tropical trees, the airy, sunlit café is a tranquil spot to enjoy these treats. Sit awhile and you might even spot the hummingbird that took up residence during this winter's epic storm.
The Scene Hard-bodies in matching Prana yoga attire discuss the merits of hemp-based protein with tattooed servers.
Backup Plan It may sound a bit unappealing, we know, but the tart mixture of pineapple, orange, kale, spinach, and agave nectar that is the Tropical Greens Smoothie from Sip PDX (corner of SE 21st Ave and SE Tibbetts St; 503-308-3581)—housed inside a small silver bullet trailer—is a worthy morning pick-me-up. Or fill up with the PB&J, a mix of organic peanut butter, strawberries, bananas, and apple juice served at The Clearing Café (2772 NW Thurman St; 503-841-6240). —B. Barker
Chilaquiles
Autentica
Why we like it People say this traditional Mexican breakfast of fried tortillas, eggs, beans, and cheese makes for great hangover grub—but that's selling it short. Chef Oswaldo Bibiano's version of chilaquiles achieves something approaching pure elegance, and it can be appreciated by more than the booze-ravaged. Crisp corn tortillas are cut into neat little triangles that soak up a spicy guajillo chile sauce. Beside them sit two over-easy eggs, their runny yolks just begging to be smeared over the pile of salty-sweet refried black beans that come on the side. The perfect bite: fork to bean, bean to egg, egg and bean to tortilla. Wash it down with a sip of fiery Bloody Mary.
The scene Expect to be seated next to food-obsessed gourmands, local chefs, and other culinary-minded citizens who consider menudo the only true morning wake-up call.
Backup plan For a milder version, head over to ¿Por Qué No? (3524 N Mississippi Ave; 503-467-4149). Order a breakfast margarita while you're there. —NP
Swedish Breakfast
Broder
Why We Like It Scandinavians may have a reputation for being a little too minimalist with furniture, but when it comes to food, their brand of simplicity is quite comforting. We're especially talking about that classic Danish pancake, the aebleskiver . A somewhat eggier version of the French popover, aebleskivers are baked in a hot skillet that's been forged with divots. At Broder, these piping-hot puffs of dough are served right out of the oven with ramekins of house-made lingonberry jam, lemon curd, and maple syrup. Start there, then move on to dense rye bread, pungent cheese, salami (and other lovely cured meats), fresh yogurt, and half a grapefruit, all served on a wooden breakfast bord. It's a hale and hearty breakfast, yet the kind that doesn't make you feel like sleeping for the rest of the day (or chasing it with hard liquor). We have, however, been known to follow it with a tiny glass of aquavit—but that's so much more refined, now isn't it?
The Scene Yellow midcentury modern stools and baby-blue chairs brighten the interior, a sliver of dark wood that's intersected by a polished bar. Long-haired young men with thick-rimmed glasses prepare Scandinavian specialties like pytt i panna (a Swedish hash of potatoes, peppers, roast beef, and ham topped with baked eggs).
Backup Plan This is the only Swedish eatery we know of around here, though you'll find Dutch Babies and Swedish pancakes at the Original Pancake House. —CD
French Toast
Little Red Bike Café
Why we like it French toast has always seemed like the bastard child of breakfast foods. A little boring. Often soggy. In the wrong hands, it's glorified Wonder Bread. But in the capable hands of the cooks at the Little Red Bike Café, French toast becomes a versatile springboard of sweet and savory. Using slabs of challah dipped in eggy batter and flash-fried in butter, the LRBC (as it's known to North Portlanders) offers a rotating stockpile of French toast combo. There's the Southern (with Oregon peach compote and Kentucky bourbon butter) and the Ali's (topped with toasted almonds and served with marionberry syrup and buttermilk crème anglaise). Our favorite is the Elvis: peanut butter, caramelized bananas, Carlton Farms bacon, and maple syrup. It's a hunka-hunka burnin' loaf.
The scene What this tiny, retro space lacks in roominess it makes up for with nearby picnic perfection: the massive Columbia Park is right down the street.
Backup plan Mother's Bistro & Bar (212 SW Stark St; 503-464-1122) coats its bread in Kellogg's Corn Flakes and grills the slices for extra crunch. At Helser's (1538 NE Alberta St; 503-281-1477), the secret is in the batter: a sweet mixture of vanilla and cinnamon makes syrup almost unnecessary. —B. Blasengame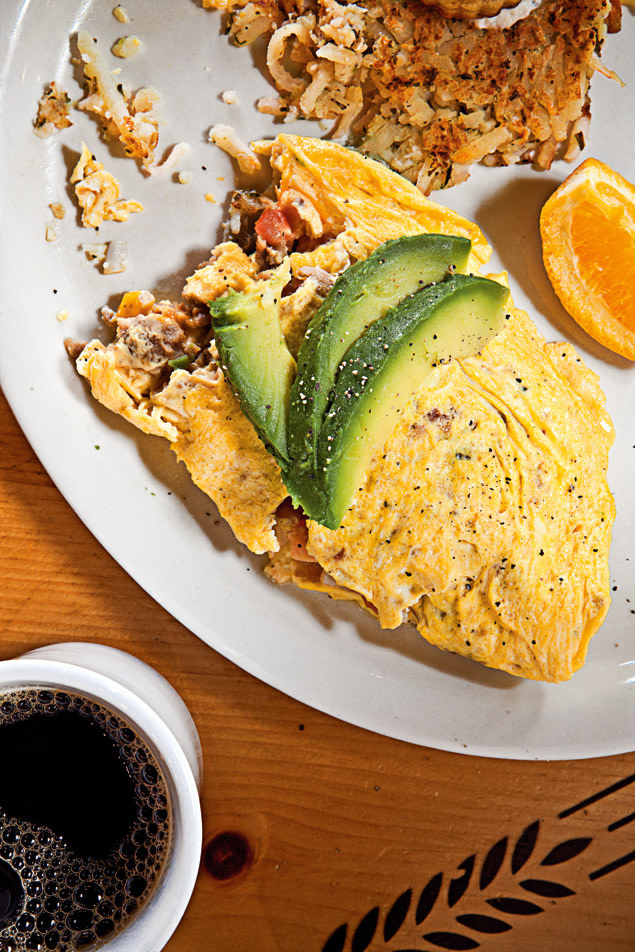 Omelet
La Provence Bakery & Bistro
Why We Like It This omelet is as thick as a Julia Child cookbook (but fluffier, of course). Is this how they do it in France? Oui. The French might deem the volume of vittles in the Smokehouse Meat Omelette a bit too American, but no matter. Forged from butter, three eggs, grilled chicken rubbed with herbes de Provence, crispy bacon, and house-made sausage specked with apples and onions, it's topped off with glistening cheddar. For the fainter of heart, there are simpler but equally delicious delights such as the Omelette Colette with artichoke hearts, swiss cheese, tomato, and fresh basil.
The Scene Sunflower-dotted curtains match a spectacular display of golden pastries. Get there early for the chocolate croissants (as a starter); they sell out early every day to Lake Oswego diehards.
Backup Plan The Klickitat Omelette, stuffed with blue cheese, Granny Smith apples, and bacon, at the Alameda Cafe (4641 NE Fremont St; 503-284-5314) is a worthy runner-up, followed by the gorgonzola, mushroom, and thyme omelet at Zell's Cafe (1300 SE Morrison St; 503-239-0196). —B. Barker
Cuban Breakfast
Pambiche
Why We Like It When our day begins with an assortment of eight bite-size pastries like lime-papaya scones, rum raisin cakes, and passion-fruit muffins filled with chocolate bits for a mere five bucks, it's hard not to grin. Harder still when followed by dishes like Pisto Manchego (a scramble of linguiça, smoked ham, Gulf Coast shrimp, potatoes, asparagus, roasted red peppers, peas, and eggs), or Huevos Habaneros (an eye-opening presentation of two eggs simmering in spicy Creole sauce, seared ham steaks, and a side of white rice and black beans). Knock it all back with a Café Cubano—espresso brewed with sugar—and you're halfway to Havana.
The Scene Possibly the cheeriest breakfast joint in town, with pulsating Latin music and a wooden bust of a Cuban matron presiding over yellow, red, and turquoise walls.
Backup Plan Sorry, it's Pambiche or bust. We can't find another Cuban restaurant worth its weight in frijoles. —B. Barker
Dim Sum
Wong's King Seafood
Why we like it If you score a table in this sweeping cruise ship of a dining room, you've already pulled off a major morning victory. By noon, the crowds at Wong's King are impenetrable, and a clipboard-wielding woman begins barking out numbers. The wait time is irrelevant: you're not going anywhere. When you finally do sit down, the food comes, quite literally, à la "cart": basket upon basket of shrimp and vegetable dumplings; salty-sweet barbecued pork buns; warm, silky tofu that the waitress cuts with scissors; noodles sprinkled with sesame seeds and swimming in rich, soy-based sauce; bowls of hot rice porridge with slivers of duck egg; plates of Chinese broccolini in oyster sauce; and—wait, are those … fried chicken feet? Pace yourself or you'll burn out—you don't want to miss the egg-custard tarts and mango puddings.
The scene Extended-family friendly, which is to say the tables are large enough to accommodate at least three generations of hungry souls.
Backup plan You can expect more or less the same at Jin Wah (4021 SW 117th Ave, Beaverton; 503-641-2852). —NP 
Pastries and Coffee
Le Petite Provence
Why We Like It Most of us choose our coffee-and-croissant bakery based on what's closest to home. But there are at least a few pastry palaces in town worth going out of your way for. They transform what's typically considered a grab-and-go breakfast into an all-morning event. Our favorite: Le Petite Provence, whose lush pastry displays alone can take hours to consider. Puffs of flaky dough bursting with sweet whipped cream call out to us. Silken cheese Danishes in the shape of butterflies and beignets dusted with cinnamon and sugar sit next to a basket of_ pains au chocolat_ and golden croissants. Once you've settled on your morning indulgence and a pull of coffee, settle into one of the wicker bistro seats, take out your crossword puzzle, and stay awhile.
The Scene Mirrored walls, tiled floors, and bistro tables make this buzzing café a dead ringer for a Provençal patisserie. With two locations on the East Side and a sister destination in Lake Oswego, just about every Portlander is covered.
Backup Plan The croissants and hand pies at Baker & Spice (6330 SW Capitol Hwy; 503-244-7573); the croissants and fruit tarts at Ken's Artisan Bakery (338 NW 21st Ave; 503-248-2202); or the homemade yeasted doughnut, spiked with currants and topped with powdered sugar, at Little T American Baker (2600 SE Division St; 503-238-3458), which Tim Healea, once head baker at Pearl Bakery, opened last year. —CD
Egg Sandwich
Grand Central Bakery
Why we like it When you bite into one of today's pack-it-all-in breakfast sandwiches and egg yolk begins to slide down your wrist, the flavor usually starts to slide away too. Not so with the Bacon-Egg Bolo served at all six of Grand Central Bakery's locations. The golden bolo roll—crusty on the outside, chewy in the middle—keeps it all hemmed in, like a stout German nanny. Nary a drop of the bright-yellow, slightly runny yolk nor a corner of thick, peppery bacon escapes its yeasty clutches. Zest things up with the tangy tomato relish that's served on the side.
The scene A democratic assortment of construction workers, out-of-towners, goth kids, grannies, crossword puzzlers, and hot, hurried soccer moms.
Backup plan If you're looking for something a little sexier, try the fresh basil, tomato, and mozzarella combo at Bar Carlo (6433 SE Foster Rd; 503-771-1664); or an egg or two with roasted red peppers, prosciutto, provolone, and pesto at Besaw's (2301 NW Savier St; 503-228-2619). We also can't get enough of the Messenger, a luscious egg sandwich with gorgonzola, apple butter, and bacon at Little Red Bike Café (4823 N Lombard St; 503-289-0120). —NP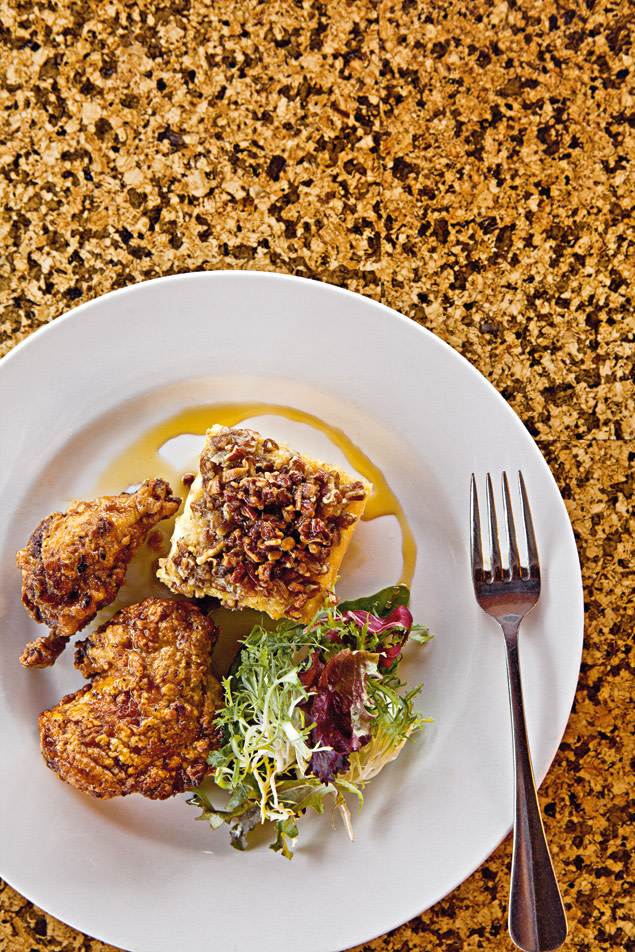 Fried Chicken
The Country Cat
Why we like it Our love of fried chicken often reaches the level of obsession. And it's obvious that the folks behind The Country Cat's version share our lust for the all-American dish—which in our opinion tastes damn good no matter the time of the day (but especially in the groggy, post-dawn hours). The Country Cat prepares its chicken in a cast-iron skillet, which means the breasts and wings haven't doggy-paddled in a deep fryer. The slow manner of cooking creates a crispy exterior—very important. Moist, well-seasoned meat is great, but the star of any fried-chicken meal is the skin. When it slides off as one slippery pelt, that's blasphemy: it should have a salty crunch. Be sure to drizzle maple syrup on your bird and save room for the custardy baked-pecan spoonbread. This is the kind of breakfast that's worth walking the length of SE Stark Street to get to—on your lips, if necessary. Until someone comes up with a way to brush your teeth with a drumstick, eating here is the best way to incorporate fried chicken into your morning routine.
The scene Looking at the white napkins and shiny wooden booths, you might think "fancy." Then you'll see "homemade beef jerky" scrawled on the blackboard above the bar. You're home. Down home.
Backup plan The chicken-and-waffle combo at Simpatica (828 SE Ash St; 503-235-1600) injects a touch of finger-licking class to the Southern roadside staple. Over at Screen Door (2337 E Burnside St; 503-542-0880), they ratchet up the Deep South spirit by pairing their breaded bird with a sweet-potato waffle. —B. Blasengame
Eggs Benedict
Veritable Quandary
Why We Like It Not that we've tasted all the eggs Benedict in town—almost all, most certainly—but just when we'd decided that there were as many bad versions of the dish as there are broken umbrellas in the month of May, we visited Veritable Quandary. Not only did we find the best rendition in town, we found the best Pacific Northwest eggs Benedict we'd ever tasted. That's right—wedged between a thick house-made English muffin and a poached egg drizzled with hollandaise sauce were tangles of sweet, succulent Dungeness crab meat. There's spinach in there too, but it's chef Annie Cuggino's combination of rich crab, muffin, and buttery sauce that restored our devotion to this breakfast classic.
The Scene Huddle into a wooden booth in the bar area or join the rest of the crowd in back, where light streams in through a greenhouse window and mimosas sit elegantly on stark white tablecloths. In warm weather, the patio is the perfect place to indulge. Expect out-of-towners and regulars as company.
Backup Plan Besaw's (2301 NW Savier St; 503-228-2619) offers an extensive weekend Benedict menu. On occasion, we also like the old-school simplicity at J&M Cafe (537 SE Ash St; 503-230-0463). —CD
Bacon, Eggs, & Hash Browns
Fuller's Coffee Shop
Why We Like It Ordering two eggs—over easy, scrambled, sunny side up, whatever—and a side of bacon, hash browns, and a slice or two of buttered toast shouldn't be complicated. These crack-of-dawn staples should, however, be well made. Opened in 1960, Fuller's, with its all-business Formica countertops, chrome stools, and one-page menu (announcing that Fuller's serves "eggs and things") is the city's undeniable master of this classic American breakfast plate. Eggs over easy are slightly singed at the edges, adding texture and crackles of flavor. Sturdy strips of bacon are both tender and crispy. Use your buttered rye toast to scoop up the yolks and hash browns. The waitresses will refill your coffee faster than butter melting on a hot frying pan. Your simple, delicious meal will be gone just as fast.
The Scene Greyhound bus drivers from the nearby Old Town terminal sit alongside condo-dwellers dog-earing Alan Weisman's The World Without Us .
Backup plan Skip the hassle of downtown traffic and park yourself at Fat City Cafe (7820 SW Capitol Hwy; 503-245-5457) for wedges of bacon, sizzling eggs, and flaky hash browns. Or do as the Sellwood locals do and go to Fat Albert's (6668 SE Milwaukie Ave; 503-872-9822), where the eggs over easy come with lively chatter. —B. Barker 
Bagels and Lox
Kenny & Zuke's Delicatessen
Why We Like It A veteran Portlander may feel indignant about the city's historically miserable selection of bagels. But this past year we've seen a number of bakers and chefs finally get it right. Kenny & Zuke's, in many ways, has led the mini-revolution. Its bagel-and-lox plate is a work of art: bright, glistening nova lox sprinkled with capers; thinly sliced red onions; slivers of tomato. But this Jewish standard is so good, of course, because of its foundation. Baked with just the right amount of malt syrup, sugar, and salt, the bagels are chewy in all the right places.
The Scene The downtown deli, a block south of Powell's Books and next door to the Ace Hotel, draws an eclectic mix of tourists and power brokers chattering over house-made pastrami, latkes, cheese blintzes, or knishes.
Backup Plan After years spent serving brick-oven pizza and bagels at farmers markets, chef Mark Doxtader opened Tastebud (3220 SE Milwaukie Ave; 503-234-0330). Saunter in on weekends for a stellar bagel-sandwich combination like ham, arugula, and orange marmalade. Mother's Bistro & Bar (212 SW Stark St; 503-464-1122) imports H&H bagels from New York daily. —CD
Espresso Excellence
Alex Pond's winning brew is for judges only, but he knows where else to get great joe.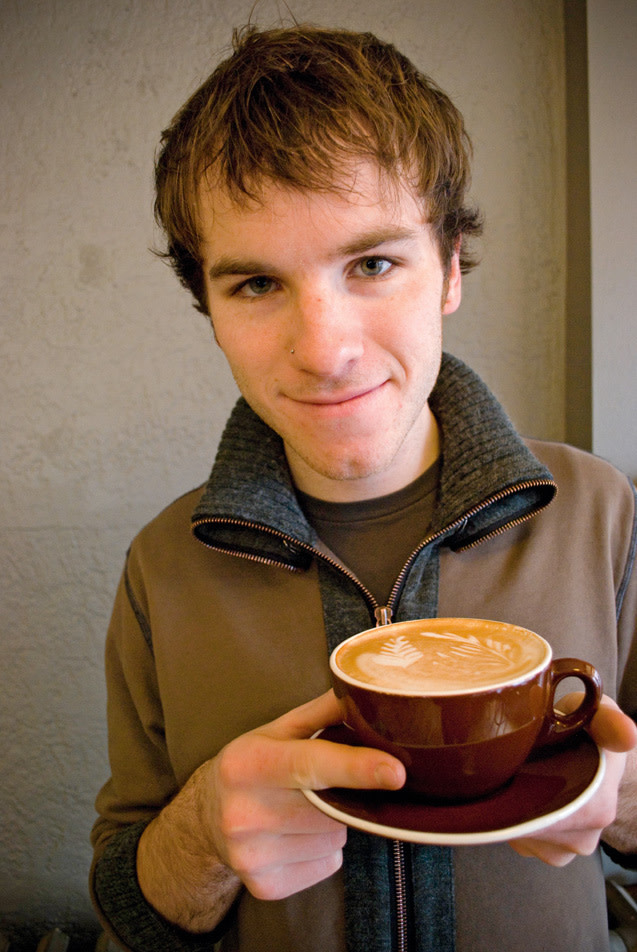 Alex pond's signature coffee is an exercise in extravagance. His espresso is Panamanian single-origin Carmen Estate, reserved specially for him by Stumptown Coffee. He infuses his milk with saffron. His cocoa powder was ground on a small family farm in Bali. He pulls his shot over caramel sauce (homemade, of course). His salt: Tanzanian. Pond calls his creation the Continental. And it's a winner.
A barista at the Fresh Pot on N Mississippi Avenue, Pond recently won the Northwest Regional Barista Championship in Tacoma, Washington, and will compete in this month's US Barista Championship right here at the Oregon Convention Center (March 5–8)—which may be the closest most of us ever get to the Continental.
If the Fresh Pot sold the drink, it would cost an indulgent ten bucks or so, for just four ounces—if they could even get the ingredients. "It's well balanced, it's complex, it's sweet and syrupy and chocolatey," says Pond, twenty-two. "It's everything I want in a cup of espresso."
At the nationals, he'll compete against more than fifty other baristas. Each will have fifteen minutes to prepare and present four espressos, four cappuccinos, and four of their own signature drinks to the seven hovering judges. Competitors are scored on taste, presentation, technical skill, cleanliness, and overall impression. While competing they wear microphones and look a little like Costco product demonstrators as they tell the stories of their technique and coffees with an audience looking on. Pond hails from Eugene, but here he's the hometown favorite. "I like to think of Portland as the coffee capital of America," he says. "No matter who's competing, I want Portland to win. --Lynette Sanchez
Pork-Drunk Love
How to treat the sexiest breakfast meat right. 
Bacon is such a quintessential breakfast staple, even vegetarians stake a claim to their own versions. We'd argue the morning itself is made better by bacon. When those marbled strips of pork hit the pan, the scent lifts us above our earthly entanglements, and the near-hymnal sizzle sings.
Everything tastes better with bacon, and lately Portlanders have embraced it with grease-fueled gusto. Every restaurant in town seems to have a tongue-in-cheek ode to that fatty and luscious cut of pig belly, be it for breakfast, lunch, dinner—or even dessert. Le Pigeon serves an apricot-maple-bacon cornbread as post-supper indulgence. Jenn Louis at Lincoln has been known to top her apple pies with woven bacon. And what adorns Voodoo Doughnut's maple-frosted bar? You guessed it.
"Portland has long been known as the microbrewing capital of the world, but I like to think of it as the bacon capital of the world," Scott Kveton says of the salty meat's local do-it-all appeal. He should know. Kveton recently celebrated the launch of his Southwest Portland–based specialty mail-order bacon company, Bacn.com, by hosting Portland's inaugural "Masterbacon" cooking competition. Held in January at Davis Street Tavern in Old Town, the event drew nearly forty local contestants who brought creations such as peanut butter–bacon sandwiches, bacon baklava, and even a maple-bacon custard pie.
Despite plans to spin off the bacon bash as "Bacon Camp" in cities like Seattle and San Francisco, Kveton knows that sometimes the best way to enjoy bacon is the old-fashioned way: fried in a pan, at home. Here are his tips for sizzling up the perfect slice:
1. Iron it out: A large skillet, ideally cast iron, distributes heat evenly. Cast iron also retains flavors from past use. For maximum zing, prime your skillet with leftover bacon grease.
2. Fryer beware: Because the meat releases water when heated, if you cook too much bacon at once, you're boiling, not frying it—gag. Kveton suggests preparing only three to four pieces at a time.
3. Put a lid on it: After an initial flip of the bacon, cover the pan. This regulates the temperature and browns the meat evenly.
4. Take the long road: Use low, steady heat. If your stove has five heat settings, aim for the third. Flip the bacon every few minutes, and allow ten to twelve minutes of sizzle before removing. (For thicker cuts, increase cooking time to around fifteen minutes).  --Brian Barker 
Wake and Slake
Don't be ashamed. Booze for breakfast is perfectly acceptable.
The crimson mélange of beer and tomato juice is called many things. Red Eye. Red Rooster. Bucket o' Blood. Of course, I knew none of this at the time. I just thought the bartender at the Mock Crest Tavern had made a mistake by mixing these two ingredients.
"What's that?" I asked the man next to me, who'd ordered it. With fingers stained from a lifetime spent sucking on unfiltered Marlboros, he tipped the glass toward me. "Breakfast," he croaked. "Most important meal of the day."
It was 10 a.m. On a Tuesday. I was there for the free Internet. Naturally, I thought the man chocking down tomato beer must be an alcoholic—a dubious double standard, since if it were a Sunday I'd have been right there with him, tipping back a pre-noon cocktail and feeling nary a twinge of guilt.
Thank God and Jack Daniel's, brunch emerged as the most celebrated meal of the weekend, allowing us to unapologetically enjoy booze for breakfast without our friends wondering whether to stage an intervention. The trick, though, is breaking free of those orange-pulp mimosa ruts and refusing to settle for anything less than a stellar Bloody Mary. In a town where the quest for an artful buzz is eclipsed only by the need to fill out the belly, this isn't exactly a challenge.
If you consider housing your morning pick-me-up and your hair-of-the-dog in separate containers a waste of china, then you're no doubt familiar with Irish coffee. Most conventional attempts end up either too bitter or too sweet, but the Ellen's Coffee at Genie's Café (1101 SE Division St; 503-445-9777) is the perfect mixture: Irish cream, hazelnut, and rich coffee mingling with vanilla-and-coffee-bean-infused vodka. Equally sublime is the Brandy Milk Punch at Roux (1700 N Killingsworth St; 503-285-1200). Think of it as a White Russian in a tux—the starring liquor complemented by a touch of sweet, citrusy Tuaca; the inner pods of vanilla beans; and milk—served over ice.
Further down-market is the Florida Room's (435 N Killingsworth St; 503-287-5658) take on the Bloody Mary . So devout is the bar's worship of this brunch staple, they devote an entire menu to it. The belle of the boozy ball is the Holy Water, a somewhat unorthodox but successful approach that involves steeping ground tomatoes, Worcestershire sauce, horseradish, and other proprietary ingredients for a few days and then filtering the mixture. The "tomato water" is then mixed with 42 Below vodka in a pint glass and served with celery, pickled green beans, and olives. Yet let it be known that the traditional bloodies at the Country Cat (7937 SE Stark St; 503-408-1414) give the Florida Room some competition: they come with a garnish of house-made jerky.
If your weekend bender just isn't complete without the fizzy tingle of alcohol and fruit, at least try and be creative. The Everett Street Bistro (1140 NW Everett St; 503-467-4990) offers a Bellini of champagne and white-peach purée, a marvelous take on the mimosa. But honestly, we suggest you take the Street Car —a heavenly commingling of Pendleton bourbon, tart muddled limes, and orange juice. If there's a more pleasantly potent way to enjoy the weekend, it's probably illegal.