SAVOR
The Spice Is Right
Pickled apples will light up your winter meals: Pickled Apples Served over Butternut Squash and Coconut Milk Soup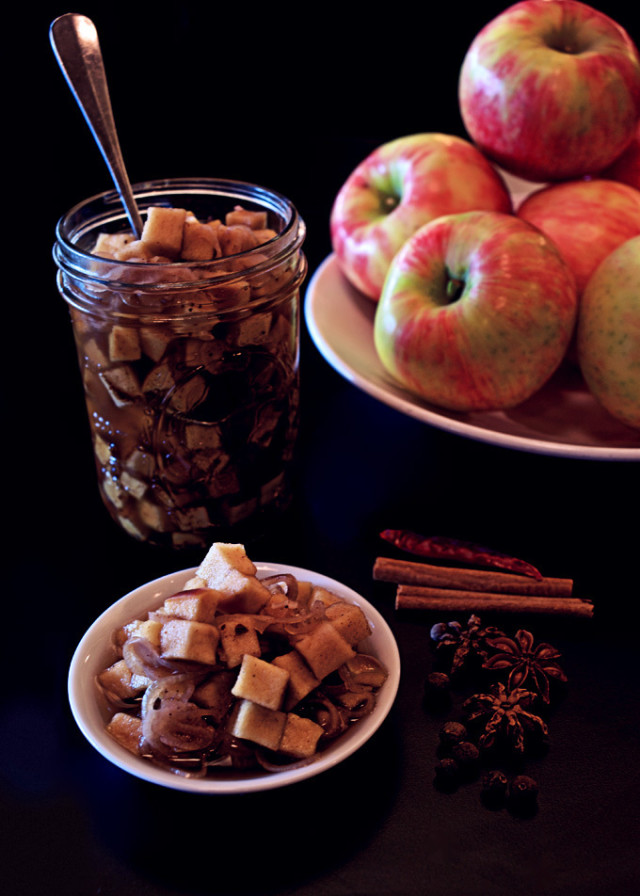 My relationship with pickles started as a serious aversion to what I thought were the only kind of pickles: former cucumbers, fished from a jar of briny, greenish liquid and deposited unappetizingly next to my grilled cheese sandwich. Years later, I found a restaurant in New York City that offered a pickle plate stacked with everything from watermelon to mushrooms to fennel. That's when I realized that proper pickling needn't cause overpowering brininess, but instead should enhance the flavor of a fruit or vegetable with salty, spicy, or savory elements. I started seeing pickles as an essential palate cleanser, refreshing my taste buds between bites with a tangy crunch.
Gregory Gourdet, executive chef at Saucebox and a fellow New York transplant, explains why using pickles—basically any fruit or vegetable that's been preserved in a solution of sugar, vinegar, and spices—permits such unassuming creativity. "The pickle just adds a high note to anything it goes into," he says. "You're keeping the texture intact, the color intact—and then brightening the flavor." This winter, he's pickling spiced apples and dropping them into a soup of butternut squash and coconut milk, adding a tart contrast to the rich, velvety dish. "This pickle has all the spices I use to make great mulled cider on cold winter days," he says. Gourdet also enjoys his pickled apples with roasted chicken, rich cheeses, or on a bacon-cheddar burger.
"My fondest childhood memories are of driving [to upstate New York] in the fall to go apple picking," he says. "And we're in apple country here in Oregon."
Luckily, pickling apples is easy. You don't even have to jar them; you can just store them in the fridge. Gourdet boils sugar, vinegar, and spices and then pours the mixture over diced apples, letting it cool to room temperature. "That's it," he says. "The pickles are ready to go."
Pickled Apples
4 red apples (any kind will do, but Fuji apples are especially good)
4 shallots, peeled, sliced thin
2 tbsp spice mix*
2 cups rice wine vinegar
2 cups sugar
(1) Wash and medium-dice apples.
(2) Place shallots in a container and cover with apples. 
(3) Add spice mix to vinegar and sugar and bring to a boil.
(4) Pour mixture over apples and shallots. 
(5) Cover with plastic wrap to keep everything submerged under liquid. 
(6) Let cool at room temperature.
* Spice Mix
8 cinnamon sticks
8 pieces star anise
12 cloves
1 tbsp cardamom
1 tbsp fennel seed
1 tbsp allspice
(1) Place all spices in a sauté pan and toast in a 375-degree oven until fragrant (about 10–15 minutes). 
(2) Once cool enough to handle, grind in a spice grinder until fine.