Five Questions
Chef Q & A: Jason Neroni
Talking food, folks, and fun with the new executive chef at downtown Portland's Saucebox.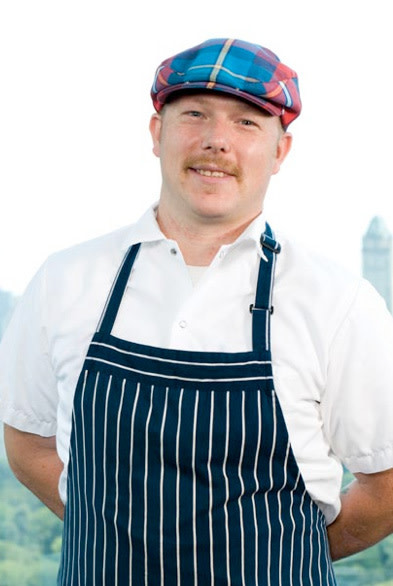 Here are the facts on the new executive chef at Saucebox, 34-year-old Jason Neroni: He has spent over half his life either executive chef'ing or working in such notable eateries as 10 Downing Street, Tabla, Le Cirque, Alain Ducasse at the Essex House, Spago, Chez Panisse, and more. For his work at 10 Downing, he received an impressive two stars from the formidable Frank Bruni, former food critic at the NY Times.
Before Neroni clocked in at Saucebox for the first time less than two weeks ago, owner Bruce Carey planned on preserving some of the recipes that had been the restaurant's mainstays for over 10 years, such as the tapioca dumplings, spicy Korean pork ribs, and Javanese salmon. For now, those dishes remain, but, Carey says, "Jason has very quickly earned our respect to the point where, more and more, the menu will be a reflection of what he can do. He's interpretive…creative…a real game changer."
Some examples of what he can do? Well, I can tell you from experience that the hanger steak tartar with pickled mustard seeds, romaine, sesame purée, and quail egg, the crispy brussel sprouts in dashi broth with poached egg and thai basil, the peking suckling pig (see below), the 24 hour short ribs for 2, and the brook trout with smoked marrow, grilled cauliflower, black vinegar, and cashew purée, are delicious and an inventive use of local ingredients, with an Asian spin. And next time I'm trying the sable fish with uni coconut risotto, ginger scented quince, and tagorashi.
Now, Neroni also has a reputation for being unpredictable and restless—two things that I wouldn't exactly call pejorative when it comes to what goes on a kitchen. And there is some ridiculous drama that swirls around him, based on accusations of exceedingly minor thievery from a restaurant he worked at over four years ago. Despite the fact that these charges were dropped, the media continues to make a fuss about it because potentially criminal chefs are apparently more interesting than the actual food they produce. Carey's take? "There are always two sides to a story. I know Jason well, I trust him, and I am proud to have him in the family."
As far as I'm concerned, the matter doesn't merit any more attention than that because what Neroni should be judged on, if anything, is the merit of his cooking.
So, without further ado, please meet the culinary cowboy himself.
1) Why did you decide to leave the food capital of the U.S. and move across the country to rainy Portland?
This isn't my first time living here. About three and a half years ago I was out here for a summer with my wife who was working as the GM at Clarklewis, and I had the opportunity to work with John Gorham at Toro Bravo when that restaurant was just opening. I fell in love with Portland that summer—the coast, the vineyards, a large living space unlike NYC, and we have a lot of friends here—but it just wasn't the right time for us. I got the opportunity at 10 Downing and my wife also got a great job opportunity, so we left. Ever since then, though, we've talked about coming back, so when Bruce called, we decided it was the right move at the right time and here I am.
2) Can you tell us a bit about some of those cutting edge food technologies you're using?
I'm definitely a modernist when it comes to matters of technique. I brine everything—fish, chicken, vegetables, etc. We sous vide a number of items for texture and preserving the food's integrity. Seaweed gelatin stabilizes certain pastries or sauces in ways that would otherwise be difficult to attain. I'm a huge fan of transglutaminase—it's a great tool when trying to utilize the whole product. But I also use a lot of good, old-fashioned cooking techniques as well. I don't see the more "cutting edge" technique as better, necessarily; rather, they are just another tool in my arsenal.
3) In what ways are you making your stamp on Saucebox?
Saucebox will always have an Asian twist, so that's how I'm approaching the menu. But I want to take it to a place with soul, for lack of a better word—rich, rounded dishes, exploiting Portland's bounty but also utilizing those amazing exotic flavors. I grew up in Garden Grove/Westminster, California, which has the largest Vietnamese population outside of Vietnam, and I was inundated with those flavors—a lot of my friends' moms cooked such amazing food… I guess the menu will be my cooking style, but incorporating those foods I had while growing up, as well as Korean, Indonesian, Cambodian, Japanese, and South Asian flavors. I'm not looking for the food to be authentic and I wouldn't want our patrons to expect that; it's just my take on great local food—with a couple twists.
4) I hear you're also handling the dessert menu, so can you name one entrée and one dessert that we should eat?
We've started doing a Peking suckling pig confit, where we brine the pig overnight, cook it in duck fat, press it, cut it into squares, and crisp the skin, and then glaze it in hoisin and serve it with crispy sunchokes and pickled red cabbage purée. A dessert that's been well received is the passion fruit soup with avocado, salted caramel bananas, Thai chili chocolate gelato, and basil.
5) What's the best non-Carey-restaurant meal out you've had in Portland since moving here?
Well, I ate at Tasty n Sons today—it was simple and delicious and my son loved the boudin blanc omelet. I've also been to Ned Ludd and I think Jason French is doing an amazing job—great food and cocktails… it was an amazing night out.