Holiday Eats Cheat Sheet
7+ Valentine's Day Dining Options
Our tips for a handful of cool places to eat on the night when love is given a monetary value.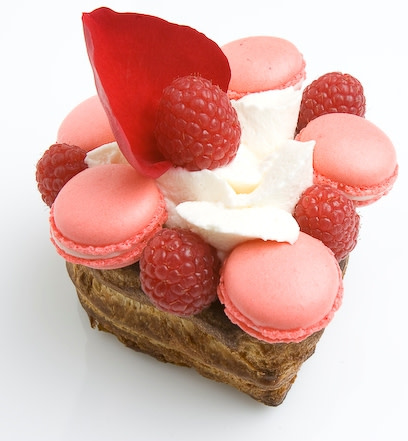 Pix Pâtisserie Mississippi location, 7am-midnight; Clinton location, 11am-midnight
Speed up getting to the good stuff by skipping dinner and going straight for dessert. Both Pix locations will be serving extra special treats, such as the St. Honoré for St.Valentine—puff pastry with raspberry pastry cream, chocolate-covered pop rocks, crème Chantilly, and rose macarons, topped with fresh raspberries and a red rose petal. You might even consider dessert for breakfast when you hear that this Valentine's Day, a single box of chocolate at each location will also include a pair of diamond stud earrings!
Fin Seatings at 6 & 8pm
If your mission is a night than can never be repeated, this is just the ticket. When the last dinner plates are cleared on Valentine's Day, Portland's first small-scale artisan seafood restaurant will flip to its "closed" sign for good. Chef Trent Pierce is keeping the menu a secret right now, but is willing to admit planning an all-sea-creature five course feast (think uni, butterfish, oysters, scallops, multiple caviars, and more), with new preparations and a number of surprises. Says Pierce: "I want to make sure this is going to be a wonderful memory for all of those who attend." $65 per person, with optional wine pairings; reservations required.
Yakuza Seatings at 5:30 & 8pm
Bring sexy back, Japanese-style, with this popular izakaya's five-course prix fixe dinner inspired by the color red. Lovers can feed each other the likes of blood orange scallop ceviche, salmon tataki seared with citrus oil and finishing salt, braised pork cheek with cauliflower puree, chèvre, and ancho chili oil, and homemade ice cream—but shouldn't, because watching other people feed each other is seriously off-putting. Not that you'll notice, because you and your hot stuff will be downing Meyer Lemons (grilled meyer lemon, Aviation, shiso, salt, and honey) in preparation for a little puckering up. $50/ person, with wine and sake pairings for $25/person; reservations recommended.
Lincoln 5:30pm-close
Yes, yes, Tasty n Sons may be the new favorite… son in the N. Williams HUB, but, for me, Lincoln is still where the heart is. On V Day they're offering a simple-y perfect three-course sampling of their fresh, elemental cuisine. Everyone ends their meal with a bittersweet chocolate terrine with vanilla anglaise and kumquat conserva, so it's only a matter of choosing from five appetizers and five entrées. Perhaps the rillions and dates with pumpkin conserva, grain mustard, and bruschetta, followed by the braised duck leg with green lentils, black trumpet mushrooms, and lacinato kale. And a cocktail or three, of course. $50/person; reservations recommended.
Beast Seatings at 6 & 8:45pm
Treat your sweet to all the meat they can eat! In the name of love, one of Portland's most carnivorous canteens is opening their doors on a rare Monday to offer a sumptuous four-course dinner, carefully paired with five wines. We don't know what's on the menu yet, but we know it will be elegant, creative, delicious, and, somewhat appropriately, appreciative of the flesh. $100/person; reservations required.
DOC Seatings at 6 & 8:30pm
Do you like to be teased? Netarts Bay oysters with a rosewater mignonette, bison carpaccio with arugula and farm egg, dungeness crab and meyer lemon risotto, stuffed rabbit with winter lettuce and toasted faro, trumpet mushroom, kale & truffle lasagna topped with fried farm egg, and pear sfoglia with honey caramel ice cream. Hopefully you have teensy DOC's number on speed dial because these are but a whisper of the dishes they'll be serving as part of their six-course tasting menu, for only $65 per person! Seriously—it's almost naughty. $65/person, with optional wine pairings for $40/person; reservations required.
Cinetopia/Vinotopia Restaurant open 11:30am-10:30pm
There's nothing that says "date night" like dinner and a movie, and Cinetopia is by far the region's best movie theatre, thanks to plush Ultra Leather extra-wide seats, extra leg room, top-of-the-line audio, and spectators who don't talk on their cell phones. Typically the Monday night ticket prices might seem spendy, ($10.75 for standard movies; $14 for 3D), but on Valentine's Day, it's a steal. The theatre also has an upscale American grill called Vinotopia, which will be offering a four-course V-Day menu, as well as their Wine Spectator award-winning automated wine tasting system that allows patrons to sample over 100 different wines from around the world, an ounce at a time. You might need to get a little drunk if you plan to see Black Swan. Restaurant reservations recommended.
Other places where you'll find a romantic repast: Aquariva, Bluehour, Castagna, Clyde Common, The Country Cat Dinnerhouse & Bar, Departure, East India Co. Grill & Bar, Fenouil, Grüner, The Heathman Restaurant & Bar, Le Pigeon, Little Bird, Metrovino, Morton's The Steakhouse, Nostrana, The Painted Lady, Paley's Place, Salty's, Saucebox, St. Jack, and Urban Farmer.