Holiday Eats Cheat Sheet
Procrastinator's Special: Valentine's Day
EAT BEAT's guide for slackers who have failed to make their V Day dinner reservations.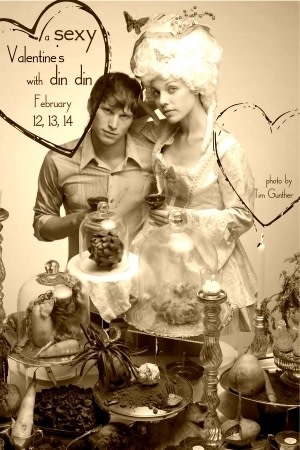 A couple weeks ago we gave you 7+ places to dine with your sweetie on the annual night when love is given a monetary value. But chances are you're like most procrastinating partners and, with one week to go, you have neglected to make plans. To help you get your romantic act together, we've called out 7 more options—one for each day you have left until someone you love gets really pissed because his/her Valentine's Day dinner consists of frozen pizza and Pabst.
din din Seatings at 7:30pm
There's never been a better reason to join Courtney Sproule for her monthly supper club. On V Day (as well as the 12th and 13th), servers will be clad in dresses and heels and suits and ties as they serve a super sexy five-course menu paired with wines. The setting is a lace, candle, and pearl-adorned Art Department, and a menu teaser includes orange flower water-scented gougères with gorgonzola dolce mornay, mussels and treviso with Sauternes sabayon and prosciutto, and Armagnac truffle and wildflower honey pot de crème. $75/person; make reservations at 971-544-1350 or [email protected]
The Heathman Restaurant & Bar Seatings at 6:30pm
Feast your eyes on the film Chocolat as you indulge in a luscious five-course tasting menu that includes tourchon of foie gras, lobster ravioli, roast squab, and lamb loin, along with wine pairings. If you close your eyes, you might even be able to pretend that your dining partner is Johnny Depp or Juliette Binoche. $75/person; reservations required.
Olympic Provisions Singing Salamigram
What better way to get your beloved in the mood (or make up for a lame dinner reservation) than five logs of cured meat on sticks? Each salami bouquet is delivered by the lead singer of The Tumblers, who will be singing an original song as he hands over the goods. I'll leave the hide-the-salami jokes to you. $75; order at 503.954.3663 or [email protected]
Fenouil 4-9pm
Carnivores and carniphobes will both find something to love here. Fenouil is offering two five-course dinners with optional wine pairings. One includes flesh-based fare like ahi tuna tartare, seared dayboat scallop, roasted duck breast, and natural shoulder tenderloin, while the other is 100-percent veggie viand with an heirloom beet and bleu cheese salad, rutabaga-apple soup, housemade fromage blanc tortellini, and roasted abaone mushroom. $65/person; reservations recommended.
Metrovino 4pm-close
Executive chef Greg Denton and his chef de cuisine Gabrielle Quiñónez Denton just got hitched this past fall. Inspired by their own long-time love affair, they're offering a few updated classics on Valentine's Day, along with the regular dinner menu. Think Oysters Rockefeller, Dungeness Crab Louie, grilled chateaubriand for two, and milk chocolate mousse parfait with honey-pistachio panna cotta, dark chocolate-pistachio crumble, and bruléed banana. You can also get très romantic sparkling cocktails such as the Seelbach and the French 75. Reservations recommended.
Pizza
Okay, so I didn't mean to knock pizza in my intro. In addition to its affordability, it's probably one of the tastier and more intimate meals you can eat—who can play games or keep their walls up when they have sauce on their nose and strings of cheese hanging from their mouth? Three great options that are open on Monday include Apizza Scholls (the Tartufo Bianco should make anyone willing to take their clothes off), Ken's Artisan Pizza, and Dove Vivi. See websites for hours.
Maybe you have the kind of lover who really would rather stay in and eat frozen Italian pie, drink beer, and watch 90210. If so, you can still give the night an air of romance with an extra-special, French-inspired sweet something, such as a gâteau chocolat framboise (a heart-shaped flourless chocolate cake topped with vanilla buttercream and fresh raspberries) or an assortment of meringué aux fraises, bite-size rosettes of strawberry meringues made with tangy bits of freeze-dried strawberries. Or get both—after all, Gossip Girl is on too. See website for locations and hours.
Other romantic locales* for dining à deux: Aquariva, Beast, Bluehour, Castagna,Cinetopia/Vinotopia, Clyde Common, The Country Cat Dinnerhouse & Bar, Departure, DOC, East India Co. Grill & Bar, Fin, Grüner, Le Pigeon, Lincoln, Little Bird, Morton's The Steakhouse, Nostrana, The Painted Lady, Paley's Place, Pix Pâtisserie, Salty's, Saucebox, St. Jack, Urban Farmer, and Yakuza.
*Sorry—no guarantees that there are still seats available.