Market Watch
Sweet & Salty Make a Better Croissant
Find these prized Bavarian croissants from Fressen Artisan Bakery at Portland Farmers Markets. Go early or they'll be gone!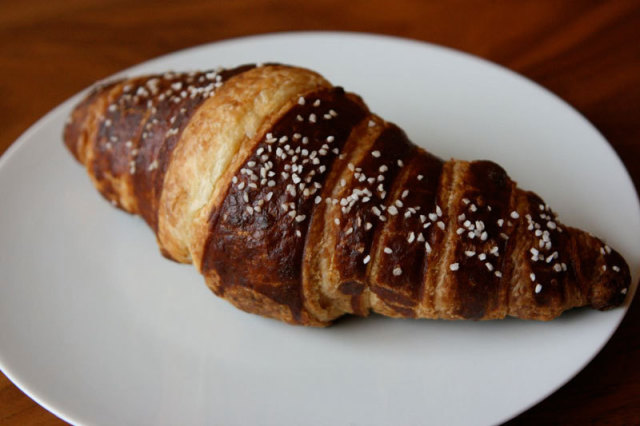 Fressen Artisan Bakery doesn't have a storefront. To find them, you'll have to go to one of Portland's farmers markets and pick up one of their insanely delicious Bavarian croissants.
Fressen's croissant is a salty sweet prize amidst their seed-crusted health loaves. Beneath its burnished brown crust speckled with coarse salt, a rich crumb beckons. Bid adieu to Louboutin stilettos and sweater-clad terriers—you're in the land of milkmaids and mountain men. Denser than its feathery Parisian counterpart, Fressen's croissant is more bread-like, yet still layered with rich buttery goodness. It's the best of both worlds.
Edger Loesch, owner of Fressen Bakery, has a few tricks up his sleeve. He uses local flour, Shepherd's Grain, a Pacific Northwest co-op for farmers using sustainable practices. He used to bake his breads in a wood oven before moving his kitchen, and it shows in his love for charred crusts. Knowing when his croissants have reached that perfect moment between being done enough and over-baked is his forte. And instead of a traditional egg wash over the top to achieve that shiny, caramel crust, the croissant gets the same treatment as his German pretzels—a quick dip into a lye solution. Go ahead and gild this lily—spread some sweet butter on and sandwich a few slices of ham between. Trust me, at $3, it's worth every buttery bite.
Look for Fressen's stand at People's, PSU, and Hillsdale farmers markets.