Feature
Mt. Hood
From Peak to Valley: An Insider's Guide
According to Multnomah tribal legend, the mountain we call "Hood" was once a chief who was filled with so much jealousy over a woman that, enraged, he turned into a volcano.
Today the 11,249-foot-tall mound of rock and ice gurgles with a molten core just 60 miles east of Portland, its perfect, A-shaped peak rising like a child's drawing above the city's skyline. Generations of Portlanders have grown up sledding, skiing, and tossing snowballs on its slopes. City zoning laws protect our views of it. In short, we feel possessive. Only the gods could imagine what we might feel if we were to lose Hood to another city. (Fortunately, it's not going anywhere.)
Crafting a guide to such an icon is no easy task. But we've worked hard to highlight 23 essential experiences, from a doughnut shop whose sweets will rev you up on your way to the mountain to a three-story alpine palace that's yours for the relaxing. We dish up details on the secret stashes of fresh powder at Mt Hood Meadows and recount unforgettable tales of alpine adventure. You'll even learn about the mountain's storied canines.
PLAY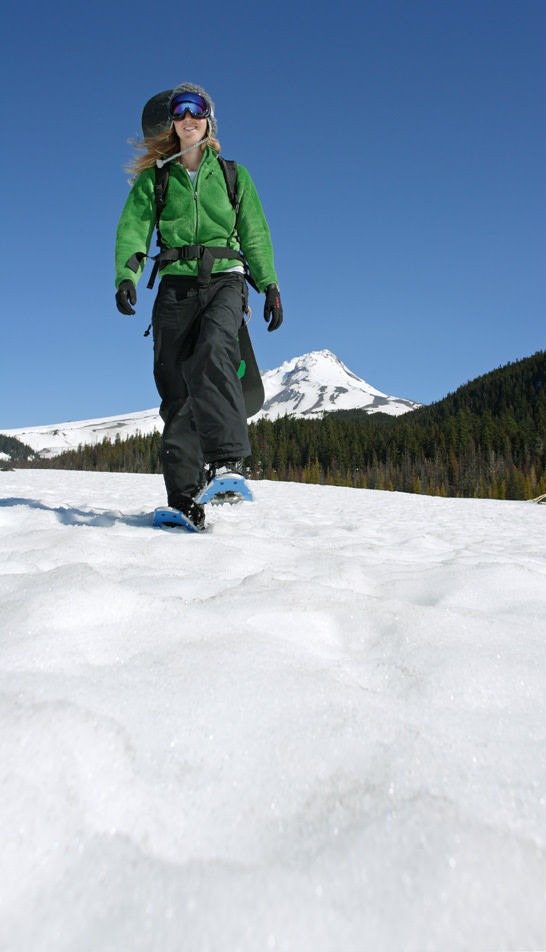 White River / moderate / snowshoe
Hikers aiming to fill their camera frames with Mount Hood summit shots won't do better than the White River Trail: the entire path wanders under the watchful eye of the volcano's massive cinder cone. Perched on Hood's southern flank, White River is often soaked in sun. Atop Boy Scout Ridge, at some 5,000 feet, the peak's yawning crevasses, towering seracs, and blue-green glacial ice appear close enough to touch.
Round trip: 5 miles. Distance from downtown: 63 miles. Map: Mt Hood Ski and Snowshoe Trails —Christopher Van Tilburg
Devil's Half Acre / moderate / cross-country skiing
Seek out this hidden gem when Trillium Lake's trails are jammed with skiers. The path was first blazed in 1845 by legendary Cascade mountain man Samuel Barlow, who hoped to spare Oregon Trail travelers a sketchy barge ride down the swift-moving Columbia River. After a quick descent, the pioneer-era road traverses a corridor of tall pines that gives way to an expansive meadow at the base of a softly sloping knoll. Use this backcountry bunny hill to practice telemark turns, or as a secluded listening post for the rat-a-tat-tats of wintering pileated woodpeckers.
Round trip: 3 miles. Distance from downtown: 59 miles. Map: Green Trails No. 462 —CVT
Glade Trail / difficult / cross-country skiing
The historic Glade Trail links the alpine hamlet of Government Camp to the mighty Timberline Lodge. Following the path of a bygone tramway line (from which a Portland city bus was suspended during the 1950s), the wide swath rises 2,000 feet over 3.5 miles. Meander past dense groves of Douglas fir and western red cedar before you emerge near Timberline's Blossom Chairlift. Warm your bones at the lodge's Ram's Head Bar and mark your calendar for the annual "Ski the Glade" event in March, when the trail is groomed for a day of retro-themed skiing. (Check mthoodmuseum.org for the date.)
Round trip: 7 miles. Distance from downtown: 56 miles. Map: Green Trails No. 462 —CVT
Crosstown Trail System / easy / snowshoe
Government Camp's rolling Crosstown Trail fits the bill for novice outdoorsmen and families in need of a short, no-hassle day trip. True, you won't wander far from civilization, but stands of giant salal, hibernating rhododendron bushes, and subalpine pines filter the highway noise well enough to maintain the Narnia-in-winter vibe. And should your budding snowshoer tire of the fairy tale in favor of hot cider, a multitude of side trails leading back to town will let you bail out pronto.
Round trip: 3 miles. Distance from downtown: 55 miles. Map: Green Trails No. 461 —CVT
Teacup Lake / easy / cross-country skiing
Considered One of the most well-maintained groomed trail systems in the state, Teacup Lake's ski trails are dutifully tended to by the Oregon Nordic Club. A burly PistenBully 170 snowcat lays down the velvety track twice a week, leaving a classic kick-and-glide path as well as an ample skate lane in its wake. Stop in on a weekend; the Ray Garey day-use cabin will probably have a fire stoked.
20 miles of trails. Distance from downtown: 67 miles. Map: Green Trails No. 462; Mt Hood Ski Snowshoe Trails —CVT
Tilly Jane / difficult / snowshoe
This challenging outing leaps some 2,000 feet up Pollalie Ridge to command sweeping views of the Hood River Valley. At the 5,500-foot mark, the Tilly Jane shelter—an old A-frame climber's hut that survived last year's devastating Gnarl Ridge fire unscathed—makes a welcome spot to drop your pack and sip a thermos of hot tea. If your quads aren't protesting too much, continue another mile to Cloud Cap Inn. Built in 1889 by Portland luminary William Ladd, the large log cabin is maintained today by the storied Crag Rats Mountain Rescue unit. Ask nicely and they might give you a tour of the inside.
Round trip: 5 miles. Distance from downtown: 88 miles. Map: Green Trails No. 462 —CVT
White River West Sno-Park / sledding
Not even Clark Griswold could hurt himself on this small sno-park's mild slopes. It's the perfect place to take future powderphiles who are still learning how to lace up their Sorels. The hills are short, gentle, and only minutes away from a steaming cup of cocoa in Government Camp. Marshmallows on top, of course. 4 miles north of Hwy 26 on OR 35 —Kasey Cordell
Little John Sno-Park / sledding
Little John's low elevation (about 3,200 feet) means it doesn't get as much snow as other sledding areas, but when the skies dump powder, this is prime tubing turf. Nestled within earshot of Culvert Creek, the area boasts two shriek-inducing hills—one that's 600 feet long—making the trek to the top a long one, but oh-so-worth-it for that hair-blowing blast back down. Plus, the Forest Service maintains a warming hut with a fire pit—just the thing you'll need when one of those rides ends in a wipeout (and trust us, one of them will).
31 miles south of Hood River on OR 35 —KC
Snow Bunny Lodge / sledding
Established in 1952 just up the road from Summit Ski Area, Snow Bunny Lodge drew more than 25,000 visitors each winter in its 1970s-era heyday. Traffic has diminished since Summit's lodge was demolished in 1992. But that's good: there's less wait time between runs now. These days, Snow Bunny is open only on weekends and holidays (when rented sliders are the only kind allowed), but you're free to visit and use your own gear on the lodge's slopes anytime.
3 miles east of Government Camp on Hwy 26 —KC
STAY
Cascade Huts
Find It!
These three recently opened metal-frame cabins set along Forest Service roads in the White River Valley and along Barlow Ridge now accommodate local winter backcountry outings. Hardcore skiers and snowshoers can trek in for a quick overnight stay at one of the cabins or link them up for extended outings. Each hut is outfitted with eight pine bunks, sleeping bags and pads, lanterns, a propane stove and heater, and basic kitchen utensils, but you'll need to haul in your own food and water—small pittance for a few nights of deep, snowy solitude. —BB
From $150. 866-430-4559; cascadehuts.com
Mt Hood Bed & Breakfast
Find It!
The grounds of the Mt Hood Bed & Breakfast include a working ranch with cattle and quarter horses, ponds, and apple orchards. Four quaint rooms feature warm, pine-toned interiors and stunning views of the mountains, and the 42 acres of snow-blanketed fields and trails offer plenty of cross-country skiing and snowshoeing adventures. Hit the trails early in the morning and proprietors Mike and Jackie Rice will have a hot country breakfast waiting for you when you return. —Rachel Ritchie
Rooms from $155. 8885 Cooper Spur Rd, Parkdale; 541-352-6885; mthoodbnb.com
Timberline Lodge
Find It!
Completed in 1937 as the Northwest's high-water mark for Works Progress Administration projects, Timberline earned a visit from Franklin Roosevelt himself for its dedication. Since 1955, the lodge has been managed and lovingly cared for by the Kohnstamm family. Inside, the soaring public spaces feature brawny beams of Douglas fir, wrought-iron detailing, towering stone fireplaces, and two bigger-than-life murals by Oregon's greatest early-century painter, C.S. Price. Overnight options include hostel-style bunks and large corner rooms, but the hospitality really shines in the eight "fireplace guest rooms." Each is uniquely decorated with detailed paintings of regional flora, handcrafted rugs, rustic woodsy furnishings, and a large stone hearth. Whatever room you book, make sure you visit the giant heated outdoor pool and hot tub, where you can watch fat snowflakes fall into the steaming water with a glass of hot buttered rum in hand. It puts all other après-ski scenes to shame. —RR
Rooms from $115. Timberline Road; 503-272-3134; timberlinelodge.com
Find It!
Now here's our idea of the ultimate mountain getaway. Designed by local branding company Twenty Four Seven, this slick 3,400-square-foot, three-story palace (which sleeps up to 21 people) is loaded with a stylish mix of low-slung sofas, antler chandeliers, a retro-cool indoor-outdoor fireplace, 500-thread-count linens, European-style walk-in showers—oh, and a full bar. Plus there are enough mule-deer knickknacks here and there for a Where's Waldo? book. Expect to pony up some cash, though—nights here run $850. Business types take note: the Mule Deer is retreat-ready with a remote-control four-foot-by-six-foot projector screen. —Kelly O'Connor
503-622-1142; muledeercabin.com
Mt Hood Inn
Find It!
The setup is simple, the décor is outdated, and the lift tickets are discounted—the Mt Hood Inn gives you everything you need and nothing you don't. The things you need include covered parking, downstairs ski lockers, and an on-site ski tuning room. Toss in the fact that you can take a free shuttle to Mt Hood Skibowl and stumble home from the Ice Axe Grill right next door, and you'll realize that this is the best deal on the mountain. —RR
Rooms from $159. 87450 E Government Camp Loop, Government Camp; 503-272-3205; mthoodinn.com
The Swedish Stuga
Find It!
This inviting little cabin has charm to spare. Red clapboard walls rise out of the snow against a thickly forested backdrop. Nearby, a stream trickles. A handsome flagstone patio leads guests inside, where large windows let natural light bounce off gleaming hardwood floors made from reclaimed Douglas firs. Tuck into a sunny nook with a book (the cabin has a great selection), or gaze at the forest canopy while soaking in an antique claw-foot tub. Skiing at Timberline is just up the road, but with 24 acres of ski trails right outside the door, the Swedish Stuga can be your own private resort for the weekend. —KO
$179 per night. 503-421-3087; swedishstuga.com
The Resort at the Mountain
Find It!
Nestled on the western slope of Mount Hood, just 15 minutes from Government Camp, the 300-acre Resort at the Mountain offers all the trappings of opulence: elegant modern furnishings; an upscale restaurant that serves fresh, local cuisine; and a lavish 3,500-square-foot spa where you can pamper yourself with hot stone massages, Himalayan-salt body wraps, and holistic facial treatments. —RR
Rooms from $129. 68010 East Fairway Ave, Welches; 503-622-3101; theresort.com
EAT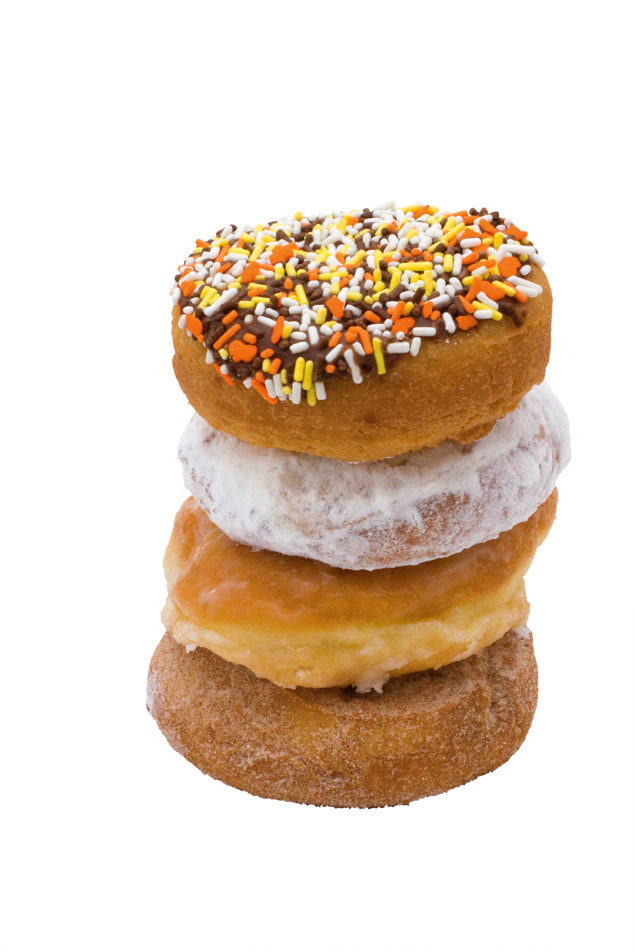 Joe's Donuts
Like a tailgate party before the big game, a wintry day on Hood is best primed at this Sandy landmark. But instead of brats and beer, think sugar and carbs. For the true Joe's experience, drop in before dawn on a Saturday. The little red-and-white-checkered building will have a line out the door. Fresh coffee flows like a newly tapped oil well, and the glaze on the just-from-the-fryer apple fritters and maple bars glistens like new-fallen snow.
39230 SE Pioneer Blvd, Sandy; 503-668-7215 —BB
Charlie's Mountain View
Once the lifts shut down, off-duty ski patrollers and other assorted mountain folk gather here by the dozen. The place definitely feels local, but the vibe is friendly. You might even score a beer on the house: next winter, Charlie's will once again start selling its sought-after lapel pins. Once purchased, this little doodad earns you a free drink for every drink you buy—for the next five years. OK, it's only one drink per day, but it still sounds better than any mug club we've heard of. —BB
Government Camp Loop; 503-272-3333; charliesmountainview.com
Huckleberry Inn
A few simple rooms upstairs can be rented for the night, and there's a separate space for steak-house dinners. But most people just take a seat in one of the inn's Formica booths and order breakfast or a slice of huckleberry pie, served any hour of the day or night. Thick pancakes, fresh-baked cinnamon rolls, and crisp chicken-fried steak all arrive in a hurry. Too heavy a fare for the morning ski runs? Nah. Think "lower center of gravity."
Government Camp Loop; 503-272-3325; huckleberry-inn.com —BB
Warming Hut, Mt Hood Skibowl
The carved benches inside this sturdy hut perched on the slopes of Skibowl seem to have grown into place. Old photos trace the hill's ski heritage to the late 1930s, and a big stone fireplace dominates the back wall. Occasionally, old-timers play accordions by the flames, adding an alpine ambience. If you're hungry, go for the goulah. Piping hot with chunks of potatoes and onion, it's chicken soup for the skier's soul.
Mt Hood Skibowl; skibowl.com -BB
Ice Axe Grill
This little brew-pub is about as close as Government Camp comes to haute cuisine. The rockfish tacos sprinkled with a fresh cilantro cream sauce would pass muster in San Diego. Salads are studded with goodies like peppered bacon and kalamata olives. And the beer? It's crafted on-site by the Mt Hood Brewing Company. And there's a reason every bar on the mountain keeps these micro-suds on tap.
87304 E Government Camp Loop; 503-272-3172; iceaxegrill.com —BB
Blue Ox Bar
In a cavelike alcove off one of Timberline Lodge's side halls sits the Blue Ox Bar. Any smaller and it'd have to be a closet. Still, the place breathes with history. The bar is lined with striking tile murals of Paul Bunyan and his trusty ox, hand-laid by WPA artist Virginia Darcy back when the lodge first opened in 1937. Restored in 1974 by Darcy herself, the murals glow like a Tiffany lamp even today. When you hoist a brew before this backdrop, you'll feel like a part of the tall tale, your exploits permanently etched into the mountain's fabled lore.
Timberline Road; 503-272-4457; timberlinelodge.com —BB