Best Restaurants 2011
Best Restaurants 2011: Hidden Breakfasts
Breakfast is the most important meal of the day so wake up a little earlier and get in line at one of these morning meeting spots.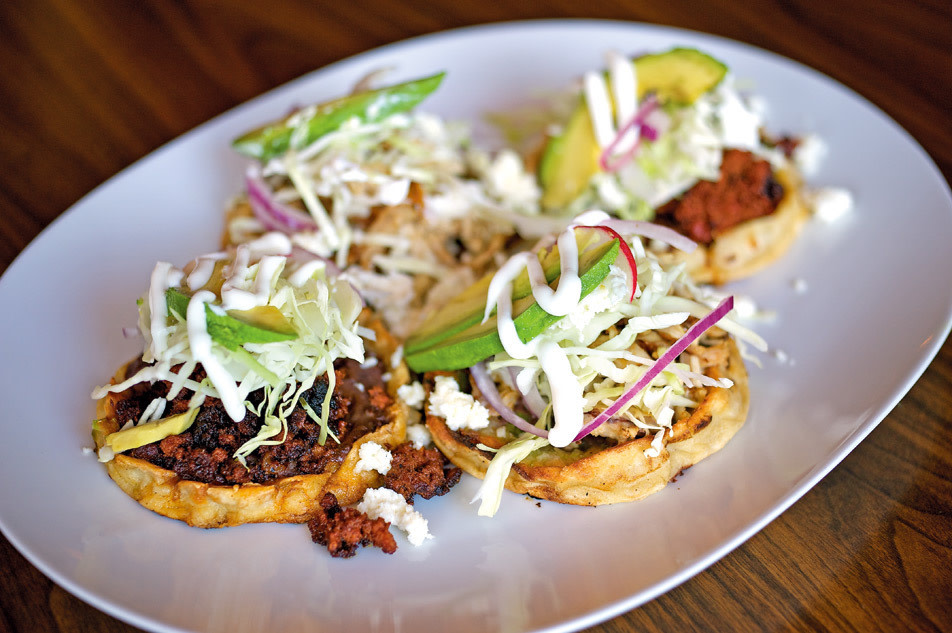 Mexican Mornings
In Portland, finding that great little taste of Mexico doesn't necessarily mean tracking down the hottest new taco truck. Every Saturday and Sunday, you can amble on into Autentica and wake up to a tongue-tingling Mexican brunch—steeped in vivid sauces and tender meats, brought to your table after luxuriating for hours in broths brimming with chiles and spices. Come with a group and get messy, sharing forkfuls across the table. Start with a balanced one-two punch of sweet and spicy that'll wake you right up: a plate of fruit salad served with honey and arbol chile–cinnamon powder. Follow your whims through the varied menu of entrées, but don't miss the entomatadas—chicken- or cheese-stuffed tortillas simmered in a tomato chile sauce and topped with a layer of cabbage, cotija cheese, and Oaxacan cream—or the huevos en caldillo rojo—two buoyant, perfectly poached eggs bathed in a red chicken broth with aromatic epazote spice and lime. The kitchen may not be on wheels, but it's as authentic as it gets. 5507 NE 30th Ave; autenticaportland.com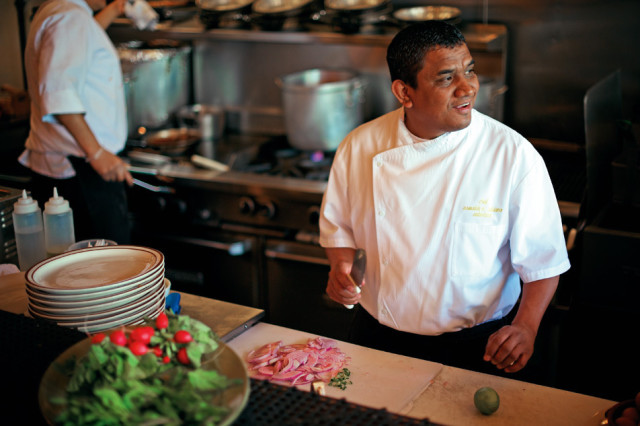 Euro-

PDX

Brunch

Somewhere between a cabin and a diner, Navarre is one of Portland's little secrets, the kind of spot you might find on an unmarked dirt road in a European village. But the eatery's greatest sense of surprise reveals itself only on weekend mornings. You won't find waffles, pancakes, or gravy at Navarre; this is passionate European territory, and brunch is no exception. Amble into the understated dining room at your leisure, taking in the baskets spilling fresh produce at the entrance, and settle in for an elegantly rustic menu of small and large plates. An order of bread with a hunk of habit-forming French butter and a mason jar brimming with seasonal jam is a must for the table. Pick and choose from the regular menu divided into simple categories of eggs, sides, vegetables, seafood, dairy, and meat, but pay close attention to the specials, which might include a plate of silky gravlax over a potato pancake with dill creme, tortilla Española, crab cake Benedict, and a fresh lineup of seasonal scrambles and omelets. After a light, leisurely stroll through Navarre's menu, those pancakes and waffles—and the lines that come with them—will seem like a distant memory. 10 NE 28th Ave; navarreportland.blogspot.com
Breakfast for Dinner
By now, many Portlanders have been snared in the painful purgatory that is Tasty n Sons' endless brunch line. Rejoice, for the deliverance from that particular form of hungry humiliation can be found in Tasty's nightly "Breakfast for Dinner" menu, a slimmed-down sample of the same goods without the morning wait—and with the giddy, guilt-free joy that comes from pairing your eggs, biscuits, and gravy with a tasty pinot. The menu is small, so you might as well grab a date, saddle up at the chef's counter, and order it all, starting with bacon-wrapped, almond-stuffed dates for everyone, hot from the griddle and doused in maple syrup. The hearty shakshuka—an Israeli street-food stew thick with red peppers, tomatoes, and spicy merguez lamb sausage, topped with two baked eggs—will wake you up day or night. By dark, the transcendent biscuits and venison loin—served with a plentiful ladling of venison sausage gravy and heightened by the additions of salty-smoky bacon, onion, red peppers, and chive—prove that breakfast really can be the best dinner. 3808 N Williams Ave, Suite C; tastynsons.com
Wood-Fired Weekends
Who doesn't love a good, crackling wood fire? In Portland, there's only one place to find that primal satisfaction in the morning: Ned Ludd, where tall windows, dangling chandeliers, potted succulents, and collections of copper pots complete the quirky, French farmhouse vibe. As with the dinner lineup, the "warmbits" and "plats" on Ned Ludd's brunch menu come straight from the restaurant's hallowed hearth, arriving at your table imbued with the flavors of smoked pear, cherry, and applewood. The daily frittata offers a clean, bright start, dotted with rich chevre, sided with a dollop of lemony aioli and salty mixed greens, and showered in fresh herbs. A colorful vegetable hash dotted with sumptuous chunks of smoked trout arrives perfectly seasoned, draped delicately with two sunny-side-up eggs. If you're craving richer fare, opt for the "bird in the nest": a slice of wood-fired polenta cradling a baked egg and served in a bath of sausage gravy. Splurge on a slice of brown butter shortbread for dessert—sitting in a shallow pool of sweet cream and seasonal fruit, dusted with powdered sugar, it's sure to reignite your wood-fired hunger. 3925 NE MLK Jr. Blvd; nedluddpdx.com
Eggs Over (Big) Easy
A room pulsing with the wail of a live saxophone. Plates piled with sugar-dusted beignets, buckets of champagne on ice, and platters of boozy oyster shooters. Nope, it's not the Big Easy, but Portland's closest thing: Eat's Sunday jazz brunch, which lands the rollicking cheer and boisterous flavors of a French Quarter bistro jam squarely in Stumptown. Reggie Houston's Box of Chocolates plays from 11 a.m. until 2 p.m., and food options are best shared, so come with a group and take your time. Per tradition, half of the menu is devoted to spirits, so if a rum-fueled hurricane, Bloody Mary, or gin fizz is what the doctor ordered, you can fill that prescription here. As for the Creole-inspired victuals, veal grillades are a hearty standout, sliced thick, braised in a dark roux, and served over coarse-ground grits. Classic eggs Sardou, poached and cradled within artichoke hearts in a pool of creamed spinach with house-made hollandaise, easily prove their longevity. Throw in a round of oyster shooters and luscious beignets, and laissez les bons temps rouler. 3808 N Williams Ave, Suite 122; eatoysterbar.com
Want more food news, plus editor's picks in every neighborhood, advanced search options, and all of our best-of lists? Download our Gastronaut app in iTunes or Google Play!