Best Restaurants 2011
Best Restaurants 2011: The Best of the Rest
Still hungry? We've culled the 30 restaurants that should remain in any food lover's regular rotation. Be it artisan pizza, sustainable sushi, or Spain-meets-Oregon tapas, these places deliver every time.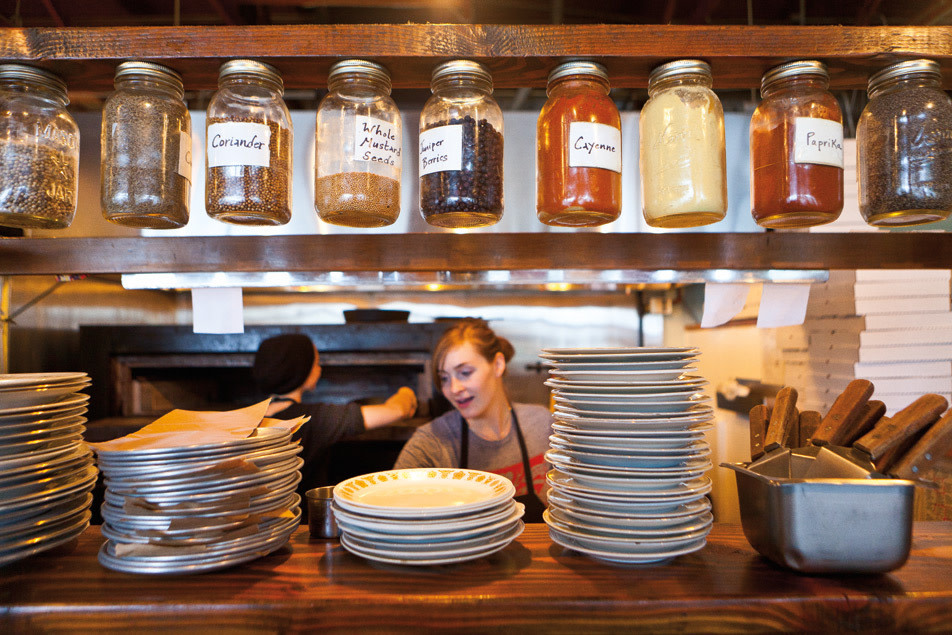 1314 NW Glisan St 503-228-9535 $$$

Andean restaurants are as hard to find as a pisco sour on the road to Machu Picchu. Andina is not only a rare destination, it aims for the peaks, with high-end Peruvian fusion cooking not often seen outside of Lima but enough local ingredients to keep it grounded in Portland. Yet the real brilliance here, and what keeps Andina packed with daters, business folks, and tourists, is a savvy embrace of approachable adventure. You can tuck into an unusual lunch, spend the evening gazing at elaborate entrées stacked into visual theater, or eat casually, sharing small plates with friends. The kitchen is not the revelation it was when Andina opened in 2005 as a showcase for Peru's "New Andean" cooking, but the colorful pepper sauces over hunks of beef or lamb, fanciful ceviches, and quinoa "risottos" appeal to a wide range of appetites. The bustling, jewel-toned bar is a perpetual Pearl District hot spot, with playful Latin-inspired drinks and one of the best cocktails in town: the Sacsayhuaman, a seductive dance of sweet, fire, and passion fruit. Forget trying to sound it out and just order it by its nickname: "sexy woman."
4741 SE Hawthorne Blvd 503-233-1286 $$

With a reception as warm as a warden greeting a recidivist, Apizza wins no atmosphere awards. Still, for pizza theologists, it's a temple. Owner Brian Spangler channels New York's Italian-American coal-oven shops through an Oregon baker's avid heart. Spangler makes dough daily (and when he runs out, he's done) and uses an infrared thermometer to suss out prime hot spots in his electric oven. The result: muscular pies with char-speckled bottoms that make East Coast devotees swoon, from a heart-stopping "New York White" to a superb sausage and spicy peppers, all ginormous. Are they worth the hour wait—and the attitude? It depends on how badly you want the real thing.
310 SE 28th Ave 503-232-5255 $$$

Kristofor Lofgren was ahead of the curve in 2008, when he opened the country's first "certified" sustainable sushi restaurant, leaving the murky waters of red-listing and blue-listing to nonprofit conservation pros. The checklist of sustainable catches informs the nonpreachy menu, an in-depth list of sake love, creative sushi, and playful, visual rolls drawn from the Pacific Coast but casting a wide net to other waters. For a small, independent restaurant, and a chic one at that, Bamboo Sushi is going the distance, contracting with one fisherman to provide its annual haul of Pacific albacore tuna and salmon. Even the house California rolls rise above the mundane, holding 100 percent certified local Dungeness crab while keeping prices on par with most places serving the fake stuff. Adventure is part of the house philosophy, and on any night you might find horse mackerel, Tasmanian ocean trout, or cod sperm, not to mention a darn good burger, fat with high-quality American kobe beef. Is it the best sushi you've eaten? No. But it's fun, fashionable, and thinking ahead, and happy hour is a catch.
Beaker & Flask


Pacific Northwest
727 SE Washington St 503-235-8180 $$$

Opened by Kevin Ludwig, one of Portland's top craft bartenders, Beaker & Flask was an instant surprise for its food, with sumptuous, edgy (and sometimes ingredient-cluttered) seasonal selections guided by chef Benjamin Bettinger, who freely blends French techniques with animal love. Think Paley's Place for the hipster crowd, deep in pigs' ears, pork cheeks, grilled sardines, pickled things, and, if you're lucky, the reinvented borscht. Of the half-dozen bars that define Portland's modern mixology scene, this is one of the cleverest, combining old-school ingredients with whimsical creativity. If you're ready for a negroni reborn with aquavit and cynar in a lively industrial setting, this is the place.
2508 SE Clinton St 503-736-3333 $

To satisfy a Swedish meatball craving, you could drive out to Ikea, run through a hamster-track maze of fake rooms, and eventually locate the store's big-box cafeteria. Or you could simply head down to SE Clinton Street, where a bustling Scandinavian café awaits with Danish modern atmospherics and food cool enough for Wallpaper magazine. Once seated, settle on a Stockholm hot dog wrapped in a potato pancake with house-made relish or a baked scramble with gravlax or smoked trout, served in handsome skillets next to sides like roasted apples. Everyone comes for aebleskivers, golf ball–size puffs of batter baked in a special pan and served with homemade lemon curd and applesauce. And of course, the rich meatballs in a creamy sherry sauce are far more inspired than the ones at Ikea.
621 SE Morrison St 503-477-9515 $

Walk down SE Morrison Street at midday, and when you reach Sixth Avenue, you'll find yourself amid a motley crew of tattooed hipsters, besuited office workers, and tiny creative sprites, each anxiously anticipating a Bunk sandwich. Co-owners Tommy Habetz and Nick Wood create dangerously good culinary experiments between two slices of bread, from salt cod and mashed potatoes with parsley salad to duck pâté bahn mi. No wonder their powerhouse sandwiches are turning up on popular food shows like Diners, Drive-Ins and Dives and The Best Thing I Ever Ate. Spin-off Bunk Bar (1028 SE Water Ave, 503-477-9515), serves the same signature selection, along with loud (but well-chosen) indie music, an anti-mixology bar, and late-night hours, plus some additional finds, like a french-fry po'boy with duck gravy, courtesy of Habetz's dream addition—a deep fryer.
807 NW 21st Ave 503-226-4646 $$$

It would be easy to write off this streetside café as a low-hanging fruit for the masses who flock to the Northwest blocks on weekends. But Caffe Mingo—the first of the trio that includes the adjacent Bar Mingo and Beaverton's Mingo—is far from a tacky tourist trap. Stop by unannounced on a Friday or Saturday night and expect a wait approaching the running time of Doctor Zhivago. Why? Well, the pasta dishes, for one. The penne al sugo di carne with tender beef braised in Chianti and espresso might be the closest thing you'll find in this town to Nonna's sauce. For dessert, try the classic chocolate torte with gelato. Soft lighting matches the tiny dining room's warm atmosphere. Order a few glasses of wine from the short but smart list, but don't get too carried away. The people waiting in sidewalk Siberia for your table are hungry, too.
1237 SW Jefferson St 503-227-4136 $

Ohaiyo gozaimasu!! The greeting rings out as you step through the door at this tiny, serene café. You don't often hear the words in Portland, and it's generally a reassuring sign that you are in the right place. Japanese families and in-the-know locals come for Naoko Tamura's Oregon-inspired Japanese comfort foods. Bento is the star of the lunch-only menu: light, healthy, artful, and fashioned with farm-fresh ingredients. The chalkboard overhead reads like a road map of respected Oregon producers. Each lacquered box contains five compartments holding thoughtful bites: sweet omelet, silky tofu, market-fresh greens, rice (white or brown), and a changing main attraction, from lightly fried wild Oregon lingcod to farm-coddled chicken in a tomato braise. If you're still hungry, the miso soup is fantastically perfumed, and the browned strips of pressed, gooey, rice cake "mocheese" are terrific.
2088 NW Stucki Ave 503-531-9500 $

Just a short jump off of the Sunset Highway in a strip mall next to Tanasbourne, a slice of India percolates. The otherwise ambience-free setting wears one telltale patina: flowers handpainted on the wall, lovely and patternless. The friendly staff tends to steer newcomers to safer dishes. Just smile, nod, and say, "But what are your favorites?" and then be prepared for rustic delicacies, particularly dishes labeled Chettinad, a region in food-adventurous southern India. Full immersion means an appetizer of fried lentil-flour doughnuts called thairr vada, slow-cooked mugalai lamb koorma, and, last but not least, a dosa (a rice-flour crêpe, filled, rolled, and meant for sharing). Go for the head-turning, three-foot-long "family dosa" or get adventurous with the chile-sparked Uttapam dosa. Holler for a mango lassi to cool the heat.
1001 SE Water Ave 503-235-2294 $$$

Years after the media noise dimmed, Clarklewis has emerged with a new identity: Portland's best business-appropriate eatery, with a focused kitchen and beautiful space to match. White cloths now cover the tables, but the former warehouse space maintains the original flavor of casual cool from its former era. Huge garage doors hang agape around the entire building, the smell of smoke pumps from the open wood-fired oven, and an attentive staff stands within reach. Seasonal, contemporary American fare boasts simple salads, rich ragùs, and Oregon-sourced meats, from tender wild sturgeon to charred SuDan lamb leg. Clarklewis's consistent menu comes alive at lunch, when solid flavor profiles and the occasional out-of-the-park sandwich mingle with approachable ingredients attuned to the seasons. In a city of communal tables and pig parts, Clarklewis has found its niche in a stepped-up, accessible menu, with enough charm to impress a discerning client—or worse, a finicky parent. Closed Sun.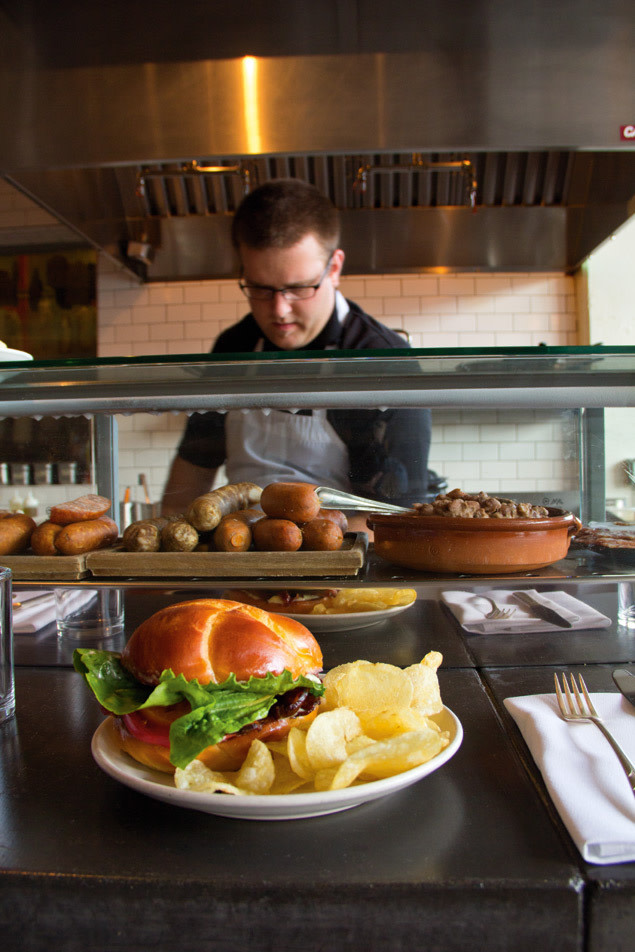 1014 SW Stark st 503-228-3333 $$

Set in the bottom of the Ace Hotel, Clyde Common has a tastefully informal gourmet vibe. Framed by tall windows, the restaurant offers a bar that serves the best negroni in town, along with four communal tables and an upstairs with intimate, bistro-size tables. Noise-sensitive diners, beware: high ceilings and resonant wood surfaces can make the buzz and clatter here deafening. But the small menu makes up for such inconveniences with everything from olive oil–poached octopus with chorizo and fingerling potatoes to a house-made tagliarini with Dungeness crab, leeks, and Calabrian chiles. If Clyde's brand of high-end cuisine signals a new trend in downtown hotel dining, we're all for it.
DOC




Italian
5519 NE 30th Ave 503-946-8592 $$$

Dining at DOC is an immersing experience. Getting to your table involves walking directly past the mason jar–lined storefront, straight through the teeny kitchen (which doubles as entryway) and into the tiny, romantic dining room. DOC redefines the idea of the chef's counter, with every table positioned in view of Italian food lovers and chefs Jobie Bailey and Paul Losch at work in Portland's most intimate kitchen. The small menu boasts flavors foraged and farmed in Oregon, rapidly changing from week to week. A la carte options are available, but the five-course tasting menu rules at DOC: antipasti, primi (pasta and risotto), secondi (entrées), formaggi, and dessert, plus a bread course with olives and oysters to start. One day's produce might bring a haul of summer vegetables layered in lasagna, or a primi of lobster mushroom risotto sprinkled with chives. Wine man Austin Morris Bridges pours glasses by the full or half glass from one of Portland's best Italian wine programs.
2727 NE Glisan St 503-239-4444 $$

According to legend, the recipe for Dove Vivi's crusts has its origins decades ago in what might be called a taxicab kidnapping. Eventually, by a circuitous route, the crust ended up in the possession of owners Delane and Gavin Blackstock. There remains something distinctly mysterious and foreign, perhaps even … Californian, about this crust, but it is inarguably good. An amalgamation of locally milled organic cornmeal, Washington-grown wheat flour, olive oil, salt, and yeast results in a half-inch-thick slice, elaborately textured and slightly crispy. Sink your incisors into the kitchen's cult classic: fresh sweet corn, smoked mozzarella, and balsamic red onions. But check the specials list for unlikely combos and the realization that, somehow, handcrafted corned beef, sauerkraut, and zucchini pickle relish make sense on a cornmeal crust served in a humble, fun-loving neighborhood spot.
Evoe


Countryside Europe
3731 SE Hawthorne Blvd 503-232-1010 $$

Three years ago Kevin Gibson, one of Portland's most accomplished chefs, left the high-end restaurant scene to become the master of his own universe inside the Hawthorne Pastaworks. Food formulas don't exist here. In a space no larger than a dorm room, Gibson's mood reigns whether he is grilling a cheese sandwich, slicing up wild-boar pâté with sour cherries, or rubbing anise into duck to be paired with fresh kumquat chutney—a dish you'd be thrilled to find at a fancy restaurant at twice the price. Check for a scallops salad—a Gibson signature—or squid baked in an earthenware crock with hot peaks of blood-orange aioli (garlic mayo). If you're on the run, grab one of the nearly dozen daily sandwiches. Best is the Little Bo Peep: exquisite lamb meatballs stacked with frizzy greens on ciabatta bread. Even by Portland standards, Evoe is quirky. But for anyone who loves great food, it's Exhibit A for why we are the envy of the country. Closed Mon, Tue.
304 SE 28th Ave 503-517-9951 $$

French-style bread baker Ken Forkish helped lead Portland into pizza's promised land in 2005 with experiments at his landmark Ken's Artisan Bakery. By '06, he'd spun his puffy-crusted wonders into their own restaurant, complete with a wood-fired oven, a serious Oregon-focused wine list, and a warm setting full of local salvage. Today, lines form by 4:45 for crust that's toasty and dusky with a nice blush of char, a delicate tomato sauce, and a dozen restrained topping combos, like green garlic with grana padano and pecorino or homemade sausage with fiery chiles. Ken's spicy soppressata truly elevates the art form, with joyful mouthfuls of crispy salami, wild heat, and smoky dough. Carryout available Sun–Thu.
600 SW Pine St   503-224-9236 $

Café Vélo's carefully considered coffee still flows at the corner of SW Sixth Avenue and Pine Street, a few flaps away from Little Bird on the bus mall. But the takeout case has a whole new perfume: wizardly fruit pies, wonderful biscuits, and revelatory quiche. Rising microbaking star Kate McMillen and fiancé Noah Cable serve up American classics with careful twists, serious all-butter crusts, and Oregon fruit focused on the peak of season—with barely a hint of sugar. McMillen bakes up a half-dozen daily pies (whole or by the slice), seasonal galettes, and cult-inspiring $2 chocolate cream sliders that deliver three kinds of single-origin chocolate and one whipped cream cloud in three bites. Quiches taste like a totally new invention, deep-dish and super delicate, and the biscuits are exquisitely light, with a big butter flavor and fine, fresh jam for smearing. Get them in the morning while they're warm.
3808 N Williams Ave 503-288-6200 $$$

The brainchild of husband-and-wife team David Welch and Jenn Louis, Lincoln soothes more than it struts, as evidenced by its straightforward, minimalist menu and sturdy fir tables. Louis eschews big flavors and gimmickry for freshness and balance. Her dishes are ingredient-driven and often outstanding, as with a signature appetizer of two eggs baked with cream and chopped green olives, or a delicate hanger steak topped with blue-cheese butter beside a tower of buttermilk-dipped onion rings. Meats are cooked to the perfect texture and temperature: although the offerings change daily, you might be lucky enough to find a sliced pork shoulder served over creamy potato-and-parsnip purée and doused in a piquant salsa verde (with a boneless smoked pork shank folded into the mix). The warehouse space has been remodeled, but nothing about this new restaurant is new-fangled. Closed Mon.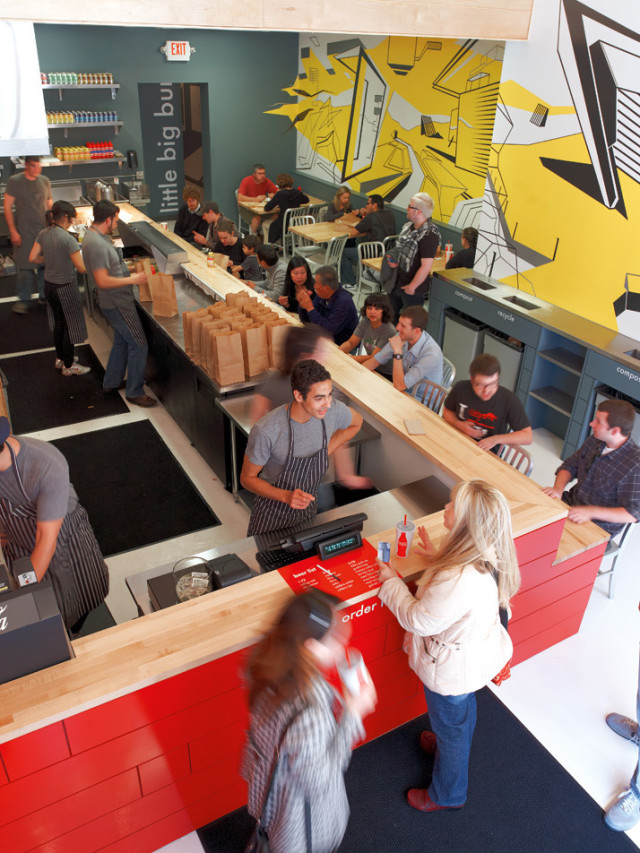 122 NW 10th Ave 503-274-9008 $

The mood at Micah Camden's reimagined soda fountain is at once sterile and pulsing with personality—Lego-red hues, blond wood and slate walls, mind-bending murals, the color pop of Asian cool. If Ray Kroc went to the Rhode Island School of Design, with a semester in Tokyo, history may have looked like this: fast and fun, eco-minded, and feeding a demand for real food, made to order, on the cheap. Plus, there's beer—nearly a dozen canned brands stacked on shelves as though posing for a Warhol painting. The limited menu includes a locally sourced quarter-pounder served with a picnic mentality: no dishes or trays, just make-your-own plates out of takeout bags. Go for the Rogue chevre burger or the veggie burger, and add some fine truffle fries on the side.
4039 N Mississippi Ave, Ste 101 503-281-4060 $$

Think wood-fired California designer pizza, by way of fine Oregon farmers. New Yorkers may cringe, Italians may flee, but Sarah Minnick and oven man James Albee bust out some of the tastiest, most satisfying pies in the city: beautifully bronzed and carefully constructed, light on cheese and sauce. Six whole pies arrive dressed for the weather—perhaps wild nettles with crispy pancetta or slivers of black trumpet mushrooms boosted by parsley, citrus, and garlic. Sure, you can knock off a Tolstoy chapter before your order arrives, but that allows more time to contemplate the inventive salads and luscious ice creams that make this neighborhood pizza hangout a rising star.
1111 E Burnside St, 4th floor 503-233-1999 $$

On the fourth floor of south Burnside's Rocket Building, Leather Storrs cooks comfort food from his overgrown rooftop garden to pair with Noble Rot's wine program. The rooftop patio is essential, offering unparalleled views of downtown Portland, even in the chill of winter. You can stick to the carefully curated flights, sampling tastes from BC to Bordeaux, or you can venture into Storrs's jumbled seasonal menu. Diner staples top the list: extra-sharp mac and cheese with a spike of Dijon mustard and a crunch of bread crumbs; crisp, airy onion rings of the highest caliber; a respectable flat iron steak with creamy romesco sauce. The evergreen list of small-plate favorites, like sweet caramelized onion tart on a flaky pastry shell or a "Roof Salad," well-dressed with carrots, lemon cucumbers, and edible flowers from the garden upstairs, make Noble Rot more than just a room with a view.
3016 SE 82nd Ave 503-771-2299 $$

No worthwhile dim sum experience is complete 
without the following: a parade of multitiered push-carts squeezing though tight-packed chairs with the day's offerings; house specials not found elsewhere; and the joyful noise of entire Asian clans gathered around massive lazy Susan–topped tables and spinning a feast of barbecued pork buns, pinched dumplings, chicken feet, and all kinds of baked, leaf-wrapped, and steamed wonders. Ocean City delivers, and as at most dim sum houses the selection is biggest and best on weekends (up to 100 options), and more exciting than the encyclopedic Chinese dinner menu. Come with a group and order wildly—anything that looks good (saucers average $2.75–3.75 for several pieces). Zoom in on specials offered on trays, and don't miss the deep-fried shimp pressed around sugar cane or the divine golden egg custard bun.
1632 NW Thurman St 503-894-8136 $$

The charcuterie list shares the impressive salumi and sausages with the original Olympia Provisions in the industrial Southeast, but the Northwest Portland branch is a completely different animal, with its own feel and flavors. Chef Erin Williams makes her statement with a small and addictive repertoire of European and American dishes, pickled bites, seasonal soups, and salads. Laid-back entrées include rotisserie chicken, plump and juicy with crackling golden skin, and the fantastic, fire-flecked link of OP's chorizo Rioja, sitting alongside poached albacore tuna in a broth full of fresh shell beans and bitter Basque peppers. The best dessert plays off OP's charcuterie obsession: a bittersweet chocolate "salami," pockmarked with cookie crumbs, pistachios, and orange zest, then coated in powdered sugar to emulate the meaty version.
422 NW Eighth Ave 503-223-7275 $$$

The menu of small and large plates varies with the wanderings of chef-owner Scott Dolich and chef de cuisine David Padberg at this little North Park Blocks gem, one of the first of a new class of local eateries ushering in the city's finest era of dining when it opened eight years ago. A hardy forager, Dolich knows just what to buy and when: roots, mushrooms, and greens just wrestled from the earth, applied to dishes like porcini bread pudding with fava beans. The kitchen combines eclectic influences and seasonal, yet often disparate, ingredients in rambunctious medleys that can be wonderful or weird. Soups can be outstanding, and the tempura-fried green beans and spears of salty bacon, served in a paper cone, could embarrass a french fry. Closed Sun.
Ping


Pan-Asian
102 NW Fourth Ave 503-229-7464 $$

Ping pushes authentic pan-Asian street food to its limits—no surprise, given that Pok Pok mastermind and Asian street food authority Andy Ricker is a co-owner. The intriguing options include brined chicken butt on bamboo skewers, grilled baby octopus marinated in lime and garlic, and tiny bone-in pork chops on a bun, a street favorite in Macau. Wash it all down with a house-made plum drinking vinegar. You'll find a surprising collection of novelties here, and the izakaya-style menu—divvied up into easily digestible categories like Fried, Steamed, Boiled, Beef, Pork, and Noodles—encourages you to sample all the options, but don't miss the steamed pork buns or the pork collar in spicy dipping sauce. Plates arrive one by one, accompanied by saucers of sour yellow chile dipping sauce made with garlic, vinegar, and habanero peppers. The procession of bite-size dishes invites you to settle in and savor each smoky, sticky, crunchy arrival. Then, order another.
2337 E Burnside St 503-542-0880 $$

One can't live on pimento cheese alone, but if you could, we'd recommend doing so at this institution of opulent Southern comfort. The airy, modern restaurant on serves all manner of iconic Dixie-inspired dishes, from succulent Carolina-style pulled-pork sandwiches to fried buttermilk-batter chicken. (The cocktails, from the sazerac to the porch-worthy alcoholic lemonade, are equally inspired.) But Northwest ingredients also shine here, as evidenced by an ever-changing seasonal, organic sides menu, which includes such delicious combinations as English peas sautéed in tarragon-spiked butter sauce. Show up for brunch and feast on a hefty portion of fried chicken and waffles drizzled with maple syrup. No matter when you arrive, you'll encounter nothing but ol'-fashioned hospitality.
828 SE Ash St 503-235-1600 $$

A catering outfit by day, Simpatica rolls out a reservations-only, four-course dinner every Friday and Saturday night ($30–40). To get in on it, you'll need to jump on the e-mail list at simpaticacatering.com—but the extra effort will be worth it. You might start off with a potato-leek soup topped with crème fraîche and finely chopped chives from the farm-to-table menu before moving on to herb-roasted Draper Valley chicken and slow-cooked greens with house-made bacon. Then again, you might not—the chefs (there are three) haven't repeated a menu since Simpatica opened nearly six years ago. For the walk-in Sunday brunch, diners can order items à la carte, such as buttermilk biscuits drenched in country-sausage gravy, eggs Benedict with house-cured Canadian bacon, or fried chicken and waffles. But arrive early, or you'll be caught standing in the hall.
209 NE Lincoln St, Hillsboro 503-640-3131 $$

Your fingers will travel four pages before they find any sushi standbys on the sprawling dinner menu here. But those first three pages, filled with some 75 small plates, are the soul of Syun Izakaya, an upbeat Japanese restaurant in downtown Hillsboro. Our advice: order as many as you can. A buttery fillet of grilled cod slicked with a sweet Kyoto-style miso sauce deserves your full attention. So does the maguro yamakake, small cubes of raw tuna mixed with mountain yam and white radish, and topped with confetti-size flakes of dried seaweed. Or make things easy by ordering the izakaya set, a sampling of four classic dishes that includes braised pork belly, octopus in kimchi sauce, deep-fried fish cakes, and seared slices of rare albacore. Wash it all down with sake, of course.
200 NE 28th Ave 503-238-3777 $$

This popular eastside eatery quietly twirls some of Portland's best pasta in a setting of neighborhood bistro chic. Chef Anthony Cafiero weaves in a taste of Spain, a heavy focus on egg-based northern Italian–style pastas, and a serious devotion to local produce. Snag a windowside table in the bistro-chic dining room, or get up close and personal at the chef's counter; dead center at the far end of the room, positioned like a front-row seat at the opera. The tempting three-course prix fixe goes for $28, but the real show is the pasta menu. Don't miss the tajarin, cut into tender gossamer ribbons and tossed with a powerful dose of truffle butter, or the signature raviolo—one giant, paper-thin pasta pillow holding creamy chard, a runny egg yolk and the scent of poppy-seed butter.
3220 SE Milwaukie Ave 503-234-0330 $$

For nine years, former Canby farmer Mark Doxtader has been dishing out hand-tossed, wood-fired pizza slices to regulars at the Portland Farmers Market at Portland State University. At his new restaurant, the formula is simple: thick layers of seasonal, local ingredients applied to a thin crust that's zapped to perfection in a wood-burning oven. The resulting pies (big enough for two) are rustic and somewhat messy, but in all the right ways. A tomato sauce, mozzarella, basil, and salami piccante pizza is light and airy. A pie of roasted peaches, pancetta, mascarpone, and arugula sounds heady, but when washed down with a frothy pint of ale from Hair of the Dog it feels and tastes undeniably Portland. Closed Tue.
120 NE Russell St 503-281-4464 $$

Chef John Gorham has managed to import the singular rowdiness and rugged charm of a tapeo in Andalucía to his Spanish-inspired east-side eatery, from the rough-hewn communal tables to the tiny bistro settees for two and the cozy chef's counter in back. As for the delicious food, there's a little French and a pinch of Northwest thrown into the mix—evinced by the creamy sherried chicken-liver mousse and the garden-fresh salads made from local greens—but it's all guided by the spirit of delicious tapas. Expect flavorful paellas, fried green tomatoes with pickled mayo, juicy crab-and-pork croquettes, seared scallops and braised lamb with apricots and coriander, and salt-cod fritters, not to mention bottles of pétillant txakoli and robust Rioja from the modest wine list. Any toreador would feel right at home.
---