Review
A Tale of Three Pizzas
In recent months, downtown dining has gotten a serious dairy boost with a wave of three new restaurants devoted to Italy's tastiest export: Sizzle Pie, Oven and Shaker, and Via Tribunali. Turn the page for the straight slice on each.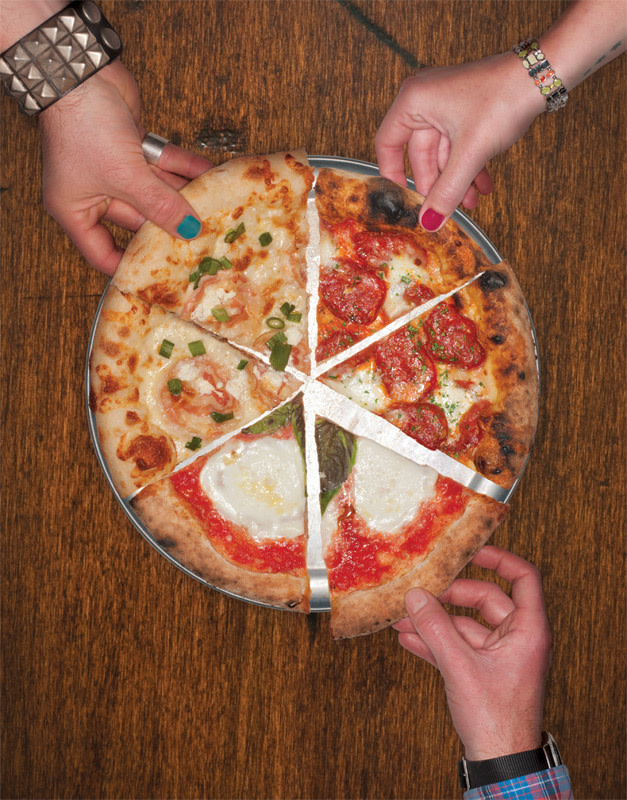 926 W Burnside St
503-234-7437, sizzlepie.com
Downtown's answer to late-night pizza, Sizzle Pie's long-awaited sophomore venture barks heavy metal through the wee hours, gently reheating a vast menu of vegan, vegetarian, and meaty slices with original sauces for tipsy west-side revelers. New Deal Vodka sauce, anyone?
PERFECT COMPANY A loyal post-drinking entourage, minimally cognizant but plenty hungry. (Don't bring your mother-in-law.)
THE SOUNDTRACK Exclusively rock 'n' roll and horror punk (i.e., the Misfits)
ORDER THIS The Gold Chain: glitzy white, fluffy with goat cheese, and topped with pancetta, truffle oil, and green onion. Is it, by chance, a reference to Lil Wayne's accessories? The staff has no idea.
DRINK THIS Beer. The house stocks enough cheap tallboys to keep a fraternity house afloat.
INSIDE SLICE Go at the end of a long night of drinking (open until 4 a.m. on weekends), or the morning after (starting at 11 a.m.), when breakfast slices of pancetta, olive oil, and a cracked egg come with a small for $6.
1134 NW Everett St
503-241-1600, ovenandshaker.com
James Beard–nominated Italian food authority Cathy Whims gets in touch with her whimsical side, charring market-fresh combos with European gusto. Meanwhile, cocktail connoisseur Ryan Magarian and his brawny bartenders work the 45-foot-long bar that dominates the soaring Pearl District space.
PERFECT COMPANY Long, narrow bar tables mean this place can gracefully absorb an ebullient posse of your swankiest, craft cocktail–lovin' cohorts.
THE SOUNDTRACK On a good day, you'll be treated to appropriate music-lover's rock … but prepare yourself for a potentially dissonant cacophony of '90s grunge and speed metal.
ORDER THIS Seasonal pies abound, but the simple salami, layered with provolone picante, mozzarella, and tomato, is elevated with a sweet stroke of genius: honey drizzled over spicy discs of spicy Calabrese salami.
DRINK THIS Order the Pepper Smash, a fateful marriage of aquavit and bell pepper juice, or the spicy, booze-free ginger ale "ala minute."
INSIDE SLICE For lunch, opt for the puccia: wood oven–fired sandwiches stuffed with addictive combos.
36 SW Third Ave
503-548-2917, viatribunali.net
The first Portland outpost of a Seattle-born pizza empire, Via Tribunali slings laboriously certified Neapolitan pies. How laborious? A team of masons from Naples was flown in (and sequestered) to build the monstrous wood-fired oven—using Vesuvian ash to mortar the bricks, of course.
PERFECT COMPANY It's a prime date spot: cozy, dark-wooded booths; dim, golden light oozing from hand-blown fixtures; good wine spilling from shared carafes. Bring your main squeeze—or at least someone you wouldn't mind giving a squeeze.
THE SOUNDTRACK Seemingly tasteful and soulful, from Sam Cooke to Bonnie "Prince" Billy and the Flaming Lips.
ORDER THIS The true test, of course, is the classic Margherita DOC. This is pizza as it should be: meticulously spun and perfectly calibrated, with pomodoro tomatoes, buffalo mozzarella, Grana Padano, and pops of basil.
DRINK THIS Wine. The exclusively Italian list ranges from table wines to fine Barolos.
INSIDE SLICE A cozy mezzanine area overlooking the pizza oven and dining room can absorb a private group of up to 40 people. We smell a pizza party ….