Cheap Eats
$20 Is The New $50
Leaner wallets call for heftier values.
Beaker & Flask
Grilled pork cheeks $10
Chanterelle mushrooms $9
Total (feeds 1) $19
At this East Side eatery, bartending virtuoso Kevin Ludwig leaves standard bar food in the rearview mirror. Try the grilled pork cheeks with braised peppers, pickled octopus, and aioli, and the chanterelle mushrooms with parsley, garlic, and smoked bone marrow.
Sanchez Taqueria
Huaraches al pastor $8
Chicken torta $5.50
Tamale $1.50
Two tacos $3.90
Total (feeds 3) $18.90
A perfect stopover on the way to the pinot patches, this taqueria serves up a corn griddle-cake called a huarache that's the size of a running shoe and is topped with everything you love about Mexican American fare—carne asada, pico de gallo, sour cream, and shredded lettuce. Add a pair of exemplary chicken tacos and an open-face torta sandwich piled with carnitas to complete the feast.
Jin Wah Restaurant
Pepper-salted squid $10.50
Lap xuong fried rice $9.50
Tea Free
Total (feeds 2) $20
Local lovers of Chinese cuisine are likely already versed in Jin Wah's lightly fried pepper-salted squid tossed with taut onions and jalapeño peppers. But adding a pile of lap xuong fried rice flecked with green onion, scrambled egg, and Chinese sausage makes for the ultimate rainy-day comfort food.
Hà VL
Daily soup special $7.50
(Wednesday's pork meatballs are especially good.)
Chinese sausage sandwich $3
Vietnam Deluxe sandwich $3
Two iced coffees with condensed milk $5.50
Total (feeds 2) $19
In a dank strip mall with three excellent Chinese restaurants as neighbors, Há VL perfectly pairs daily soup specials like pork meatballs, rice noodles, and fresh veggies swimming in pork broth with its peerless banh mi sandwiches.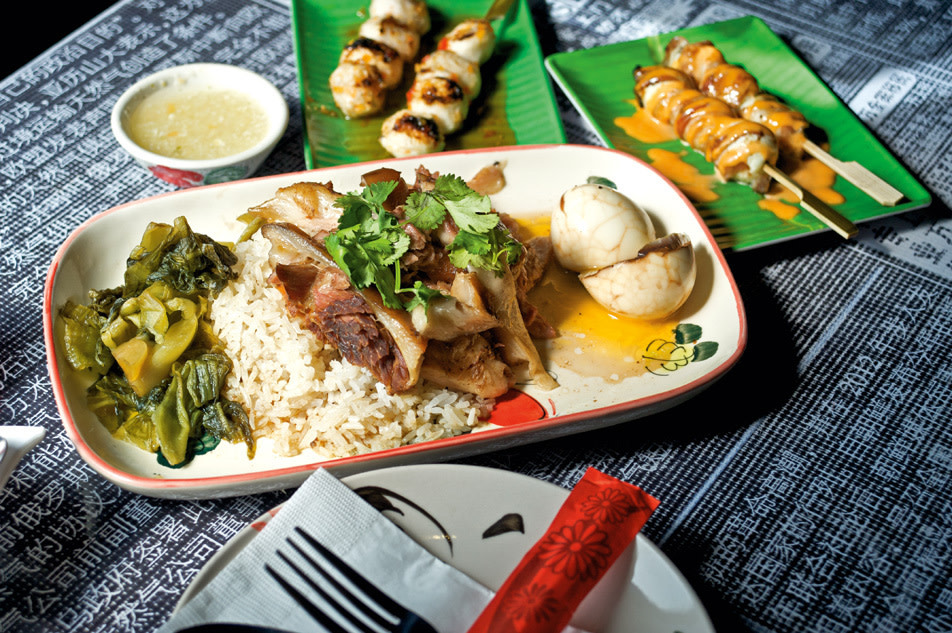 Ping
Two fish-ball skewers $5
Two bacon-wrapped quail egg skewers $6
Khao kha muu fried rice $8
Total (feeds 1–2) $19
Ping. That's the sound of pennies hitting the counter after you've devoured a pair of delectable soft-boiled quail eggs wrapped in bacon, along with fish balls and khao kha muu—an aromatic dish made with fried jasmine rice, stewed pork knuckles, palm sugar, mustard greens, a tea egg, and a chile sauce for dipping. And it's music to your recession-whipped wallet.
East India Company
Four-course prix fixe: samosa chaat, grilled mushrooms, garlic naan, saag aloo
Total (feeds 2) $20
With its restrained décor and hushed atmosphere, the place doesn't necessarily feel like India, but the perfectly spiced and flaky samosa, fluffy and garlicky naan, saag aloo, and light-as-air rice more than make up for the Olive Garden-comes-to-Mumbai aesthetic.
Le Pigeon
Escarole, preserved lemon, parmesan $9
Honey-apricot bacon cornbread with maple ice cream $7
Coffee $3
Total (feeds 1) $19
Settle in for an action-packed seat at the cozy bar; order this bright, lemony salad; and dive into the biggest pile of greens you've seen this side of a farmers market stand. Get your pork fix in the cornbread, a dense and not-too-sweet cake dotted with sharp apricots and smoky bacon.
Evoe
A snack, salad, and plate (feeds 1–2) $20
With ingredients provided by Pastaworks, Evoe's next-door neighbor, former Castagna chef Kevin Gibson offers $20 meals that he prepares in front of you. The menu changes weekly as Gibson sensually chops, tears, and massages his raw materials into dishes like a chicken and chanterelle croustillant.
Toro Bravo
Radicchio salad $8
Smoked pork-shoulder sandwich with aioli and celery root slaw $8
Braised torpedo onions with salbitxada $4
Total (feeds 2) $20
Given the vast selection of small plates at this buzzing tapas place, staying disciplined can be challenging. Focus on a generous combination of earthy green olives, tangy manchego, and radicchio; an improbably tall smoked pork-shoulder sandwich that almost dissolves into one big flavor hit of pork; and a fat-cutting side of braised torpedo onions with Spanish romesco.
Podnah's Pit
Frito pie $4.50
Sliced brisket sandwich $8.75
Side of cornbread $2.25
Pecan pie $4.25
Total (feeds 1–2) $19.75
Just give in to this atmosphere-free dive and gobble up the concoction of corn chips, chili, and cheese served on a Fritos bag that's been gently folded open. It's a lot to handle, but save room for the ridiculously tender brisket sandwich, a side of cornbread, and a little bowl of greens—which is there to cancel out the effects of a sweet pecan pie.
Navarre
Greens $10
Bread $1
Crab cakes $8
Total (feeds 1–2) $19
Commence your meal modestly at this reliably wonderful restaurant with a heaping pile of garlicky braised chard and a side of country bread from Ken's Artisan Bakery. Finish with luxury: a small ration of Navarre's decadent crab cakes.
Du Kuh Bee
Squid Noodles $14
Korean BBQ beef ribs $8
Kimchi Free
Total (feeds 2) $22
OK, we lied. This meal breaks the $20 budget, but it's worth every penny. No two of Du Kuh Bee's rustic hand-cut wheat noodles, pleasantly chewy and pencil-thick, are alike. Try them tossed with chunks of tender squid and an order of candy-sweet Korean barbecued beef ribs served on a bed of grilled onions. And for your post-boozing satisfaction, Du Kuh Bee serves these edible delights until 1 a.m. on the weekends.