Holiday Eats Cheat Sheet
Fa La La Let Someone Else Cook
A last-minute list of local restaurants that are open for belly-busting business on Christmas Eve.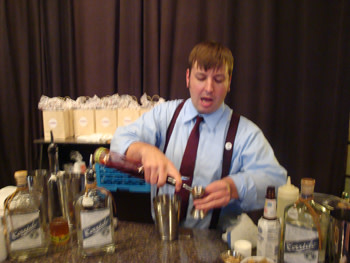 If your Christmas Eve dining plan was simply to raid Santa's cookies and milk, here's your heads-up that a number of local eateries will actually be offering very merry meals this Friday.
Holiday cookery case in point: For the first time, the Pearl District's Park Kitchen has opted to open their doors on the 24th and present both a 4-course prix fix menu ($65) and a 4-course chef's tasting menu ($55). According to chef/owner Scott Dolich, the main inspiration for both options is that they should be a festive affair that evokes pleasant memories.
"Instead of new and challenging cuisine, the ingredients that I like to use for Christmas tend to be humble," Dolich says. "I save the oysters, caviar, and foie gras for New Year's Eve."
The prix fixe menu will include two options per course—perhaps a starter of chickpea fries and squash ketchup, followed by flank steak salad with blue cheese, parsley and sherried onions, then the pork with spaetzle, cranberries, and kumquats, and finally a crown of apple and medlar crisp with malted vanilla ice cream.
The tasting menu will be full of surprises, but we have insider info that it may star the likes of black trumpet mushrooms, persimmons, marinated fish, and pork belly. "We're getting a huge half-hog from Square Peg says Dolich, "so I know that we'll need to create something with the trimmings."
Spaces are going quick so make your reservation now.
Too late? Here are some more holly jolly joints for you to choose from:
23Hoyt, Aquariva, Andina, Bluehour, Clarklewis, Country Cat (brunch only), East India Co. Grill and Bar, Fenouil, Gilt Club, The Heathman Restaurant and Bar, Irving Street Kitchen, Kenny & Zuke's, Lincoln, Metrovino, Paley's Place, Pazzo Ristorante, Salty's, Saucebox, and Urban Farmer.