Holiday Eats Cheat Sheet
Who's Da Mom?
A personalized Mother's Day dining guide.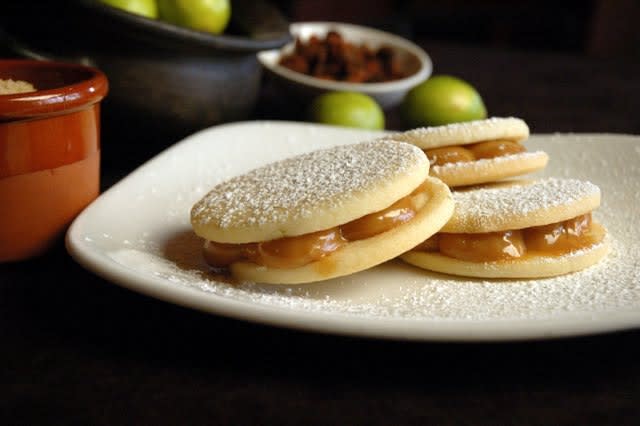 It's that glorious time of year again—the annual holiday in which children destroy the kitchen preparing burnt toast, crunchy eggs, or lumpy oatmeal for their mommy dearest. Alternatively, everyone piles in the car for a Sunday brunch, lunch, or dinner at a restaurant, a nod to the rather sexist suggestion that "mama shouldn't have to cook" so instead she gets to sit in a crowded restaurant with her grouchy family—and lots of other grouchy families—while a stranger makes the meal.
While we at EAT BEAT can't help you with the prepubescent home cooking, we can give you some hot leads if you plan to take your clan out on the town. And to make it even easier on you, our roundup is broken down according to the type of mom each eatery might appeal to.
So without further ado, here's a primo MD dining option for moms who…
Have adult children: Andina
End the week with something unique—a Mother's Day concert by Portland's Dan Balmer Group. This "alternative jazz" show takes place in the novo-Peruvian restaurant's classy Tupai event space and includes a three-course dinner (tapas, entrée, and dessert). All moms will also be gifted with traditional Peruvian alfajores, an incredible layered shortbread cookie zested with lime, filled with manjar blanco, and dusted with powdered sugar. Andina owner Mama Doris (who has three sons) helped her pastry chef make this crave-worthy treat from her childhood. Dinner show is $55 per person, with doors open at 6 p.m.; reservations required
Want a view: Salty's on the Columbia
Get an eyeful of the river from almost every seat in the house while you binge on a classic buffet brunch, offered all day long. Crêpes and bread pudding share space with a pancake and waffle station, while garlic-roasted prime rib and carved stuffed pork loin try to tempt you away from butter-poached clams, oysters on the half shell, and house-made lox. But save room for the four-foot-tall chocolate fountain with strawberries, doughnut holes, marshmallows, and pretzels. Add all-you-can-drink champagne for $6, and mom gets a carnation to take home. Brunch is $39.99 for adults, and kids 12 and under are $1.50 per year of age, with seatings from 8 a.m.-8 p.m.; reservations recommended
Like it hot: East India Co. Grill & Bar
This Indian eatery opens only one Sunday a year, in honor of mothers, and offers a special meal inspired by street food found in the markets, railway station platforms, and fisherman's wharfs of New Delhi and Mumbai. The abundant fare includes passed appetizers like Surati Lilva Ni Kachori Chaat (pastry dough balls, green lentil, cilantro, and green chilies) and Karkhana ki kut Mirchi (besan-crusted, stuffed whole peppers), as well as buffet-style mutton curry, fish masala, chicken kebabs, lentil doughnuts in spiced yogurt, seasonal vegetables with roasted peanuts, onions, and red chilies, and traditional desserts. $18 per adult and $12 for kids age 11 and under, 11 a.m.-4 p.m.; reservations recommended
Like it haute: Urban Farmer
Pamper mom's palate with chef Matt Christianson's truly sumptuous spread. We're talking nine interactive food stations inspired by spring produce and other local ingredients. Perhaps she'll want to concoct her own omelet with organic Oregon eggs, sautéed local mushrooms, Tails & Trotters ham, and asparagus. Or maybe she'd rather devour four salads, three quiches, smoked steelhead, braised beef hash, nine different gourmet desserts, and a whole lot more. Mothers also receive a free glass of champagne, but chances are she'll want to raid the Bloody Mary bar, where she can embellish a red or yellow pepper gazpacho base with lemongrass sticks, smoked salt, and pickled okra. The small fry get their own buffet, including macaroni and cheese, chicken fingers, and brownies. Prix fixe menu is $49 for adults and $19 for children age 10 and under (children under 4 dine for free), 9 a.m.-2 p.m.; reservations recommended
Like to travel: Roots
If you already groove to the 'Couv, we recommend you pack up the fam and venture across the river to Camas, where chef Brad Root (an alum of the Heathman, Higgins, and Wildwood) will be treating moms right, Washington-style. The local, seasonal menu specials will include house-made corned-beef hash with kingfisher spinach, asparagus and crème fraiche quiche with mesclun salad, Oregon bay shrimp and spring onion omelet with home fries, Dungeness crab benedict, house-made brioche French toast with apple compote and real maple syrup, and strawberry shortcake with whipped cream, plus strawberry mimosas for five bucks. You could also just go by yourself if the best day ever means getting far, far away… Mother's Day brunch is 10 a.m.-3 p.m.; reservations appreciated
Have a conscience: Nostrana
Sup at James Beard Award finalist Cathy Whims's Italian joint on Mother's Day and you can select from a range of sustainable seafood dishes that benefit the Wetlands Conservancy—think oysters apicius, black & white tonnarelli with pink shrimp, and Dungeness crab & arugula bruschetta (Nostrana is donating a portion of the sales to the conservation organization), as well as special sweet treats like cherry ice cream spumoni and ricotta cheesecake with pistachio crust, bittersweet chocolate, and candied orange. Moms will also receive a bouquet of tulips and pussy willow from Space Design and a glass of Prosecco. Dinner is 5-10 p.m.; reservations recommended
Don't get a break: Pix Pâtisserie
If you'd prefer to keep the tots entertained on your big day, there's nothing better than art projects, alcohol, and a sugar high. Agreed? Direct the minivan to the North Williams Pix location, where children age 5 and older can create their own decadent dessert from a wealth of ingredients and decorations in the chocolate laboratory, all under the guidance of actual pastry chefs. Meanwhile, moms can sit back and down mimosas. If your offspring are a wee bit older, another option is Pix's lavish Sunday tea service—this all-inclusive calorie-fest includes a pot of Townshend's tea and a selection of 16 (!!!) sweet and savory treats, including addictive macarons, soft-boiled quail eggs wrapped in prosciutto, and chocolat chaud. $12 per make-your-own-dessert and $30 for formal tea, 11 a.m.-3 p.m.; reservations required by Friday, May 6
Wanna keep it real i.e. you better pack the crayons and Goldfish crackers, because these classic Portland options for the brunch bunch mean waiting in line just like you do every week: Arleta Library Café, Autentica, Beaterville Café, Café Nell, Broder, Cup and Saucer Café, Fat Albert's Breakfast Café, Genies Café, Gravy, Helser's, Jam on Hawthorne (2239 SE Hawthorne), Junior's Café (1742 SE 12th Ave), The Original, Original House of Pancakes, Podnah's Pit, St. Honoré Boulangerie,Screen Door, Simpatica Dining Hall, Slappy Cakes, Tasty n Sons, Tin Shed Garden Café, Toast, and Zell's Café.